Has Pierre Garcon's Fantasy Football Hype Gone Too Far?
San Francisco 49ers wide receiver Pierre Garcon has become quite a popular fantasy target this summer.
Take a look at his recent average draft position (ADP) from Fantasy Football Calculator.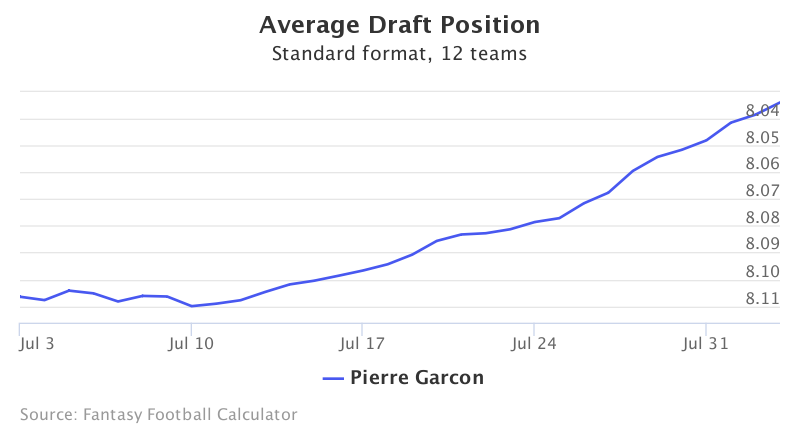 Garcon is now the 36th wide receiver off the board in standard scoring leagues and the 35th in PPR leagues. Should we hop on the bandwagon or get out of its way?
To answer that question, we'll consider the value of the 49ers offense, the volume of work Garcon can be expected to earn, and his likely efficiency. The resulting projection will give us a good idea of Garcon's cost relative to his probable value.

The 49ers' Offense
Context matters, and in this case, the context looks poor. Despite adding head coach Kyle Shanahan, nobody expects the 49ers offense to be very good. Still, it's possible even for bad teams to support a good fantasy player, so let's figure out how big the pie is, and then we'll see how big a slice falls to Garcon.
Since Garcon is a receiver, we need to get an idea of how many pass attempts, yards, and touchdowns we can expect. In addition to our own projections, I'll consider a couple other sources just to make sure we're not predicting something crazy. I'll also use the expert consensus from Fantasy Pros and extrapolate Brian Hoyer's 2014 seasonal pace.
I'm including Hoyer's 2014 season because he's almost certain to be the full-season starter in San Francisco this year. Even better, his new head coach was his offensive coordinator that season in Cleveland. Beyond that, the 2014 Browns were superficially similar to the 2017 49ers. That Browns team, like this 49ers team, was coming off a poor season, had a new head coach and coordinator, and limited offensive talent.

| Projection Source | Pass Attempts | Pass Yards | Pass TD |
| --- | --- | --- | --- |
| numberFire | 513 | 3,528 | 19 |
| Fantasy Pros | 456 | 3,108 | 17 |
| Hoyer '14 | 523 | 3,928 | 13 |
| Average | 497 | 3,521 | 16 |

As you can see, our projections, the industry consensus, and Hoyer's previous season with Shanahan are reasonably similar. This enhances the credibility of the resulting average projection. Roughly 3,500 passing yards and fewer than 20 passing touchdowns means there's not a lot of fantasy scoring to go around.
How much of it can Garcon command?
Garcon's Ceiling
Shanahan has been an offensive coordinator for nine seasons. Conveniently, Garcon was his top wide receiver in one of those seasons (2013, with Washington).
Let's compare Garcon's performance under Shanahan with the rest of the top wide receivers Shanahan has coached.
| WR | Target Pct | Catch Rate | Yards / Target | TD Rate |
| --- | --- | --- | --- | --- |
| Avg. Shanahan WR1 | 26% | 63% | 8.59 | 4% |
| Garcon/Shanahan | 30% | 62% | 7.44 | 3% |
| Average | 28% | 63% | 8.02 | 4% |

Once again, we see a lot of agreement in the numbers, so the average here seems like a believable expectation for Garcon. I'll use the average numbers from this table and apply them to the average from the previous table to come up with a projection for Garcon.
| Targets | Receptions | Yards | TDs |
| --- | --- | --- | --- |
| 139 | 88 | 1,116 | 4 |

That works out to about 137 standard fantasy points or 224 PPR points. Both numbers compare very favorably to recent positional finishes.
Over the past five years, the 36th wide receiver in standard scoring leagues has averaged 113 points, while the 35th wide receiver in PPR leagues has averaged 175 points.
Looking at just last season, Garcon's standard projection would have produced a WR19 finish, and his PPR projection would have produced a WR17 finish.
Garcon's Floor
So far so good, right? Even though his ADP has risen tremendously, it still looks like Garcon is primed to return a lot of value. There's just one objection to deal with first.
Our projections also give Garcon 4 touchdowns but just 63 receptions and 836 yards. If he comes in closer to that stat line, he'd be a huge disappointment at his current ADP, producing just 108 and 171 points in standard and PPR formats, respectively. Those would equate to WR45 and WR43 finishes. Ouch.
Should we be worried? I'm not, and I'll use our Net Expected Points (NEP) and Reception Success Rate metrics to illustrate why. NEP is a metric which describes the positive or negative contribution a player makes to their team's chances of scoring, and Reception Success Rate shows the percentage of catches that led to positive NEP gains.
| WR | Average Reception NEP/Target | Average Reception Success Rate |
| --- | --- | --- |
| Garcon | 0.61 | 82.4% |
| Kerley | 0.57 | 81.5% |
| Goodwin | 0.73 | 94.7% |
| McDonald | 0.35 | 75.8% |

Garcon is a step ahead of his competition for targets. His Reception NEP per target and Success Rate are superior to Jeremy Kerley's.
At first glance, Marquise Goodwin looks good, but that's just an artifact of his target depth. Deeper targets produce more NEP. Despite his nice numbers, Goodwin has only managed 2.8 targets per game in his carer, versus 4.8 for Kerley and 7.0 for Garcon.
Vance McDonald's numbers are poor for a starting tight end, and there are rumors that he may not even make the final roster. After Kerley, Goodwin, and McDonald, there's nothing but unproven or rookie talent.
Garcon is more efficient and has always commanded a higher number of targets than any of his current teammates and has a history of high usage with Kyle Shanahan. Shanahan, in turn, has a long history of funneling targets to his top wide receiver
Garcon's Range of Outcomes
Let's establish a range of outcomes for Garcon.
Based on his current ADP, we should expect 113 standard points or 175 PPR points. I'll set our projections as his floor and my projection as his ceiling, and then I'll combine those to produce an average projection.
| Projection | Std | PPR | Projection vs. ADP |
| --- | --- | --- | --- |
| Low | 108 | 171 | Small Loss in both Standard and PPR |
| Average | 122 | 197.5 | Small Win Standard / Big Win PPR |
| High | 136 | 224 | Big Win in both Standard and PPR |

The Verdict
Technically, Garcon is a small risk based on our projections, but really, he's fair value. Our projections are within four to five points of what we should expect based on his ADP. Using either the average projection, or my standalone projection, however, casts Garcon as a clear win. (It's worth noting that Garcon's confidence interval places him between 93 and 128 standard fantasy points, by our projections.)
In both the average and high projections, he's expected to outperform his ADP.
Because the worst case scenario is essentially neutral and the majority of scenarios represent a handsome return on investment, I'd still draft Garcon, even at his elevated ADP.