Fantasy Football: Sorting Out the New Orleans Saints' Running Backs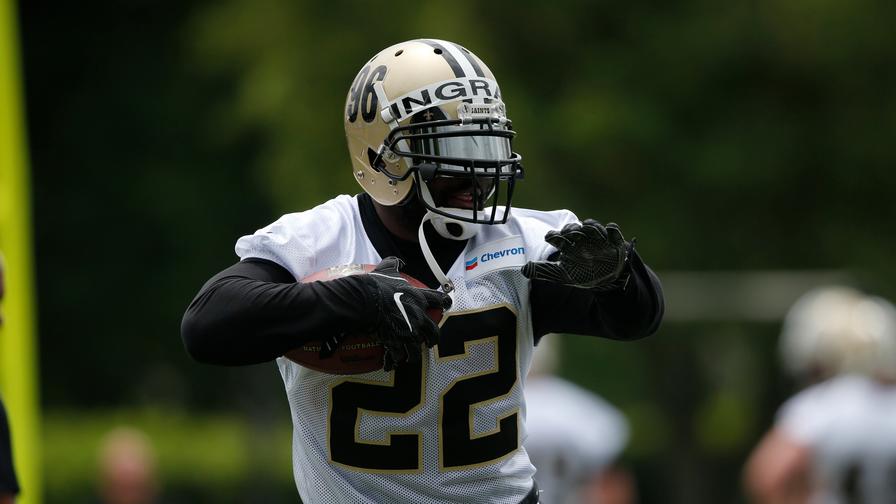 It's commonly-accepted knowledge that most NFL coaches hate -- or at least don't understand or care about -- fantasy football. New Orleans Saints head coach Sean Payton is definitely in the latter camp, but running back Mark Ingram might have a case that Payton belongs in the former.
Payton is notorious for his week-to-week offensive game plans that highlight a different player, making it nigh impossible for fantasy players to predict in which game any Saint will blow up. Even worse, he seems to have an irrational fear of using Ingram as a true lead running back for more than a few games at a time, and only in emergencies.
Fantasy owners have been begging for Ingram, the top New Orleans' back in recent years, to get a true lead back workload for quite a while, so the Saints responded as we'd expect: they went out in 2017 and signed Adrian Peterson and drafted Alvin Kamara.
How do we handle the frustrating-once-more Saints' backfield this year for fantasy purposes?
Haters Gonna Hate: Mark Ingram
Like the Greek myth of Sisyphus, Ingram is forever chained to this Saints' team (or at least through the next two seasons) and seems to be forever punished for -- well, who knows what. All we know is that the Saints don't like affording Ingram 250 touches a year, which is why 2016's year-end total of 251 touches was just the second time in a six-year career that he matched that mark.
Since he led the backfield in touches each of the last few years, we can assume for now that Ingram is still the main man for the Saints. However, with the offseason acquisitions of a former superstar rusher and a receiving specialist, the volume of touches seems to be capped once again, even if Ingram ends up the nominal lead back in this offense.
Over the last three seasons, the lead back for the Saints (all Ingram) has averaged 199 rushes and 51 targets, and numberFire's projections afford him a similar outlook, albeit less carries than he's had in previous years.
| 2017 | Rush | Rush Yds | Rush TD | Rec | Rec Yds | Rec TD |
| --- | --- | --- | --- | --- | --- | --- |
| Mark Ingram | 161 | 797 | 6 | 39 | 341 | 2 |

The above projection is our 14th-best mark for a fantasy running back this year.
Ingram should be able to carry the load once again for the Saints and, if he is indeed the lead back, will likely have the most fantasy points of any New Orleans back when the curtain falls on the 2017 season, no matter if he's closer to 200 or 250 touches. If Ingram earns the higher end of this range of projections, his efficient 4.83 yards per carry and 3.29 percent touchdown rate should bump him up from high-end fantasy RB2 territory to close to the top 12 at the position.
Ingram is worth putting your trust in, especially at his shockingly low sixth-round average draft position (ADP) of 67th overall by Fantasy Football Calculator (for standard 12-team leagues).
Players Gonna Play: Adrian Peterson
The wild card in determining the Saints' roles is whether or not Peterson is toast in 2017.
We can show just how much more deserving Ingram is of the lead role – if the Saints coach rationally – by using numberFire's Net Expected Points (NEP) metric.
NEP is an analytic that describes the contribution a play (or player) makes to their team's chances of scoring. By adding down-and-distance value to the box score, we can see just how much each play and each team as a whole influence the outcome of games. For more info on NEP, check out our glossary.
The chart below shows this production on a per-rush basis.
By Rushing NEP per attempt, the past few seasons have seen a tremendous drop in value for Peterson, while Ingram has stayed right around league average or better. It seems likely that Peterson will be given a reasonable workload in this offense -- after all, they rejuvenated Tim Hightower as well and who saw that coming? -- but his recent downturn in health and per-carry production indicates that he won't be able to supersede Ingram.
The table below reflects his backup role according to numberFire's projections, but it's not as starkly different from Ingram's as one might believe.
| 2017 | Rush | Rush Yds | Rush TD | Rec | Rec Yds | Rec TD |
| --- | --- | --- | --- | --- | --- | --- |
| Adrian Peterson | 139 | 555 | 7 | 17 | 98 | 0 |

The Saints' second running back role has posted an average of 4.18 yards per carry over the past three years, which is almost dead-on with Peterson's 4.24 over the same span, and AP may actually thrive even more with a non-terrible offensive line in New Orleans. Give him that uptick in production and more chances near the goal line (Peterson has scored on just 2.86 percent of his rushes since 2014; the Saints' second back averages 3.57 percent), and he could be one of the more valuable handcuffs in fantasy football this year, possibly with standalone value in non-PPR formats if he scores enough touchdowns.
It's possible Peterson could see a few extra carries if the Saints get bored with Ingram, as they inevitably do every year, and if AP earns more work on the ground, that's a big boon for the veteran and a big dent for Ingram.

Of course, Peterson is a bit of a one-trick pony at this point in his career; his 7.08 receiving yards per target over the last three years caps his upside if he were to earn a more full-time role. Even if he surpasses his projected 17 receptions, it would take over 60 catches -- at that rate -- for him to reach his goal of 500 receiving yards this year. He may not even see a receiving touchdown, as he hasn't brought a pass in for a score since 2013.
His current ADP of 41st overall is a bit high, considering that he is penciled in as the backup in New Orleans. Peterson is a worthy handcuff for Ingram if you can trade for him for cheap after a few uninteresting games this year. But it's hard to justify drafting him at this price.
Shake It Off: Alvin Kamara
Finally, we get to the new kid on the block, Alvin Kamara. Kamara was drafted to fill the Pierre Thomas/Darren Sproles role in this offense, which is a well-defined but low upside one on third downs exclusively.
| 2017 | Rush | Rush Yds | Rush TD | Rec | Rec Yds | Rec TD |
| --- | --- | --- | --- | --- | --- | --- |
| Alvin Kamara | 36 | 139 | 1 | 18 | 142 | 0 |

Kamara is a compelling dynasty league stash, but in redraft formats, he's unlikely to gain value unless Ingram or Peterson goes down. Even then, Kamara would likely be a third-down and receiving complement to. With two big-time rushers ahead of him on the depth chart, Kamara's receiving-first role could be compelling for players in deep PPR leagues but little else this year.
The best case scenario for Kamara is the 2013 Saints season in which Thomas took over for an injured Ingram as the lead back in the offense, earning 147 carries and 84 targets on his way to just over 1,000 yards from scrimmage. That, however, is much less likely an outcome than expecting Kamara to play a complementary role. His current ADP is 167th overall (57th running back), and that's about right for his current position on the depth chart.
How do we figure out this backfield? I believe in Mark Ingram's ability and the production he's shown, especially when compared to Peterson's recent ineffectiveness and Kamara's complete rawness. Unless the Saints continue their storied tradition of yo-yoing fantasy owners, Ingram should prove to be solid fantasy option once more in 2017.