It's Amazing That the Chargers Only Won 5 Games in 2016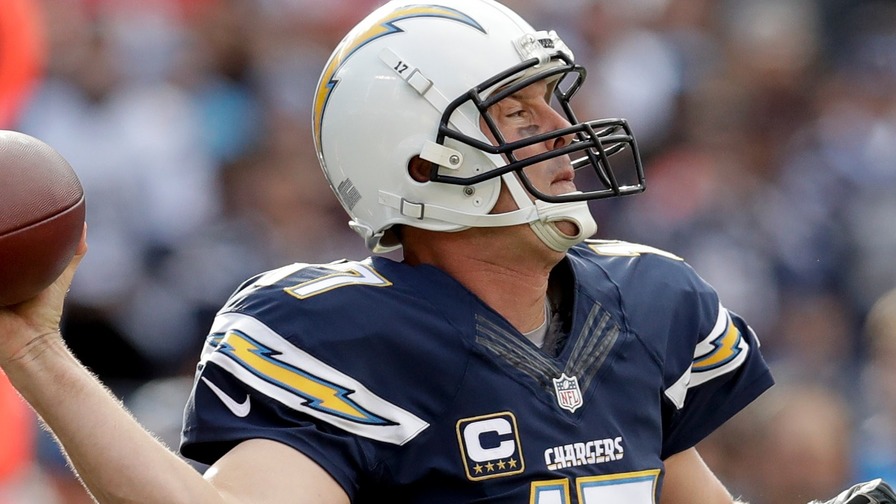 A team's final record isn't always the best indicator of how well they played in a given year, just like your body weight isn't the best indicator of how healthy you are.
There's a story to it all -- there's a lot more to it than the number (or numbers) that's showing.
Take the San Diego Chargers of 2016, for example. They finished with just five wins and were -- record-wise -- one of the worst teams in football. To any casual NFL fan, the Chargers were bad. They were borderline really bad.
But the Chargers' story isn't that simple.
At numberFire, we have our nERD metric that analyzes the number of points we'd expect a particular team to win by against an average squad on a neutral field. A nERD of 0 is average, while a nERD of, say, 3.5 means a team should beat an average one by a little over a field goal.
This past year, despite losing 11 games, San Diego had a nERD of 0.64. In other words, they were an above-average team.
How is that possible? Well, they lost a lot of close games. Take a look at the table below that shows each of the team's 11 losses as well as the Chargers' highest win probability at any point during the game, per the numberFire Live platform.
| Week | Opponent | Highest Win Probability | Result |
| --- | --- | --- | --- |
| 1 | Chiefs | 98.50% | Loss |
| 3 | Colts | 87.93% | Loss |
| 4 | Saints | 98.40% | Loss |
| 5 | Raiders | 72.54% | Loss |
| 8 | Broncos | 59.52% | Loss |
| 10 | Dolphins | 80.21% | Loss |
| 13 | Buccaneers | 77.96% | Loss |
| 14 | Panthers | 45.02% | Loss |
| 15 | Raiders | 68.33% | Loss |
| 16 | Browns | 77.07% | Loss |
| 17 | Chiefs | 57.53% | Loss |

Generally speaking, only 3 of the team's 11 losses this year were bad ones, while 7 of the 11 saw them with an in-game win probability high of at least 72.54%. And that lines up with their margin of defeat: 8 of their 11 losses were by 7 or fewer points.
When the season ended, the Chargers had a points per game differential -- that is, the difference between the amount of points San Diego scored versus what their opponents scored -- of -0.8. Considering they lost 11 games, that doesn't add up at all.
Just to show even more evidence of how unlikely a five-win season was for San Diego this past year, take a look at the number of points each NFL team either trailed or led by at the start of an average drive in 2016.
Pssst, an average drive by the Chargers started with a better lead than all but three NFL teams this past year.
Now look at this same chart, broken down by quarter:


What we're seeing here is that the Chargers sucked in the latter part of games. An average drive of theirs started with a 2.4-point lead in the third quarter in 2016, but that dropped all the way to 0.6 when in the fourth. The second-worst turnover rate in the final quarter certainly played a role in that.
But what this tells us -- combined with the win probability information above -- is that the Chargers weren't nearly as bad as their 5-11 record indicated this past year.
Perhaps some regression to the mean is in store for 2017.