The Falcons' Biggest Offensive Strength Is Also an Area Where the Patriots' Defense Excels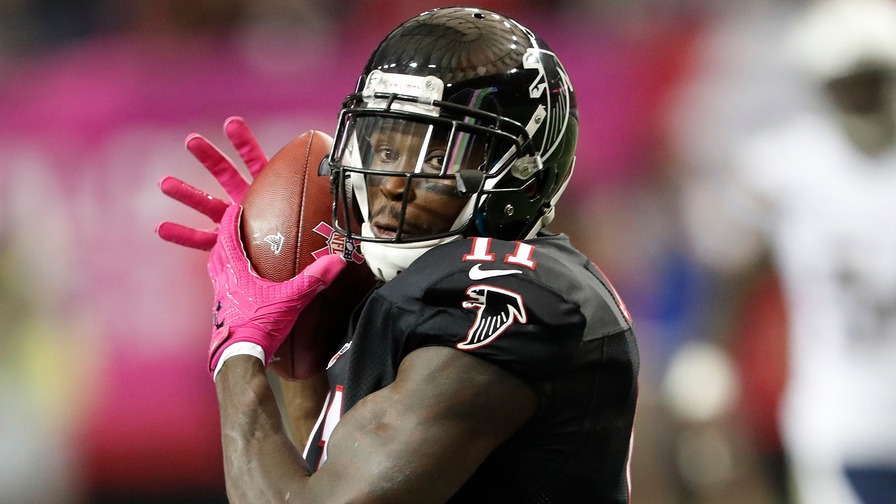 The Atlanta Falcons' plan of attack this year wasn't too complicated. First, have Matt Ryan launch a tater deep down the field. Then, have a physical specimen named Julio Jones catch said tater. Finally, you score tuddies. It's not tough, but it was effective as all get up.
There were obviously many more facets involved as the Falcons slaughtered their way to being one of the best offenses in recent memory. But their strength -- outside of versatility -- was their effectiveness on deep passes, catapulting them down the field with regularity and ease.
That strength has carried them all the way to Super Bowl LI, where they'll face the New England Patriots. The Patriots' defense is an above-average unit, though it's nothing spectacular by advanced metrics. The one area that serves as an exception to this? Their ability to stop -- you guessed it -- deep passes.
This could be the matchup that decides who claims the Lombardi Trophy. So let's dig into it a bit more using numberFire's Net Expected Points (NEP), the metric we use to track the expected points added or subtracted on each play throughout a game. For this, we'll be focusing on Passing NEP per drop back, which shows the expected points added on all completions as well as all expected points lost on events such as sacks, interceptions, and incompletions.
We're going to have a good ol'-fashioned duel on deep passes on the league's biggest stage. Which side will hold the upper hand? Let's check it out.
Air Raid
During the regular season, two quarterbacks pulled away from the rest of the pack in efficiency on passes at least 16 yards downfield. The first -- as you've likely concluded by now -- was Ryan. The second was Tom Brady. These two were essentially in a class of their own.
Here's a look at Ryan's metrics compared to the league average, again on passes at least 16 yards down the field. For this, we'll just include his regular-season attempts so as to keep things tidy with the league averages. Success Rate" s the percentage of attempts that lead to positive NEP, which, in this case, is almost entirely analogous to completion percentage.
| Passer | Attempts | Passing NEP | Passing NEP per Drop Back | Success Rate |
| --- | --- | --- | --- | --- |
| Matt Ryan | 91 | 100.77 | 1.04 | 57.73% |
| League Average | -- | -- | 0.49 | 41.25% |

Ryan added over twice as many expected points on each deep attempt as the league average. His Success Rate easily led the league with no other passer topping even 53% on at least 70 deep attempts. In fact, Ryan's Success Rate on deep passes would have ranked fourth in the league on short passes, an area in which the average Success Rate was 10 percentage points higher than on deep passes. Summation: dude was a machine.
Not surprisingly, Jones was a huge part of this. He had 47.42% of the team's deep targets with no other player holding a market share above Mohamed Sanu's 13.40%. And when Jones can do stuff like this, why wouldn't you just let him do his thang?
.@juliojones_11 out here dropping jaws... 😱#GBvsATL #NFLPlayoffs https://t.co/o74b5hryBi
— NFL Network (@nflnetwork) January 22, 2017

The big bugaboo here is that -- as mentioned -- the Patriots mopped up in this department. Let's do the same as above, comparing their metrics to the league average on deep passes. We'll also include Ryan's numbers just to show how huge of a matchup this will be.
| Passer | Attempts | Touchdowns | Interceptions | Passing NEP per Drop Back | Success Rate |
| --- | --- | --- | --- | --- | --- |
| Matt Ryan | 91 | 11 | 2 | 1.04 | 57.73% |
| Patriots' Opponents | 131 | 6 | 7 | 0.27 | 38.93% |
| League Average | -- | -- | -- | 0.49 | 41.25% |

Unstoppable force; immovable object. It's about as close as we're going to get to that.
Now, the next step in such an analysis would be to go back and see how the Patriots performed against passers similar to Ryan in their deep-ball abilities. But again, there really are no comparables to Ryan from this year, and the Patriots' quarterbacking competition was superbly weak. We're never going to get a good similarity score no matter where we look.
While keeping that in mind, there were two quarterbacks the Patriots faced in the regular season who ranked in the top 10 in Success Rate on deep passes. Those two -- Russell Wilson and Andy Dalton -- did have success on throws at least 16 yards downfield against the Patriots, perhaps providing a bit of an opening for the Falcons.
| Grouping | Deep Attempts | Passing NEP | Passing NEP per Drop Back | Success Rate |
| --- | --- | --- | --- | --- |
| Wilson and Dalton | 15 | 20.47 | 1.36 | 60.00% |
| All Others | 116 | 15.16 | 0.13 | 36.21% |

This is just a 15-attempt sample for Wilson and Dalton, so we shouldn't overreact to the results, but it does show that teams skilled in deep passing can have success against New England. Atlanta most certainly meets this criterion, and it may be their biggest reason for hope in facing a truly talented secondary.
Of course, even if the Patriots do shut down the Falcons' deep game, there are other ways Atlanta can move the football. Devonta Freeman and Tevin Coleman have been almost unstoppable all year, and Ryan also led the league in Success Rate on short passes. There are alternate paths to prosperity for an offense as good as this, but taking away the Falcons' top skill would be a huge boon for New England.
Conclusions
There are tons of individual matchups that should be a thrill to watch next Sunday, and this sets up to be a dope contest. The Falcons' deep-ball abilities against the Patriots' secondary may top that list.
Ryan, Jones, and the rest of the crew sliced their opponents to bits the entire season, providing next-level efficiency on passes that were at least 16 yards beyond the line of scrimmage. New England kept most of their opponents in check in this arena, performing well above the league average.
At the same time, the relative success of Wilson and Dalton does warrant optimism for the Falcons. They need only one or two of these cracks at big plays to pay off to tilt the scales in their favor, and talented deep-ball passers did do this against New England in the regular season. This is an area of strength for the Patriots, but don't assume that means they'll be able to stifle an offense as good as this one.