10 Wide Receivers With Great Cornerback Matchups in Week 15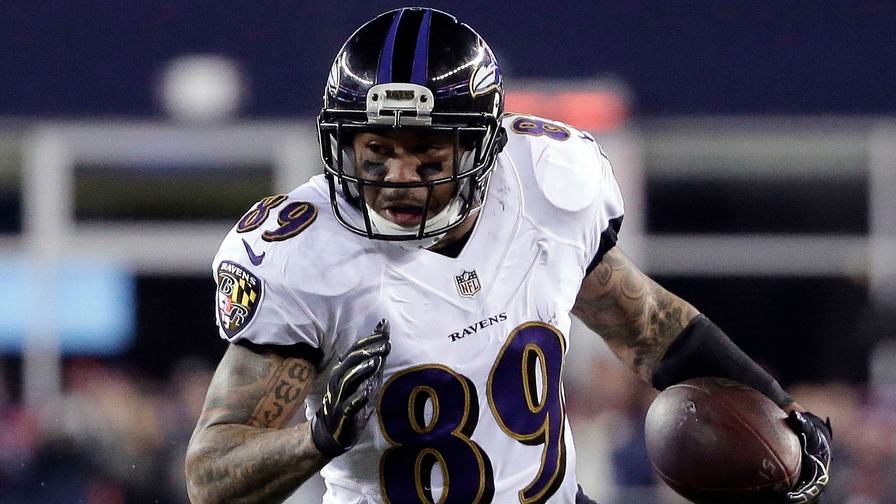 In my opinion, stand-up comedy is one of the best ways for human beings to process the heavy, the weird, and the scary parts of life in a healthy and productive way.
I've always loved the brilliant observations of comedians on the absurdities of life that many of us face, and their deft ways of negotiating those situations. Whether it's Jim Gaffigan's philosophical discussion on the value of Hot Pockets or John Mulaney's exploration of gender dynamics as related to his dog, Petunia, stand-up comics give us a lens to look through and come to grips with the weirdness of the world.
That's why I write these articles the way I do. I want to make you laugh, make you think about fantasy football in a different way, and help you see this game how I do: an exciting, fun, sometimes nonsensical place where we try our best -- and sometimes fail.
Sometimes that works, sometimes it doesn't, but at least we'll have a good time on the way and a good story after. Punning is merely a means to an end, and that end is hopefully figuring out which cornerback matchups you should exploit this week for fantasy success.
Which cornerback matchups will tickle your fantasy wide receivers' funny bone in Week 15?
Five Lineup Locks
Steve Smith vs. Leodis McKelvin -- I never would have guessed Baltimore Ravens wide receiver Steve Smith would be able to return to playing in the NFL this year, let alone at a high level. By our Reception Net Expected Points (NEP) per target analytics, Smith is 35th among the 82 receivers with at least 50 targets this year. For a 37-year old wideout coming off a "double rupture" of his Achilles' tendon, this is pretty astounding. Per Pro Football Focus, he's earned 1.65 fantasy points per target this year while being targeted on a whopping 23 percent of his routes run.
In Week 15, he'll face off against the Philadelphia Eagles' Leodis McKelvin, who -- by all accounts -- has been mainly a success in his first year for Philly. The Eagles as a whole are third in numberFire's schedule-adjusted Defensive Passing NEP per play, but have slipped a lot over the past few weeks, ranking 30th from Week 8 on. That's why we can trust the fact that McKelvin allows the fourth-most fantasy points per target among Week 15 starting cornerbacks. Smith should thrive here.
Jamison Crowder vs. Leonard Johnson -- Washington slot receiver Jamison Crowder put up a bit of a stinker when we recommended him last week, but that was due to their opponents keeping control of the ball and allowing Washington to throw just 21 times. Crowder is still earning a look on 20 percent of his routes, which means he's worth starting this week against a Carolina Panthers' team that has no offensive control and cornerback Leonard Johnson, who hasn't been able to slow any of his coverage assignments down. He's been targeted at a low 11 percent rate, but Johnson is allowing the fifth-most fantasy points per target this week. With a higher volume of attempts likely, and Crowder one of Washington's most trusty targets, this is an easy matchup to exploit.
Stefon Diggs vs. Darryl Morris -- Speaking of lack of offense, the Minnesota Vikings have gone from a quietly efficient offensive machine to a sputtering mess. The passing game has stayed hushed but stable, though, and that's led Stefon Diggs to a productive season. Diggs is getting targeted on 25 percent of his snaps, and has an exciting matchup on the docket with the Indianapolis Colts' Darryl Morris. Indy is our third-worst secondary by Adjusted Defensive Passing NEP per play, and Morris is allowing the seventh-most fantasy points per target this week. Diggs does have a balky knee, but if he sits Adam Thielen will slide into the slot and thrive in his stead.
Michael Crabtree vs. Trevor Williams -- It was only a matter of time before the Oakland Raiders' passing attack took off, and wide receiver Michael Crabtree is a big beneficiary of that explosion. He's been mostly a possession receiver, with a lower per-target impact but a 26 percent target rate. Against the San Diego Chargers' Trevor Williams this week, though, he has big upside to go with his strong floor. Williams is allowing the 30th-most fantasy points per target on a 22 percent target rate. Crabtree should win this matchup all day.
Buffalo Bills vs. Cleveland Browns -- Death, taxes, and wide receivers playing against the 2016 Cleveland Browns' historically awful (third-worst since 2000 by adjusted Defensive Passing NEP per play) secondary. The Buffalo Bills' Sammy Watkins draws shadow coverage from Joe Haden this week, but that's nothing to fear; Haden is allowing the 27th-most fantasy points per target while being thrown at on 19 percent of his coverage snaps. Robert Woods will see Tramon Williams in coverage, who is giving up the sixth-most points per target. Watkins is a locked-in stud this week, and Woods has plenty of promise too.
Five Good Stocks
Willie Snead vs. Tyrann Mathieu -- The New Orleans Saints' offense has gone topsy-turvy from expectations this year, with superstud Brandin Cooks falling to a bizarre third in the pecking order, but this has meant a boost in targets for possession wideout Willie Snead. Snead is earning a look on 19 percent of his routes run this year, and is converting them to 1.95 fantasy points per target.
He'll get to test his mettle against Arizona Cardinals slot cornerback Tyrann Mathieu in Week 15, a matchup he should, in theory, win. Mathieu is currently battling a shoulder injury that's sidelined him for four weeks this season and is allowing the third-most fantasy points per target. This could be a sneaky way to break away from the pack in DFS this week.
Ted Ginn Jr. vs. Bashaud Breeland -- The Panthers' offense is lagging, but they always go to Ted Ginn Jr. when they need a Hail Mary to win. If you're in the same boat this week, Ginn presents interesting opportunity with his matchup. Washington cornerback Bashaud Breeland is allowing the 10th-most fantasy points per target this week, and Washington's secondary is in the bottom quarter of the league by Adjusted Defensive Passing NEP per play. Boom, or bust? Both are possible.
Chicago Bears vs. Green Bay Packers -- I remember when the Green Bay Packers pretended to play defense, at least; it was a fun year, that 2009. The secondary this year looks nothing like it used to: cornerbacks Damarious Randall and Quinten Rollins are both in the top-20 of most fantasy points per target allowed this week, a feat backed up by the Pack's 20th-place rank in Adjusted Defensive Passing NEP per play. The Chicago Bears' offense isn't a juggernaut right now, but it's sustainable with Matt Barkley under center, and wide receivers Josh Bellamy and Cameron Meredith make for nice punt plays this week.
Marqise Lee vs. Robert Nelson -- The Jacksonville Jaguars' offense is terrible; let's not make any bones about it. But even a blind squirrel occasionally finds a nut, and so it was with receiver Marqise Lee last week, who saw 113 yards on 5 catches. Who knows if he'll repeat, but Houston Texans' cornerback Robert Nelson is his best bet to do so; Nelson is allowing the 24th-most fantasy points per target this week on a 20 percent target rate.
Terrelle Pryor vs. Ronald Darby -- The Browns should be down early in this one (per usual), so they'll have to throw a fair amount and wide receiver Terrelle Pryor likes the sound of that. Pryor's seen a 23 percent target rate this year, and that should continue against slumping Bills' cornerback Ronald Darby, who is allowing the 25th-most fantasy points this week. It's a good matchup and a great game script for Pryor to get easy garbage time points.
Two Smoking Craters
Chris Hogan vs. Aqib Talib -- The New England Patriots' Chris Hogan stunned the opposing secondary last week, but the Denver Broncos will be much more prepared for him. Aqib Talib will be on Hogan this week, and should neutralize his fantasy impact; Talib is allowing the fewest fantasy points per target among Week 15 cornerbacks with at least 100 coverage snaps.
Marvin Jones vs. Janoris Jenkins -- Opposing passing games need to start thinking twice about throwing at the New York Giants' Janoris Jenkins. He's picked off a bundle of passes this year and is giving up the fifth-fewest fantasy points per target in Week 15. Expect the Detroit Lions to look elsewhere instead of Marvin Jones this week.