Breaking Down the 2016 NFC North Playoff Picture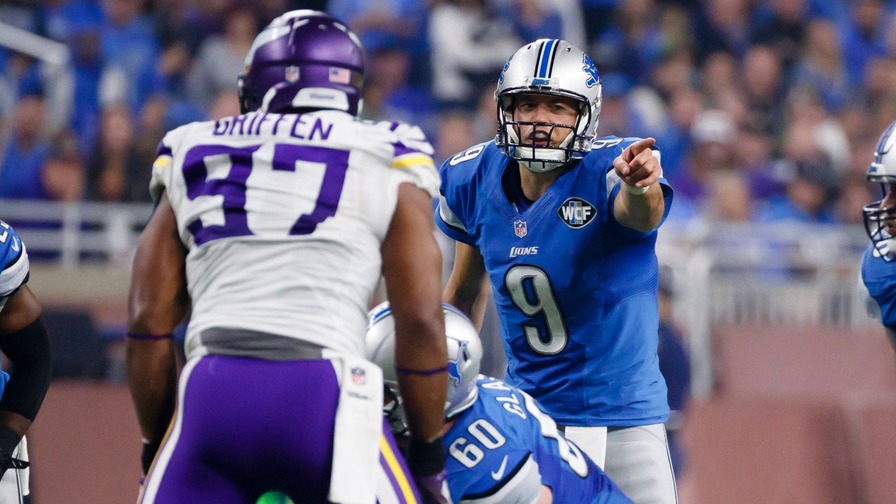 Living in the Upper Midwest isn't so hard: we get plenty of warm summers as well as Currier and Ives-esque winters, the cost of living is fairly affordable in any city not named Chicago, and the traffic gridlock found on the coasts is essentially non-existent -- again, in any city not named Chicago. That said, if you don't like ketchup being the spiciest thing you eat, this might not be your favorite region.
One thing certainly spicy about this region has always been the firepower in the NFC North division. This division as a whole has put up more points than any other in the NFL over the last five years, showing just how impressive these offensive units have been.
In 2016, however, NFC North teams are averaging a paltry 20.8 points per game (third-worst among NFL divisions). Still, the race for the playoffs in this division is compelling, with three teams within two wins of the division lead going into the home stretch of the NFL schedule.
The NFC North has gotten ugly this year, but someone is going to win it. Who's in the driver's seat for the division title?
Chicago Bears: Scraping the Pot of Honey
The Chicago Bears are still, bizarrely, mathematically in the playoff hunt for the NFC North. If the Bears win out from this point forward and the rest of the division loses out, the Bears at 7-9 could make the playoffs.
But that's highly wishful thinking.
We at numberFire have created a ton of analytics and metrics to see just how much value a team produces. The primary metric we look at when analyzing teams is nERD, which is essentially a measure of how much a team would outscore a league-average team by in any given week.
Our nERD information can be found on our NFL Team Power Rankings page.
Net Expected Points (NEP) is also a metric that describes the contribution a play (or player) makes to their team's chances of scoring. For more info on NEP, check out our glossary.
The passing game has been the big Achilles' heel this year: quarterback Jay Cutler has been atrocious, ranking second-worst in Passing NEP per drop back among the 35 quarterbacks with at least 100 drop backs this year. Cutler hit injured reserve this week, though, giving way to Matt Barkley (whose -0.02 Passing NEP per drop back surpasses Cutler's -0.07).
Running back Jordan Howard actually comes in at 13th in Rushing NEP per attempt among the 46 running backs with 60 or more attempts this year, and the defense ranks 18th in Adjusted Defensive NEP per play.
To put it simply, the Bears' team value (-6.06 nERD) is better than only the Cleveland Browns, San Francisco 49ers, Los Angeles Rams, and Jacksonville Jaguars. Our projection models peg the Bears for a 4-12 record, but their only really winnable game is this week against the 49ers. This outlook puts their playoff chances at a whopping 0.00%.
Green Bay Packers: Don't Pack In Just Yet
To Green Bay Packers fans who are used to their team devastating the NFC North handily every year for the last quarter-century, the 2016 iteration of the franchise seems like a horrid nightmare meets headache wrapped in shame. All in all, though, the team is only two games out of the division lead with five to play.
The real challenge for the Green-and-Gold has been health on the defensive side of the ball: injuries to each of the Pack's four best cornerbacks have kept their pass defense at a laughable 27th in Adjusted Defensive Passing NEP per play.
The offensive ground game has also been non-existent for Green Bay, who has the second-most pass-happy play calling by pass-to-run ratio. Given how much they rely on him, it's impressive that quarterback Aaron Rodgers is 10th among quarterbacks in Passing NEP per drop back.
The Packers carry a 1.38 nERD into Week 13, good for a solid 13th in the league. Being merely a hair above average may not be enough to get the Packers into the postseason, however; our models project them for just an 8-8 record and a 20.9% chance to make the playoffs.
By nERD, the Pack are favored against the Houston Texans, Bears, and Detroit Lions, but even tougher tests against the Seattle Seahawks and Minnesota Vikings are within 3.00 nERD -- manageable challenges.
Detroit Lions: Roaring Into the Wind
Despite going just 7-9 in 2015, the Detroit Lions are just two years removed from double-digit victories and a playoff berth. Currently leading the NFC North, the 7-4 Lions could waltz into the playoffs with ease due to a cake late-season schedule.
That said, it's a little odd that this team has done as well as they have: they rank an impressive seventh by Adjusted NEP per play but a hideous 30th in Adjusted Defensive NEP per play.
Quarterback Matthew Stafford and the passing game have been the lone bright spot, putting up the 11th-most Passing NEP per drop back among quarterbacks.
The running game has languished with Theo Riddick and Dwayne Washington leading the way. They've lagged to 19th in the league in Adjusted Rushing NEP per play. The big key for Detroit: just keep scoring more points than your defense gives up.
The Lions' -1.83 nERD is the 10th-lowest score by this measure, and while we project them to finish 9-7, it's uphill sledding for them. The New Orleans Saints and Dallas Cowboys present tough challenges for Detroit, but three very winnable games against the Bears, New York Giants, and Packers occur. While a very flawed team, the Lions have double-digit wins well within reach.
Minnesota Vikings: Going Berserk
Things looked a lot better for the Minnesota Vikings before Thursday Night Football. Coming into Week 13, Minnesota looked poised to make up ground in the home stretch of the season and overtake the Lions for control of the NFC North. A home loss (by just two points) to the still-surging Cowboys puts a bit of a damper on postseason dreams, however.
A second-best defense by Adjusted Defensive NEP per play has kept the North Star State's hopes of contending alive, no thanks to a 22nd-ranked offense by Adjusted NEP per play.
Running back Adrian Peterson was clearly not his vintage self to start 2016, earning the worst Rushing NEP per attempt among the 70 running backs with at least 30 carries this year, but losing him to injury may have been worse: Matt Asiata and Jerick McKinnon have combined to plummet the Vikings to dead-last by Adjusted Rushing NEP per attempt.
Even Sam Bradford's surprisingly competent quarterback play (15th out of 35 quarterbacks by Passing NEP per play) hasn't been able to buoy this offense enough.
Still, the defense has carried them this far and could keep them going all the way. The Vikings are 6-6 after Thursday Night Football, but have nigh-guaranteed wins waiting against the bottom-six Jaguars, Indianapolis Colts, and Bears. The Packers could give them a run but are a very winnable matchup too. Minnesota's playoff odds sat at 51.90% coming into this week, but if they run the table -- a very possible scenario -- that number could look low in hindsight.
The NFC North is right now a toss-up between the Lions and the Vikings, with almost nothing to separate them. If the Lions win this week, they'll likely become the favorites in our models, but not by much.