15 Fantasy Football Transactions for Week 11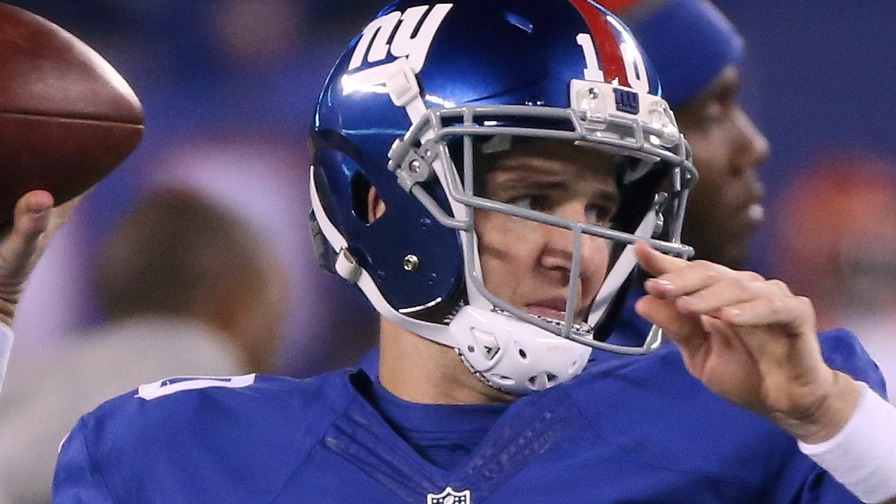 We're at the point in the fantasy football season where your actions as a league manager are completely dependent upon how strong your team is. If you're playoff bound, you shouldn't be thinking short-term. If you're trying to salvage the season with a few big wins through Week 13, you may want to be a little more concerned about what's happening this week.
It's not unlike a game of cornhole. At the beginning, you just want to hole as many bags as you can. But as it progresses, the strategy changes -- if you're just a point away from winning, your goal is to just get the bag on the board. Your approach, in other words, is dictated by circumstance.
I wish I could make blanket statements in a column like this, but I can't. Some transactions need to be made for the playoff-ready teams, while other moves are better suited for fringe squads.
So, I beg you: rather than headline read these transactions (I know this can be difficult in today's Internet world), try to understand the logic. Because some of the 15 transactions below will be catered towards the teams needing an immediate boost, while others will work better for teams bound for the playoffs.
Sell Terrance West
This won't matter to anyone, but the reason Terrance West wasn't a sell in last week's 15 Transactions column was because of Cleveland. There was a good chance, given the spread of the Ravens' Week 10 matchup against the Browns, West would come through with a nice game. Instead, he saw 77 total yards.
Even still, West makes for an obvious sell this week. Kenneth Dixon inched closer to West's snap totals this past week, playing 32% of the team's snaps versus West's 42%. And while Dixon didn't hit the nine carries he saw in Week 9, he did have seven targets out of the backfield, which will surely limit West's upside on a weekly basis.
The Ravens also have some tough matchups from here on out, including games against Dallas, New England, and Philadelphia. The Cowboys and Eagles have forced the fewest and second-fewest rushing attempts against them this year, respectively, while New England's hovering near the top 10 in the category. That means West could struggle to see volume, which he desperately needs to be a relevant fantasy back.
Add or Buy Eli Manning
I'm writing this without even knowing the result of Monday night's game, but Eli Manning could go nuts or lay an egg and it wouldn't matter. The fact is, he's a tough-to-predict passer in fantasy football, and one performance isn't going to change that.
So why would you want him on your fantasy squad? Well, we know Eli can struggle at any moment, but he can also come through big. This is really a play on his rest-of-season schedule -- he'll get Chicago next week (19th against the pass, per our schedule-adjusted Net Expected Points, or NEP, metric), then Cleveland (31st), Pittsburgh (25th), Dallas (22nd), and Detroit (32nd). Whew.
Don't sell an arm and a leg for him, but if you want to trade a now-worthless bench piece, go for it.
Drop Matt Jones
If not for his fumbles, Matt Jones would probably still be starting for Washington. After all, Jones has a 45.5% Success Rate (the percentage of positive runs made, per NEP) this season when the average among NFL backs generally hovers the 40% or 41% mark.
But his fumblitis forced the team to make him a healthy scratch in Week 10 and, as you'll see with the next blurb, it's not as though Washington's upcoming schedule is anything to be excited about.
Sell Rob Kelley
On the year, Washington running backs have scored 15 or more PPR points just three times. One of those performances came against Cleveland (Matt Jones), one was surprisingly against Philadelphia (Matt Jones), while the last was against Detroit (Chris Thompson). Not surprisingly, the two Jones games had rushing touchdowns scored, helping his cause.
There's something to be said about having a fantasy running back who gets volume, but some situations are more advantageous than others. Washington ranks 20th in running back touchdowns this year, while they're 16th in points scored and 6th in total yards. They've also got the 10th-highest pass-to-run ratio in the red zone. To put this another way, they're generally producing offensively, but the running backs aren't fully benefiting.
But the biggest reason to sell Rob Kelley -- aside from the general situation, which is average at best -- is the team's upcoming schedule. Washington will face Green Bay (4th against the run, per our numbers), Dallas (5th), Arizona (10th), Philadelphia (18th), and Carolina (7th) over the next five weeks. That's scary for any non-elite running back.
Sell Jarvis Landry
Of all wide receivers in football over the last two years, you could make a strong argument that Jarvis Landry has benefited most from volume. Or, he needs volume most. That's because he's generally caught passes closer to the line of scrimmage, which doesn't allow him to gain fantasy points in large chunks. This year, his yards at the catch per catch (that is, the number of yards gained per catch minus yards after the catch) is 6.82, which is a bottom quarter percentile figure. In 2015, that number was 5.22, and it was 3.51 during his rookie season.
With the Dolphins' new game plan, things aren't looking up for Landry. It's been four weeks since Jay Ajayi's big breakout, and over this period, the Dolphins' drop-back-to-run ratio has gone from 1.89 (a top-10 number in the league) to 1.26 (a bottom-10 one). Meanwhile, Landy has seen significant splits in the targets department: he averaged 9.6 targets per game over the first five weeks of the season, but since the team became more run-heavy, that's fallen to 7.3.
There are some games on the upcoming schedule where Landry could be fine, but given this shift in mentality, he's certainly not going to be winning you contests consistently.
Add or Hold CJ Prosise and Thomas Rawls
One of the more interesting situations in fantasy football is what's going on in the Seahawks' backfield. After looking like Christine Michael locked things up earlier in the year, he's seemingly lost his opportunity, as evidenced by rookie C.J. Prosise's 77% snap rate in Week 10 against the Patriots. Michael played 16% of the snaps, down from the 38% in Week 9, which was down from the 52% rate in Week 8. Basically, the writing's been on the wall for him.
But Thomas Rawls is back in the picture after not playing a single snap since Week 2. He could be ready to go this week, which makes the true Prosise breakout a lot less likely.
With that being said, there are a lot of directions this backfield can go in. Prosise, a converted college receiver, should have a nice pass-catching role -- he put that on display against New England on Sunday night, catching all seven of his targets. But Rawls could and should easily steal some early-down work, which diminishes the big upside Prosise would have without him.
Both guys are on the waiver wire in a bunch of leagues still, so if they're out there, snag them up. At this time, though, I wouldn't be buying or selling either asset -- there's a chance one of them grabs hold of the every-down job and doesn't let go, but my money is on a split backfield with Prosise being the PPR back to own.
Buy Doug Martin
In Doug Martin's return from injury, he played just 41% of the team's snaps, splitting the Buccaneers' backfield with Peyton Barber and Mike James. He found the end zone on an inefficient 16-carry, 33-yard day, salvaging his fantasy performance.
It'd be shocking if Martin didn't continue to see his workload rise, which could be really beneficial for those of you looking ahead to the fantasy playoffs. As you may or may not know (if you're reading this article, that means you're a borderline fantasy football degenerate, which then means you know this), the Buccaneers face the Saints in Week 14 and Week 16. If Martin is healthy and ready to rock at that point in time, watch out -- the Saints are surrendering the fourth-most points per game to opposing running backs this year.
There's no need to sell the farm for Martin, but there's also a chance the Martin owner is struggling after holding onto him for eight weeks. Try to do your best and sell the short-term for the long-term.
Add Colin Kaepernick
I've basically had Colin Kaepernick in this column each week since he's become starter, but his ownership percentages aren't reflective of his actual performance on the field. Over the four weeks since taking over as the 49ers' starting quarterback, Kap has scored 18.08, 14.12, 22.22, and 23.90 fantasy points. That's 19.58 points per game, good for a top-10 average at the position.
Most would be scared about his floor in a given week, but Kap's now rushed for 55 or more yards in three of those four games. Since rushing is a cheat code for quarterbacks in fantasy football -- Konami Code article throwback -- it's easier for Kap to maintain these nice fantasy totals.
The 49ers will also face the Falcons and Jets during the first two weeks of the fantasy playoffs. That's a nice cherry on top.
Buy Spencer Ware
His stat line didn't show it, but Spencer Ware was fine in Week 10. He ended up playing 64% of the Chiefs' snaps and, just as importantly, handled 13 of the 15 running back carries in the backfield. The reason he didn't produce heavily was two-fold: the Chiefs had a negative game script throughout the contest, and the Panthers have the seventh-best rush defense in football, according to our metrics.
With Jamaal Charles out for the season, Ware should continue to see a high market share in the Chiefs' backfield. And, woo boy, do they have a nice schedule for running backs upcoming: Tampa Bay (7th-most points allowed per game to the position), Denver (9th-most), Atlanta (5th-most), Oakland (10th-most), Tennessee (23rd-most), and Denver (9th-most). Meanwhile, all three games from Week 14 through Week 16 -- the fantasy playoffs -- are in Kansas City, which should force more positive game scripts. That means more running with their lead back, Spencer Ware.
Sell Ryan Mathews
Another 15 Transactions column, another sell Ryan Mathews blurb.
Can you trust anyone in the Eagles' offense right now? Outside of Jordan Matthews, not really. Mathews exploded this week against Atlanta (figuratively, of course), but he still played just 33% of Philly's snaps. In the two games prior, he was at 10% and 11%. Because -- say it with me now -- he's not Philadelphia's lead running back.
Mathews was fortunate this week, too, to see an insane number of touches on the snaps he actually played -- he touched the ball on 81% of his snaps, which was the highest touch rate a running back with 20 or more carries has seen all season long.
Mathews has simply made a living in fantasy football off of touchdowns, but it's not sustainable. He currently has 396 yards and 7 rushing touchdowns when, if you regress this number based on the last five year's worth of data, he should have fewer than 3 scores.
Don't buy into his performance against Atlanta. It was fraudulent.
Add Eddie Royal
Out of nowhere yesterday, it was reported that Alshon Jeffery was suspended for four games after testing positive for PEDs. That means an already bad Bears offense just got a whole lot worse.
Wide receiver Cameron Meredith will surely benefit from the suspension, but it's not a bad idea to add Eddie Royal off the waiver wire, either. He played in Week 10 after a four-week hiatus, and despite catching just one pass on two targets, he stands to benefit from the Jeffery loss.
With all of this being said, I wouldn't be bullish on any weapon in this offense, even with a soft schedule. They're the only team without a three-touchdown game this year (hat tip to Rich Hribar of Rotoworld), so it's not as though fantasy points are oozing from the offense. So, if nothing else, you could also consider this transaction a "hold" -- not a buy -- for the non-Jeffery weapons in that offense.
Buy Willie Snead
This transaction may seem really bizarre considering Willie Snead is coming off a flukey performance against a top secondary. But, like I mentioned at the start, this is a longer-term move -- a move for the playoffs.
The Saints will face Tampa Bay twice from Weeks 14 through 16, the fantasy football playoffs. The Bucs, aside from this past weekend against Jay Cutler, have been awful against the pass, especially good quarterbacks -- Derek Carr and Matt Ryan torched them for top overall quarterback rankings in their respective weeks. Drew Brees should crush them.
And you'll want a piece of that passing attack against the Bucs. The cheapest wide receiver to target is Snead, who's seen really consistent volume when healthy, never falling below seven targets in fully completed games. Tampa Bay can also be beaten in the slot, where Snead plays, as slot cornerback Jude Adjei-Barimah ranks as Pro Football Focus' 75th-best player at the position.
Sell Marcus Mariota
Please don't freak out at your computer. I'm fully aware Marcus Mariota gets the Colts and Bears over the next two weeks before Tennessee's Week 13 bye. He should be able to post nice numbers.
So why sell him now, you ask?
Well, first off, this is 100% a move for the postseason. Mariota and the Titans get Denver, Kansas City, and Jacksonville -- the latter two on the road -- in Weeks 14 through 16, when none of those are truly plus matchups in terms of fantasy points against to the quarterback position.
Second, there's a chance -- I'll say a good chance, but we live in a small sample size world with the NFL, so anything is possible -- that Mariota starts to regress. He can still perform at a high level, I just mean regress in the fantasy points scored department.
Since Week 5, Mariota has a 9.4% touchdown rate. That's...that's insane. For some context, Peyton Manning had an 8.3% touchdown rate during his historic 55-touchdown season.
And since that Week 5 mark, Mariota has thrown a touchdown for every 92 yards passing. Last season, quarterbacks threw a touchdown pass for every 158 yards passing.
This isn't to say Mariota is worse than he's performing. It's just that, generally speaking, touchdowns can be fickle. And given this fact and the schedule Tennessee will face in the playoffs, I can get behind selling Mariota -- and his next two games -- to a desperate owner for something useful at wide receiver or running back, if it's needed.
Add Jeremy Langford and Ka'Deem Carey
On a lot of levels for fantasy owners, the Bears are annoying. After their loss to the Bucs on Sunday, it was reported that Jordan Howard suffered an Achilles' injury. But then Howard himself said that he didn't.
Who knows?
What I do know is that it'd be smart to be proactive and snag the Chicago handcuffs off the wire. Considering Jeremy Langford has been the lead back this season and played more snaps than Ka'Deem Carey this past weekend, he'd be the one to prioritize off the waiver wire.
Add the Cowboys' Defense
The Cowboys check every box as a good streaming option this week: they're at home, they're big favorites (seven points), and they're facing a team that's been fairly generous to opposing defenses this year (Baltimore). And that's without even factoring in that Baltimore has the absolute worst offense in football, according to our schedule-adjusted numbers.