4 NFL FanDuel Stacks for Week 8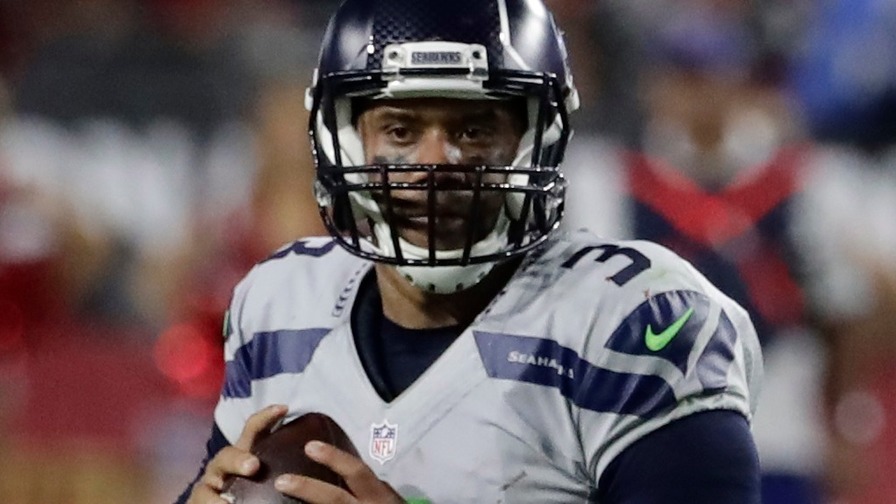 If you're new to daily fantasy football, then you'll have to make some changes to your fantasy football strategy. You don't have "your guys" on a weekly basis -- and you need to adjust to each and every matchup.
A big part of building your roster is weekly quarterback selection. In terms of salary, passers range from the top of the player pool to the bottom, with some replacement-level passers at the same price point as kickers and defenses on FanDuel.
Along with those quarterbacks, though, you have the option of pairing pass-catchers with your signal caller, and per 4for4's TJ Hernandez, a quarterback's top receiver has a moderately strong correlation to the quarterback's performance -- and his tight end and second receiver aren't too far behind.
If you're going to stack, though, you need to have a purpose. If you're trying to win a big tournament, you'll want to find a combination that can put up points in bunches -- all while possibly being under-owned. Which teammates might fit the bill in Week 8 on FanDuel's 10-game main slate?
Seattle Seahawks
QB: Russell Wilson ($8,200)
WR: Doug Baldwin ($7,200)
This week is an intriguing one. We have just 10 games on the main slate for DFS purposes, and none of them have a spread larger than 6.5 points. But there are still some intriguing stacks.
From 2013 to 2015, quarterbacks with at least 10 pass attempts in a game with a spread smaller than 6.5 points have scored a cool 17.0 FanDuel points per game. When facing a bottom-eight pass defense -- in terms of our Adjusted Defensive Passing Net Expected Points (NEP) per play metric -- passers have outperformed their seasonal average by 1.61 FanDuel points. The New Orleans Saints fit the bill, ranking 29th by this measure. Quarterbacks also outperformed their salary-implied performance by 2.09 points under these conditions. That makes Russell Wilson a safe, smart play.
Receivers see a boost in easy pass defense matchups, too, besting their season averages by roughly 1.2 points against bottom-eight pass defenses in spreads smaller than a touchdown. They play about a point above their average in domes, too, so a Wilson-Doug Baldwin stack surely is intriguing, as the Seattle Seahawks' 25.5-point implied total is tied for fourth on the main slate. You can also consider Jimmy Graham against his former team, too.
Green Bay Packers
QB: Aaron Rodgers ($8,800)
WR: Randall Cobb ($6,800)
Note: Randall Cobb is now not expected to play this week.
The Atlanta Falcons aren't a bottom-eight pass defense, as they rank 21st according to our metrics, but this game is in a dome, and the Green Bay Packers have an implied team total of 25 points, tied for 6th-highest on the slate. Green Bay has some intriguing value plays in Davante Adams and Ty Montgomery, but Randall Cobb could be the key. Cobb, a slot man, will likely avoid the tough coverage of Desmond Trufant, and we've already seen that receivers tend to play better than normal in domes even with tight games.
Further, there's been practically no change in performance whether on the road or at home, so we shouldn't be too concerned there -- although Cobb has an ugly orange banner attached to his name on FanDuel because of a hamstring injury. As long as he plays, he's a great option this week.
As for Aaron Rodgers, well, things haven't been great, but at $8,800, he's $100 more expensive than Tom Brady, which should reduce his ownership despite a promising, on-paper matchup.
New York Jets
QB: Ryan Fitzpatrick ($7,300)
WR: Brandon Marshall ($7,400)
There are chalkier ways to go this week, like with Jameis Winston and Mike Evans or Matt Ryan and Julio Jones, but it's tough to envision many Ryan Fitzpatrick-Brandon Marshall stacks in Week 8. The New York Jets draw the Cleveland Browns' 30th-ranked pass defense, which is something we're honing in on this week. Of course, the anticipated return of Joe Haden dings this one a bit, but really, it's just another reason to expect this to be a low-owned stack.
Marshall missed practice on Wednesday and also has an orange banner on FanDuel because of a foot injury. With a lot of chalky running backs to pick from (i.e. Devontae Booker, Devonta Freeman, Jacquizz Rodgers, and Spencer Ware), you'll want to differentiate somehow, and this stack could do the trick.
Houston Texans
QB: Brock Osweiler ($6,600)
WR: DeAndre Hopkins ($7,600)
I'm not sure how popular this stack is going to be, but the process is taking us there. The Houston Texans are facing the Detroit Lions, who boast the worst pass defense, per our metrics, since 2000. The game is in a controlled environment, and well, if it wasn't for the fact that it includes Brock Osweiler, the worst starting quarterback in the league, according to our metrics, it would probably be one of the most obvious choices of the week.
Still, Osweiler saves you cash, and you can spend either $7,600 for DeAndre Hopkins or $6,600 for Will Fuller, which really should differentiate your lineups by allowing you to spend up at running back rather than roster the popular value options. It's hard to know what the true upside is here as Osweiler hasn't hit 18 FanDuel points yet, but it'll set you apart from the get-go, and that's something to consider in a big tournament.