Week 7 NFL FanDuel Stacks: Nobody Likes the Jaguars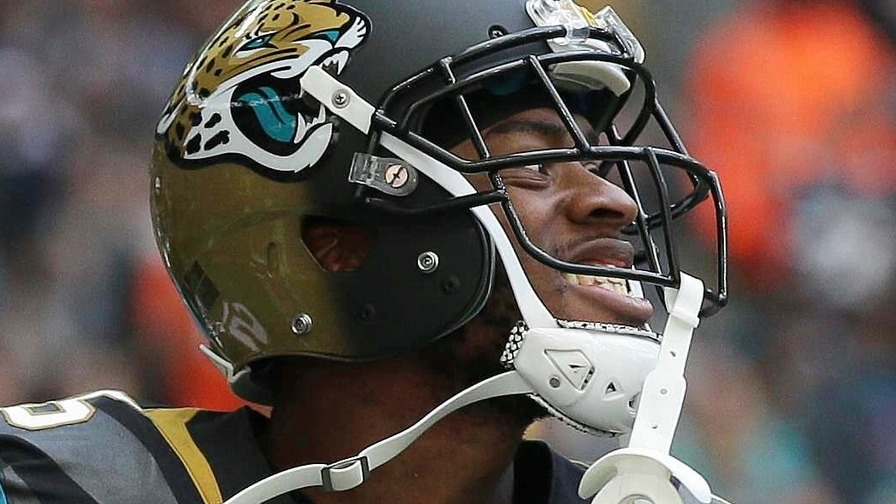 If you're new to daily fantasy football, then you'll have to make some changes to your fantasy football strategy. You don't have "your guys" on a weekly basis -- and you need to adjust to each and every matchup.
A big part of building your roster is weekly quarterback selection. In terms of salary, passers range from the top of the player pool to the bottom, with some replacement-level passers at the same price point as kickers and defenses on FanDuel.
Along with those quarterbacks, though, you have the option of pairing pass-catchers with your signal caller, and per 4for4's TJ Hernandez, a quarterback's top receiver has a moderately strong correlation to the quarterback's performance -- and his tight end and second receiver aren't too far behind.
If you're going to stack, though, you need to have a purpose. If you're trying to win a big tournament, you'll want to find a combination that can put up points in bunches -- all while possibly being under-owned. Which teammates might fit the bill in Week 7 on FanDuel's 12-game main slate?
Atlanta Falcons
QB: Matt Ryan ($8,700)
WR: Julio Jones ($9,200)
So, this stack is going to be the chalk, I would think. Matt Ryan, Julio Jones, and the Atlanta Falcons have an implied team total of 30 points this week, based on the spread and over/under, and play the San Diego Chargers, who rank eighth against the pass, per our Adjusted Defensive Passing Net Expected Points (NEP) per play metric. But, that's partly because of Jason Verrett's standout play. Verrett tore his ACL, so that ranking is likely going to worsen as the season moves along, and that'll probably start this week on turf, in a dome, against the top offense in the NFL, per our metrics.
Obviously, this isn't really a stack for a massive tournament given the expected ownership, but you can roll these guys out in a smaller tournament and differentiate elsewhere. The ceiling is too high to ignore just because of ownership, and maybe the price tag for each defrays the combined ownership of this particular stack. You can also pivot to Jacob Tamme ($5,200), as the tight end position is crummy this week anyway. Either way, don't overlook the Falcons entirely even with high ownership expected.
Cincinnati Bengals
QB: Andy Dalton ($8,100)
WR: A.J. Green ($8,500)
The Cincinnati Bengals are 9.5-point favorites against the Cleveland Browns this week, and their implied team total of 27.5 ranks third on the main slate. A.J. Green is likely going to be a popular option, just like Julio Jones, but how many people will stack him with Andy Dalton? Probably not many. Dalton's ownership hasn't topped 8.1% on FanDuel all season, and he's pretty pricey at $8,100, the sixth-highest quarterback price among active players for Week 7.
Cleveland ranks 28th against the pass, per our metrics, and they could be playing without top cornerback Joe Haden. You'll have to swallow heavy ownership on Green, but Dalton is the differentiation point here, and this stack could vault you up the leaderboards given the matchup and prohibitive price on Dalton.
Jacksonville Jaguars
QB: Blake Bortles ($7,400)
WR: Allen Robinson ($8,400)
With Alex Smith at $7,200 against the New Orleans Saints, Colin Kaepernick at $6,500, and Geno Smith at $5,000, quarterbacks in this price range might be afterthoughts. Further, 84% of the public is betting on the Oakland Raiders, per TheSpread.com. I don't think Blake Bortles is going to be heavily owned in Week 7. Oakland, though, is the fourth-worst pass defense in the NFL through Week 6, and they're 29th in sack rate. The Jacksonville Jaguars are at home, favored by a point despite the heavy bets on the Raiders.
Additionally, Allen Robinson burned a lot of players last week, as he notched 6.4 FanDuel points. He's now fourth in salary, behind Jones, Antonio Brown, and Green, who should be popular, and below him is Mike Evans, who is in a prime spot against the San Francisco 49ers. Robinson is still 10th in market share over the past three weeks among receivers, and this is looking like a low-owned stack that has plenty of upside given the weak opponent.
Washington
QB: Kirk Cousins ($7,300)
WR: Pierre Garcon ($6,100)
Ideally, Jordan Reed would be healthy enough to play in Week 7, giving us an exciting pass-catcher to stack with Kirk Cousins, but that's just not a guarantee. The matchup is driving me to this stack, as the Detroit Lions' 0.41 Adjusted Defensive Passing NEP per play is on pace to make them the worst secondary since 2000.
Cousins has been known to struggle away from home, but he has actually posted roughly average efficiency in away games since the start of last season. His Passing NEP per drop back is 0.22 on the road through two tough games this year. It was 0.12 last season, giving him an overall mark of 0.14 over 379 drop backs since the start of last year. The league average this season overall is 0.13, and it was 0.11 last season. Against the worst pass defense in years, that'll work.
Pierre Garcon played on 81% of the team's snaps last week while Reed missed, and DeSean Jackson saw 68%. I'd rather play Jackson, given his big-play ability, but he missed practice on Wednesday. If he's a full-go for Week 7, a Cousins-Jackson stack should be firmly on your radar. If not and if Reed is limited or out, Garcon and his 23.5% target market share over the past three weeks is worth a shot at his low price.