Monday Night Football Preview: Carson Wentz's Second Act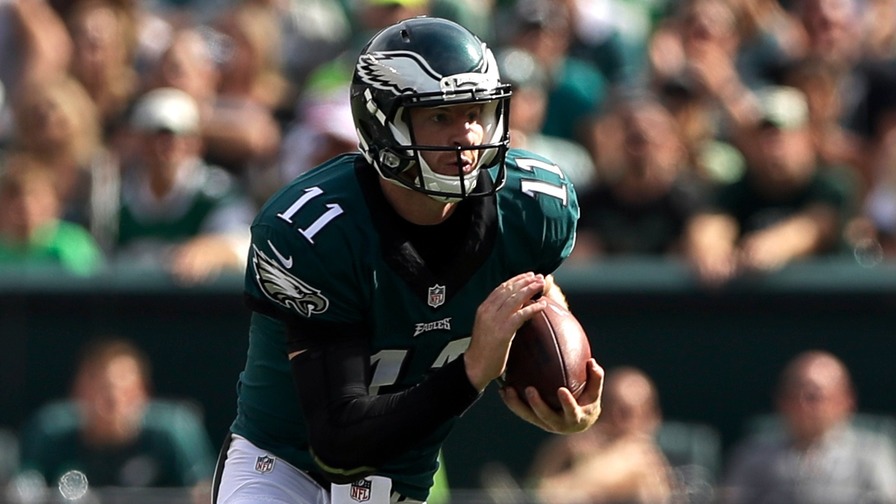 Every year, Week 1 of the NFL season brings a deluge of new storylines and overreactions to just one week of football out of a five-month season. Perhaps lost in the commotion from Week 1 was the impressive debut of Philadelphia Eagles rookie quarterback Carson Wentz.
Wentz led the Eagles to a 29-10 home victory over the Cleveland Browns, throwing for 278 yards and 2 touchdowns. Granted, the Eagles played the lowly Browns' defense in Week 1, but in a season where the number-one overall pick Jared Goff is still riding the pine in Los Angeles and fourth-round pick Dak Prescott opened his career with a loss for the Dallas Cowboys, Wentz's ability to step in as a rookie and lead his team to a win shouldn't be understated.
This is particularly true after Wentz only saw action in one half of one preseason game before missing the final three preseason games with a rib injury.
While his impressive Week 1 may have gone a bit overlooked, Wentz's second opportunity to shine comes on national television against Jay Cutler and the Chicago Bears.
This is actually the first meeting between these teams since 2013 when a Chip Kelly-led Eagles squad beat the Bears 54-11. We likely won't see that kind of scoring output this time around, with Vegas setting the over/under on this game at 42.5.
Chicago, three-point favorites at home, is looking to rebound following an opening weekend loss against the Houston Texans. The Bears led 14-10 at halftime but wilted in the second half, failing to score for the rest of the game and ultimately losing 23-14.
If Wentz and the Eagles leave Chicago with a win, they'll be tied with the New York Giants atop the NFC East standings at 2-0. On the other side, with a loss, the Bears would be the only team in the NFC North to start the season 0-2.
Here are a few storylines to watch as we head into the final game of Week 2.
How Will Carson Wentz Follow Up?
Wentz's first start as an Eagle couldn't have gone much better. It didn't take long for Wentz to impress, as the opening drive went nine plays for 75 yards and ended in a 19-yard touchdown pass to Jordan Matthews.
By our Net Expected Points (NEP) metric, which measures a player's efficiency against historical expectation, we can see just how efficient Wentz was. Wentz's Passing NEP per drop back of 0.26 ranked 11th among all quarterbacks in Week 1. For context, Wentz tied Carson Palmer (0.26) and finished just ahead of Andy Dalton (0.25) in terms of Week 1 performance.
Things get a bit tougher for Wentz in Week 2 as the Bears' defense, with newcomers Jerrell Freeman and Danny Trevathan, ranks 10th-best in the league following Week 1, per our metrics. The Bears did allow Brock Osweiler to throw for 231 yards and 2 touchdowns last week but also sacked Osweiler twice and forced an interception.
Heading into this Week 2 tilt, Wentz will be without a key weapon in tight end Zach Ertz who could miss multiple weeks with a rib injury. Last week, Ertz caught 6 of 7 targets for 58 yards. Expect Trey Burton to play additional snaps at tight end next to Brent Celek.

Wentz had a strong debut in Week 1, but leading his team to a victory on the road against the Bears might be even more impressive than his Week 1 showing.
Has Nelson Agholor Taken a Step Forward?
Nelson Agholor struggled mightily in his rookie year. With a new coaching staff and a new quarterback, is Agholor set to bounce back in his sophomore campaign?
If Week 1 is any indication, then he may just be. In the season opener, Agholor hauled in 4 passes for 57 yards and a touchdown. This is a fairly pedestrian stat line, but it's notable for Agholor as he didn't have a game in his rookie season in which he had more than three receptions. Additionally, there were only two games last season in which he exceeded 57 yards receiving.
Agholor's Week 1 performance also graded out well via advanced metrics. Agholor posted a 0.95 Reception NEP per target, well above last year's average rate for receivers of 0.67.
Although the Eagles traded for Dorial Green-Beckham just before the season, Agholor ran as the clear second option behind Matthews in Week 1. Agholor played 67 of 77 snaps (87 percent) as Josh Huff played only 28 of 77 (36 percent) and Green-Beckham saw 25 of 77 (32 percent).
While Agholor's rookie season was one to forget, he still is only 23 and a fresh start with Doug Pederson's staff may be just what he needs.
Can the Bears Protect Jay Cutler?
With Eagles cornerback Leodis McKelvin out with a hamstring injury, Alshon Jeffery has a plum matchup against either seventh-round rookie Jalen Mills or Nolan Carroll.
But for Cutler and Jeffery to pick apart the Eagles secondary, the Bears' offensive line will need to give their quarterback some time to throw. In Week 1, Cutler was under pressure much of the day. He was sacked 5 times and hit 12 times by Texans defenders.
Now, Cutler will square off with an Eagles squad whose defensive line is led by Fletcher Cox and is one of the stronger units in the league. Against the Browns in Week 1, the Eagles registered three sacks and one interception and hit Robert Griffin III five times en route to a victory.
Entering 2016, the Bears have a revamped offensive line, starting a rookie at center in Cody Whitehair and free agent signee Bobby Massie, who was a turnstile against the Texans, taking over at right tackle. Additionally, Josh Sitton was signed the week before the season started after he was cut by the Green Bay Packers following nine seasons there and slid in as a starting guard.
The Bears' offensive line clearly needs some more experience playing together, as the running game also struggled in Week 1, gaining only 73 yards on 20 carries against the Texans.
Now, back at home, perhaps the rebuilt offensive line can show some improvement. If not, Cutler may be in for another long evening.
What to Make of Kevin White
In 2015, the Bears selected wide receiver Kevin White seventh overall, but a leg injury cost White his entire rookie year.
In his debut last week, White saw a team-high 7 targets against the Texans but caught 3 of those passes for 34 yards. Among the wide receivers who saw at least five targets in Week 1, White finished 58th in Reception NEP per target.
It was a disappointing debut for the second-year receiver, although he did play 98 percent of the team's snaps in the opener. This week, offensive coordinator Dowell Loggains suggested the Bears might scale back White's route tree as he continues to adjust to the NFL.
As mentioned previously, the Eagles will be without their top cornerback in McKelvin for this game. While that bodes well for Jeffery, who posted 105 yards on 4 receptions in Week 1, that could also make things easier for White to bounce back in his second game.
Also, if White continues to struggle, keep an eye on whether Eddie Royal starts to become more involved at the expense of White.
Game Projections
To read all premium content, upgrade to a Premium account with numberFire
If you're not a Premium subscriber, it takes just a few seconds to sign up. You'll get access to all of our insider information, game projections, handicapping advice, DFS tools, advanced statistics, and more.