It's Time to Start Taking Dennis Pitta Seriously Again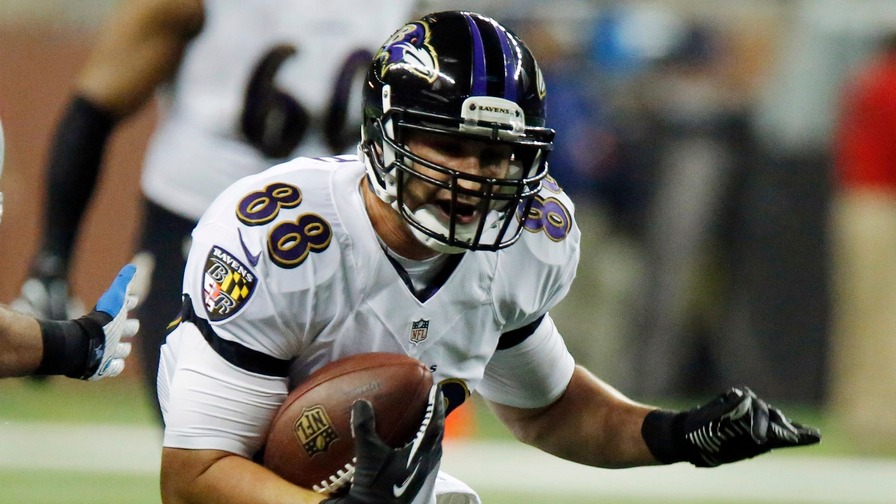 My first ever article for numberFire was a piece on Dennis Pitta, so when I saw that Pitta was listed as the top tight end for the Baltimore Ravens in Week 1, I had to take a deeper look -- just for old time's sake.
It was hard not to like the numbers.
Pitta played 56 of the Ravens' 68 snaps against the Buffalo Bills last week, leaving no question as to who is Baltimore's top tight end. Crockett Gillmore, last year's starter, saw 30 snaps, and sophomore Maxx Williams saw only 9.
Williams and Gillmore combined for one measly target, while Pitta's four targets ranked third on the team, behind only Steve Smith and Mike Wallace.
It has been a couple of years since we've been able to say this, but it's time to start taking Dennis Pitta seriously (again).
The Trestman Effect
Ravens' offensive coordinator Marc Trestman is talked about a lot for the effect he has on offenses, and one thing he has consistently done since returning to the NFL in 2013 is feature tight ends.
| Year | Player | Targets | Receptions | Fantasy Points | Fantasy Tight End Rank |
| --- | --- | --- | --- | --- | --- |
| 2013 | Martellus Bennett | 94 | 65 | 168.9 | 10 |
| 2014 | Martellus Bennett | 128 | 90 | 221.6 | 4 |
| 2015 | Crockett Gillmore | 47 | 33 | 98.2 | 26 |
| 2015 | Maxx Williams | 48 | 32 | 64.8 | 39 |

In 2013 and 2014, when he had a true No. 1 tight end on his depth chart in Martellus Bennett, Trestman took a player who averaged only 28 receptions per year over his first five seasons (only topping 50 receptions once) and turned him into a top fantasy tight end.
In his 2015 debut with the Ravens, Trestman had sort of a makeshift group of tight ends at his disposal. Pitta missed the year with injury, leaving Gillmore, who had caught only 10 passes in his 2014 first season, and the rookie Williams to fight for the starting job. Because of injuries, Nick Boyle even logged a pair of starts.
While it's obviously not as simple as adding together the tight end production from Gillmore, Williams and Boyle, it does help us get a feel for the Ravens' tight end usage last year. Those three combined for 83 receptions, 853 yards and 5 scores on 118 targets, which totals 193.3 fantasy points.
Pitta's Efficiency
It has been a long time since we saw a full season out of Pitta, as he has played only eight games since 2012. With that said, he showed some real promise when he was playing.

In both 2011 and 2012, he finished above the league average for tight ends in Reception Net Expected Points (NEP) per target. He also finished above the league average for tight ends in fantasy points per target in both of those seasons. Among tight ends to see at least 50 targets, he ranked 11th in fantasy points per target in 2011, and he checked in 9th in 2012.
Pitta has also shown good rapport with Joe Flacco, the only quarterback he's ever played with. Over his career, he has caught 66 percent of his targets from Flacco.
Moving Forward
It wasn't that long ago that it seemed like Pitta was never going to play another NFL snap, but he is back and seems to be fully healthy -- finally.
He has proven that he has the ability to be a solid tight end, both from a fantasy and real-life perspective, and while he doesn't have elite upside, being the top tight end in a Trestman-coached offense means he could be in for a solid year in 2016.
He may not be a weekly fantasy starter, but Pitta might be worth deploying in the right matchups. Owned in just 1.0% of ESPN leagues, Pitta could start paying dividends immediately as he is in a really nice spot this weekend against the Cleveland Browns. If you are a Zach Ertz owner or maybe your tight end has a tough matchup this week, Pitta is worth checking out.