Use Our Draft Kit, Win Your Fantasy Football League
We may have never met, but I can tell two things about you: you love fantasy football and you hate losing.
You're in luck, stranger.
You can use numberFire's fully customizable fantasy football draft kit to climb to the top of your league from draft day through the entire season.
Tailor It for Your League
Sure, fantasy football magazines are nostalgic, and they're a resource you can take to your draft if you can't lug your computer there (or, you know, you can download our draft kit app and crush your league from wherever you happen to be whenever you feel like it), but magazine rankings don't always identify the best players to target in your actual league.
Why not customize your rankings?

You might play in a two-quarterback league, or you might have made the transition to PPR scoring. Maybe you do one of everything. It can be hard to keep track and to rearrange your rankings for each and every draft.
Whatever your league does differently, you can punch it in on the draft kit and get a full list of rankings to help you win your draft.
Embrace FireFactor
One of the most important aspects of fantasy football is building your roster in an optimal fashion. If you're in a league where you need to start three wide receivers no matter what, there's a bigger need to load up at the position than in a two-receiver league.
FireFactor is a mechanism that weights projected output and ranks players not by fantasy points alone but by fantasy points compared to players at the same position.
Is DeAndre Hopkins more valuable than Todd Gurley in your league based on scoring and roster requirements? Don't just guess -- FireFactor lets you know who the smarter pick is.
Bid Smarter in Auction Drafts
Premium subscribers can turn our projections into a cheat sheet for auction drafts. Don't overspend for a player when a similar option is available for cheaper.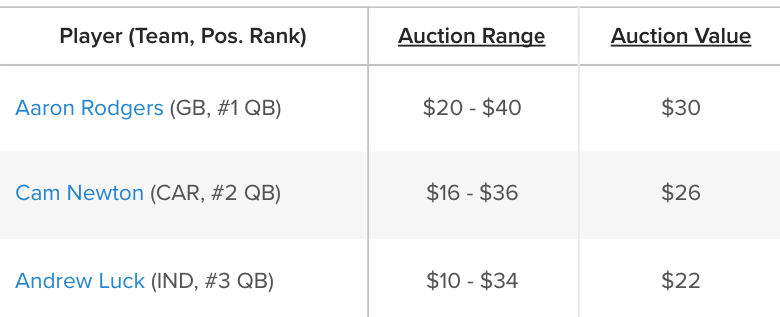 Keeping tabs on your remaining budget and team needs is a high-stress situation while in the heat of an auction draft. Simply set your league's budget range and soak up the value as it comes available.

Build Tiers
Tiering players is a smart way to draft because it can help identify when a drop off in talent is imminent. Don't panic and draft a tight end in the fifth round if there are another seven guys in the same tier of players being drafted early.
Find out which players at their positions are in a tier of their own at the top of the class and make sure that you aren't reaching for players on draft day.
Target and Avoid Defensive Matchups
Few things can derail a season quite like running into a defensive buzzsaw for weeks in a row. Our draft kit identifies easy and tough matchups for each player throughout the season, based on our advanced metrics.

Use the information to sell high, buy low, and give yourself access to players with great chances to succeed.
Start Winning
You can do all this and more -- such as view risk profiles and historical scoring -- with our draft kit and draft kit app.
So stop making excuses and start winning.