College Football Betting Guide, Presented by Twisted Tea: Saturday 10/29/22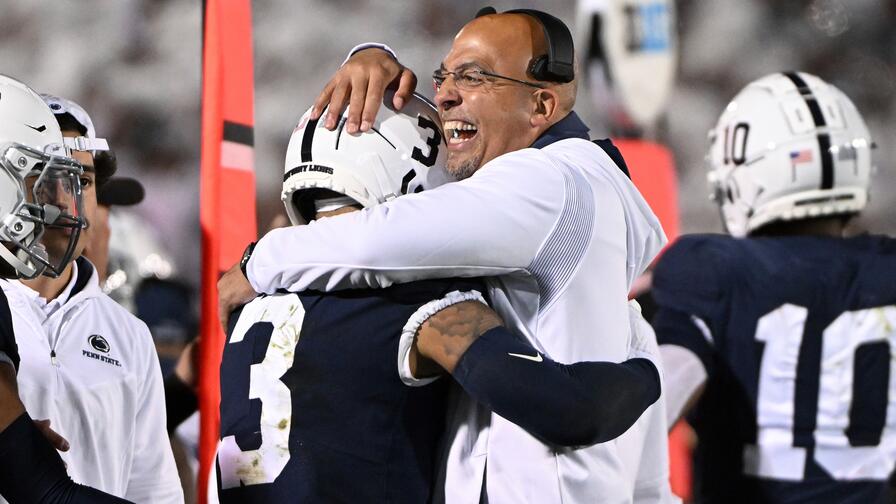 Fans were almost treated with a major upset last Saturday, but in the end, Clemson prevailed over Syracuse and the Tigers survived to live another day in the College Football Playoff race.
There are six teams that have at least a 30% chance of making the playoff per three different models: ESPN's Playoff Predictor, FiveThirtyEight's College Football Predictions, and The Athletic's College Football Playoff projections. You likely don't even need to look at one of those models to guess the six; the remaining contenders are Ohio State, Georgia, Clemson, Michigan, Tennessee, and Alabama. While a few other teams have an outside chance, the playoff will likely end up with some combination of those six.
Alabama and Clemson each have a bye this week, but the other four are in action. Georgia and Michigan each host one of their major rivals, Florida and Michigan State, respectively. Tennessee hosts a ranked Kentucky team and Ohio State heads to Beaver Stadium for a matchup against Penn State. We'll start with that Big Ten battle between the Buckeyes and Lions.
While you're perusing lines and totals, be sure to check out Twisted Tea's College Football Picks, a betting-focused contest series that is entirely free to play and that gives you a chance to compete for a share of thousands of dollars in site credit.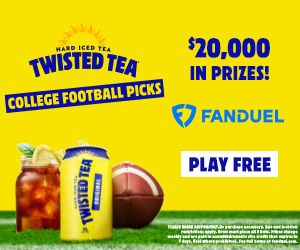 The contest is simple: each college football game will be assigned moneyline, spread, and total markets with assigned points to each market. All you have to do is make six selections based on those three markets and earn points for each correct selection you made. If your score ranks among the best in the contest, you'll be eligible for your share of site credit.
Make your picks today, and remember: please drink responsibly.
Note: All college football odds are from FanDuel Sportsbook. Lines are subject to change throughout the day after this article is published. All ratings are out of five stars. Please check numberFire's model to make sure you're seeing the most updated information.
Penn State +14.5 (-106): 4 Stars
After an absolute shellacking at the hands of Michigan, Penn State rebounded last week with a big win of their own against Minnesota. The Lions have allowed 1,249 rushing yards in six games, and 563 of those came against the Wolverines. So, while Penn State is no longer amongst the national leaders in rushing yards per game, their defense looks much more capable if the outlier is removed from the sample.
Penn State has a path to the playoff, albeit an unlikely one. It starts with an upset over Ohio State and winning all their remaining games. They'd likely need Michigan to remain undefeated, too. The Buckeyes don't have many weaknesses, if any, so the Lions will have their hands full. However, there are a few areas Penn State could potentially exploit if they're at their best on Saturday.
First, Ohio State isn't particularly great at pressuring the opposing quarterback on obvious passing downs; they're ranked 52nd in passing downs sack rate per Football Outsiders. It's not much of a weakness (relatively speaking), but it means that Sean Clifford can bail the Lions out of difficult third downs without facing elite pressure.
Second, the Buckeyes' offense is the best in just about every single category except for turnovers. Ohio State has turned the ball over seven times this year, and Penn State has seven interceptions and seven fumbles recovered. It's not a glaring mismatch for Penn State, but a turnover or two by the Buckeyes could keep this game closer than expected.
The bottom line is that Penn State is one of the more talented teams that Ohio State has on its schedule. The Lions are one of three teams that face the Buckeyes this year with a Blue-Chip Ratio of at least 50% -- the other two being Michigan and Notre Dame. We saw a competitive Notre Dame game at the beginning of the season before the wheels fell off for the Irish, and it's possible that Saturday's game at Penn State is competitive, too.
Our model gives the Lions a 69.9% probability to cover the 14.5-point spread.
Under 61.5 (-110): 3 Stars
It seems counterintuitive to bet on the under in a game featuring the nation's top offense in yards gained per game, but this game is more about Kentucky than Tennessee.
Kentucky is 49th in offensive SP+ per ESPN, which is by far the worst offense that the Volunteers have faced in conference play this season. Many experts expected the Wildcats' offense to be great behind NFL quarterback prospect Will Levis, but he's only ranked 50th in ESPN's QBR this season. Much of that can be blamed on the offensive line that ranks 129th in sack rate, but either way, this offense hasn't clicked.
Meanwhile, Kentucky has an efficient defense that ranks sixth in SP+. We've seen Tennessee put up 52 points against an elite Alabama defense, but whether they can be that good consistently is still unknown. The Volunteers will provide us with an answer this week -- and next week against Georgia.
Kentucky's secondary will likely be the most important factor in this game. The Wildcats have allowed just 178.3 passing yards per game (third in the SEC) and have an excellent cornerback duo in Carrington Valentine and Keidron Smith.
The under has a 62.8% probability of cashing, per our model, and while Tennessee has lit opposing defenses on fire this season, they'll have a new challenge this week against the Wildcats.
Michigan -22.5 (-110): 2 Stars
Michigan has not been good against the spread in Michigan State games as of late.
The Spartans are 12-2 against the spread in their last 14 games against the Wolverines. However, this Michigan team might be the best in the last 14 years. Their offensive line is seemingly better than last year when they won the Joe Moore Award, and with the running back duo of Blake Corum and Donovan Edwards, the Wolverines have one of the most dynamic rushing attacks in the country.
Michigan State has been poor against the run, allowing the fourth-most rushing yards per game in the Big Ten, and they rank 60th nationally in average line yards per Football Outsiders. Michigan has already decimated great rushing defenses this season -- like Penn State as mentioned.
If the Spartans want to keep this game within three touchdowns, they'll likely have to keep up on offense with the Wolverines as they did last year in an upset win. Unfortunately, they no longer have Kenneth Walker III lining up in the backfield, and their offensive line is ranked 100th in average line yards. Michigan State will have a challenging time up front against Michigan's Mazi Smith, who ranked first in The Athletic's Freaks List prior to the season. Smith has led Michigan to allow the lowest opportunity rate in the country this season.
Michigan has a 57.6% probability to cover the huge spread against Michigan State. They're playing at their highest level than in years, and the Spartans have taken a massive step back this year.