College Football Betting Guide: Saturday 10/15/22, Presented by Twisted Tea
The group of contenders for the College Football Playoff looks slightly different this week, as Utah lost on the road to an emerging UCLA team. There's still a consensus top seven, though, because Tennessee crushed LSU in Death Valley to jump the Trojans in the AP Poll as well as playoff probability, per FiveThirtyEight's College Football Predictions and ESPN's Playoff Predictor.
However, it's unlikely that we'll be saying the contender picture hasn't changed next week. Michigan hosts Penn State, who is also undefeated and still in the playoff hunt, while Tennessee hosts Alabama with Bryce Young's availability uncertain. Meanwhile, USC and Clemson both have challenging road trips to Utah and Florida State, respectively. Even fringe contenders Oklahoma State and TCU face off, likely eliminating one of them from the playoff mix.
This week, we'll start in the Big Ten with a team that's seemingly in Fox's Big Noon slot every week -- hopefully, Gus Johnson and Joel Klatt aren't tired of Michigan yet!
While you're perusing lines and totals, be sure to check out Twisted Tea's College Football Picks, a betting-focused contest series that is entirely free to play and that gives you a chance to compete for a share of thousands of dollars in site credit.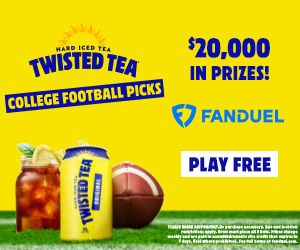 The contest is simple: each college football game will be assigned moneyline, spread, and total markets with assigned points to each market. All you have to do is make six selections based on those three markets and earn points for each correct selection you made. If your score ranks among the best in the contest, you'll be eligible for your share of site credit.
Make your picks today, and remember: please drink responsibly.
Note: All college football odds are from FanDuel Sportsbook. Lines are subject to change throughout the day after this article is published. All ratings are out of five stars. Please check numberFire's model to make sure you're seeing the most updated information.
Michigan -6.5: 3 Stars
Michigan is seemingly on a collision course that will end in Columbus on the last week of the season, but there are still potential spoilers left on their schedule. Penn State is more than a spoiler, though. If they beat Michigan in Ann Arbor, they'll host Ohio State in two weeks in a game that would decide first place in the Big Ten East.
Penn State has made it this far because of its prolific defense. After a close call against Purdue, they've held their opponents to 14 points or less in each game. The Lions' defensive line has been particularly effective against the run -- they rank 10th in average line yards and 12th in opportunity rank, per Football Outsiders. However, they haven't faced an offensive line as good as Michigan's, who rank 20th and 8th in those same two statistics. Additionally, Blake Corum is the running back with the lowest Heisman odds on FanDuel Sportsbook.
The Lions will have their hands full with Corum and company, but if they can prove they are indeed one of the best rushing defenses in the nation, Michigan's fate will fall into quarterback J.J. McCarthy's hands. He has elevated Michigan's offense to be more well-rounded, but he's also been able to minimize mistakes as well as his predecessor, Cade McNamara. McCarthy has completed 78.3% of his passes and has only thrown one interception through six games.
Penn State's quarterback, Sean Clifford, is what he is at this point in his career. Clifford is in his fourth year as the starter and has a completion percentage of 62.0%, only a tick above his career completion percentage of 60.6%. Freshman running back Nick Singleton has had his moments, particularly against non-conference opponents Ohio and Auburn, but his numbers outside of those games are average.
The Wolverines' defense is ranked in the top 10 by both ESPN's SP+ and Football Outsiders' FEI metrics, and their pass-rush-by-committee without Aidan Hutchinson has been effective, as they have the fifth most sacks in the country so far.
Michigan should win this game because they're great in more elements of the game than Penn State. The Lions may be able to stop the Wolverines' best player, Corum, but it's hard to see them also stopping McCarthy and Michigan's deep rotation of receivers and tight ends while putting enough points up of their own.
Ultimately, our model projects Michigan to cover with a 63.3% likelihood, which is good enough for a three-star rating.
Tennessee +7: 2 Stars
This game isn't amongst the model's favorites this week, but it is one of the most impactful matchups this season in terms of playoff berths.
Bryce Young's health is up in the air at this point, but we've seen the difference between his play and backup Jalen Milroe's play this season. Milroe ultimately led the tide to a win over Texas A&M last week, but he ran 17 times for 81 yards. For context, Young has only 19 rushes on the season, so it's clear that he's able to make decisions more clearly than Milroe. However, our model doesn't take injuries into account and still likes Tennessee to cover against Alabama.
Hendon Hooker has emerged as a Heisman contender at quarterback for the Volunteers; he's thrown 10 touchdowns and completed 70% of his passes this season. More importantly, he's navigated Tennessee through a difficult early season schedule that included trips to Pittsburgh and LSU.
Defensively, Alabama has taken a step forward since their game against Texas, and Will Anderson Jr. continues to impress NFL scouts with his pass rushing ability. However, they haven't faced a quarterback on Hooker's level this season.
Tennessee and Alabama are likely to put up points against each other, and with a career performance from Hooker and some turnover luck, the Volunteers could pull an upset that would set them up to battle Georgia later this season for the SEC East. Both teams will need their best players to step up -- Anderson for Alabama and Hooker for Tennessee -- especially if Young is unable to go.
Our model gives the Volunteers a 61.8% probability of keeping this game within a touchdown, but there is a path to victory for them in what should be the game of the week.
Utah -3.5: 3 Stars
Utah is looking to bounce back after a tough loss to UCLA, while the Trojans hope to keep their playoff campaign alive.
USC has a blistering offense, led by transfers Caleb Williams at quarterback and Jordan Addison at wide receiver. Williams has thrown 14 touchdowns this season to only one interception, and Addison has caught 6 of those touchdowns. Utah has a solid quarterback, too, in Cam Rising, who is seventh in ESPN's QBR, four spots ahead of Williams.
Clearly, both teams can score, especially through the air, but Utah has the much better defense of the two. The Utes are 24th in defensive FEI, while the Trojans rank 71st, and if USC can't get a few stops to put Williams in the driver's seat on offense, their playoff hopes might run out by the end of the game.
Utah has been able to generate pressure on opposing quarterbacks and are 26th in sack rate. USC's offensive line is much better at run blocking than pass protection, ranking 56th in sack rate but also being the best in opportunity rate. Williams has been sacked 11 times this year, so that could be an advantageous matchup for the Utes. USC leads the country in sacks, and their pass rush might have to be their saving grace if they want to come out with a win.
In the end, Utah is more balanced than USC and has a quarterback that can go blow-for-blow with Caleb Williams. Our model projects Utah to cover with a 62.9% likelihood, and if they do indeed cover, they'll have knocked off another College Football Playoff contender.