College Football Betting Guide, Presented by Twisted Tea: Saturday 10/8/22
Every week, the College Football Playoff picture becomes a little clearer, but that wasn't necessarily the case last week. Per both FiveThirtyEight's College Football Predictions and ESPN's Playoff Predictor, the seven teams most likely to make the playoffs in order are Alabama, Ohio State, Georgia, Clemson, Michigan, USC, and Utah. All seven won easily -- with the exception of Georgia, who barely survived a road trip to Missouri.
This week, all seven contenders are facing unranked teams except Utah; the Utes visit undefeated UCLA. If Utah survives, they'll have the chance to knock off USC at home next week to cement themselves as the Pac-12 frontrunner.
Where can we find value to bet this week?
Plus, while you're perusing lines and totals, be sure to check out Twisted Tea's College Football Picks, a betting-focused contest series that is entirely free to play and that gives you a chance to compete for a share of thousands of dollars in site credit.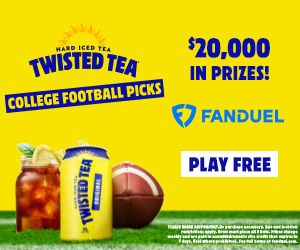 The contest is simple: each college football game will be assigned moneyline, spread, and total markets with assigned points to each market. All you have to do is make six selections based on those three markets and earn points for each correct selection you made. If your score ranks among the best in the contest, you'll be eligible for your share of site credit.
Make your picks today, and remember: please drink responsibly.
Note: All college football odds are from FanDuel Sportsbook. Lines are subject to change throughout the day after this article is published. All ratings are out of five stars. Please check numberFire's model to make sure you're seeing the most updated information.
Auburn +29.0 (-110): 3 Stars
The question for Auburn coming into this game is whether they can replicate Missouri's performance against the Bulldogs last Saturday.
Obviously, injuries played a part for Georgia; key players like defensive tackle Jalen Carter and wide receiver A.D. Mitchell sat out.
However, one major reason Georgia got behind early was due to poor blocking from their offensive line. Georgia wasn't able to score a touchdown until there were under ten minutes to play in the game. For the season, the Bulldogs rank 24th in opportunity rate and 27th in stuff rate per Football Outsiders, which is much worse than they ranked last season (12th and 7th, respectively).
Missouri is 11th in stuff rate, and they held the Bulldogs to quite a few runs of just a yard, no gain, or a loss of yards. Auburn doesn't have the same caliber of defensive line as Missouri, but they can follow the same defensive blueprint to slow down Georgia.
Auburn is ranked 22nd in standard down sack rate, and Georgia's receiver corps is still banged up (Mitchell is currently day-to-day), so they could pressure Stetson Bennett on early downs and force a few long third-down situations.
Auburn is still likely to lose this game, but there are ways that they can at least slow down the Georgia offense to keep the game within 29 points. If the Tigers bring pressure on defense and Georgia has difficulty scoring right out of the gate, Auburn should be able to cover the spread.
Our model gives Auburn a 65.0% likelihood of covering, which is good enough for a three-star rating.
Michigan -22.5 (-114): 3 Stars
Iowa has been so bad on offense that their stingy defense is overlooked. The Hawkeyes are seventh in the country in yards allowed per game -- just one spot behind the Wolverines.
Michigan easily surpassed that last week. Running back Blake Corum led the way with 133 rushing yards himself. Now, the Wolverines travel to Bloomington to play at Memorial Stadium, which doesn't have the same reputation as being a difficult place to play as Kinnick Stadium in Iowa City.
There's only one defense that is allowing more yards per game than Indiana -- a Nebraska team that just fired their coach after a disastrous start. The Hoosiers are dead last in passing yards allowed per game, so quarterback J.J. McCarthy and a deep receiver room will likely have a big day for the Wolverines.
Michigan's defense has been surprisingly good after losing star pass rushers Aidan Hutchinson and David Ojabo to the NFL earlier this year. The Wolverines are third in opportunity rate and sixth in sack rate.
Seven players have at least one sack this year, so Michigan hasn't necessarily replaced Hutchinson and Ojabo with one or two stars; instead, they have depth in the front seven and calculated blitzes by defensive coordinator Jesse Minter. Nickel cornerback Mike Sainristil has two sacks himself this year, coming on blitzes that opposing offenses weren't ready for.
This isn't the Indiana of a couple of years ago that qualified for two straight bowl games under Tom Allen. The Hoosiers barely beat Western Kentucky and were dismantled by Nebraska last week.
Our model projects that Michigan will cover with a 62.8% probability, and as long as Jim Harbaugh doesn't pull the starters too early, the Wolverines should be able to come through for bettors on Saturday.