College Football: PAC-12 Betting Preview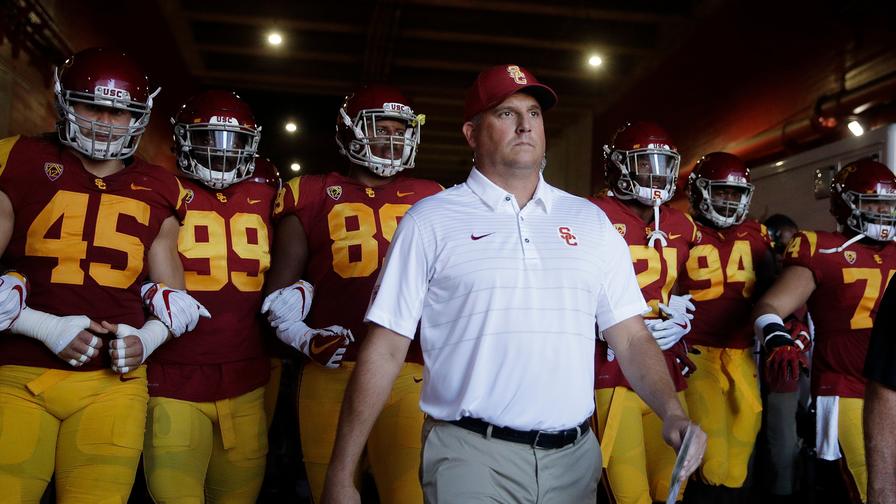 At long last, the college football season starts today as we wrap up our conference preview series on the PAC-12. Coverage on the four other Power Five Conferences can be found here. Below are betting odds for each PAC-12 team to win the conference championship, courtesy of Bovada (as of 8/29/2018).

| Team | Odds |
| --- | --- |
| Washington | +110 |
| USC | +400 |
| Stanford | +550 |
| Oregon | +750 |
| Utah | +1500 |
| Arizona | +1600 |
| UCLA | +3000 |
| California | +5000 |
| Arizona State | +7500 |
| Colorado | +8000 |
| Washington State | +10000 |
| Oregon State | +90000 |
Last season, the USC Trojans won their first PAC-12 Championship since the implementation of the championship game. However, the North Division Champion has dominated in recent years prior, with Stanford, Oregon, or Washington winning all the other title games. The North Division is home to the best bet to win the conference this season, too.
Best Value: Washington Huskies +110
Washington is yet another odds-on conference favorite that has the best betting value.
The Huskies are the highest-ranked PAC-12 team per The Power Rank (ninth) and ESPN's Football Power Index (fifth). FPI gives Washington at least a 70% win probability against all its opponents except against Auburn in the opener (50.5%) and on the road against Oregon (69.7%). They'd avoid USC entirely until the PAC-12 Championship Game and play Stanford at home, so their schedule lines up well for a conference title run.
The Huskies return eight starters from the 18th-ranked offense by offensive S&P+ including quarterback Jake Browning, who had a solid QBR of 71.9 last year, and running back Myles Gaskin, who averaged 6.2 yards per rush last season. Washington should improve its 45th-ranked rushing offense by S&P+ with a more experienced offensive line (four starters return), and a healthy Trey Adams, who returned to the Huskies despite being projected to be selected in the first round of the NFL Draft after missing the end of last season with a knee injury.
Washington was better on defense last year, where they ranked sixth in the country by defensive S&P+. The Huskies return nine defensive starters on a unit that limited their opponents' big plays better than anyone, ranking first in IsoPPP. Washington has one of the best secondaries in the country as well, and both safeties, Taylor Rapp and JoJo McIntosh, are back after being voted to the All-PAC-12 First Team and Second Team, respectively.
Washington has FPI's 45th-easiest schedule, setting up for another conference title run behind depth and experience. While not the glamorous pick, the Huskies give bettors the best conference title betting value in a top-heavy PAC-12.
Best Value: USC Trojans +400
There isn't any betting value further down the title odds table amongst the long shots, but the other title favorite is also worth a bet. While the Trojans have a relatively difficult schedule, they'll be the favorites in every conference matchup except their road trip to Palo Alto to play Stanford. Texas and Notre Dame will be difficult games as well, but aren't PAC-12 opponents and won't count in USC's conference record.
USC recently named highly touted freshman J.T. Daniels as their starting quarterback, who replaces first round draft pick Sam Darnold. Much of the Trojans' offensive success can be credited to Darnold since they ranked 10th in passing offensive S&P+. However, USC returns seven of its starting receivers and linemen to the offense to support the young Daniels, as well as backup running back Stephen Carr, who averaged 5.6 yards per rush.
The Trojans' defense was unimpressive, ranking 55th in defensive S&P+, but they managed to get pressure on the opposing quarterbacks nonetheless, ranking 8th in adjusted sack rate. USC also returns its leading tackler, Cameron Smith, who was selected to the preseason All-American Second Team.
USC avoids playing Washington and Oregon out of the North Division and they're the top-ranked South Division team in The Power Rank's predictive rankings at 20th, so they're a good bet to win their division. They'll just need to upset the winner of the North Division, likely Washington or Stanford, and at the current odds, bettors should consider taking the risk.
Avoid: Oregon Ducks +750
Those that are bullish on Oregon's chances to win the PAC-12 this season will point out that the Ducks were 6-2 in games quarterback Justin Herbert started last season. However, the Ducks share a division with both Washington and Stanford. As good as Herbert and the Ducks are on offense, they'll have to navigate through a difficult North Division.
Oregon's defense ranked a mediocre 61st in S&P+ last season, but they return All-PAC-12 Second Teamers defensive end Jalen Jelks and linebacker Troy Dye. However, Oregon ranked 92nd in special teams S&P+ and was one of the worst units in opponent average field position last season, according to College Football Analytics.
While the Ducks will surely improve on offense with a full season of Herbert, they lose running back Royce Freeman to the NFL. Oregon allowed two sacks per game last season, so they must protect Herbert better or else rely on a running game without Freeman.
The Power Rank puts Oregon as the 42nd best team in the country, and 6th in the PAC-12, behind scheduled road opponents Utah and California. They also must play Heisman candidate Khalil Tate and Arizona on the road this year. Bettors should pass on the Ducks and consider betting under the 8.5 win total at +115 odds instead.