College Basketball Power Rankings Update: Florida Shows Their Might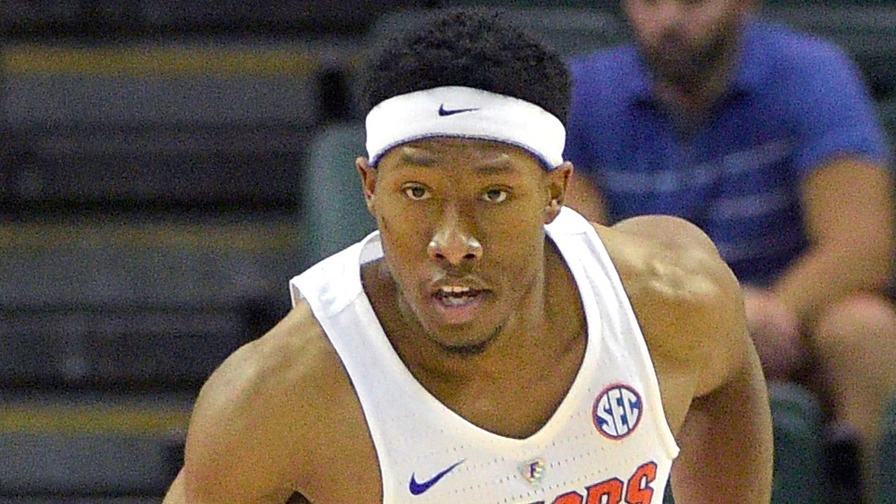 It seems like the college basketball season just tipped off yesterday, but believe it or not, we are less than a month away from conference tournaments and five weeks from the start of the big dance. While some teams seem to be slipping back from their early-season dominance -- Baylor, Kentucky, and UCLA come to mind -- other teams, like the Florida Gators, appear to be catching fire just as we reach the home stretch.
We asked if the Gators were underrated last month. After a two-week stretch, where they have clicked on all cylinders, going 4-0 with an average score of 92.8-60.8, now we must ask if Florida has moved into National Championship contender status.
For this edition of the power rankings update, we take a closer look at the Gators and four of the most headline-grabbing teams over the past week.
You will find that our rankings can sometimes be much different from the AP Top 25 or the USA Today Coaches Poll. Our power rankings here at numberFire are not subjective or influenced by the latest hype; we put our faith and trust in our algorithms. Each week, we'll list the top 25 teams in Division I from worst to best based on our nERD metric, a predictive measure that projects the number of points we would expect that squad to win by against a league-average team.
25. St. Mary's Gaels (nERD: 13.86, Record: 21-2, Last Week: 25)
24. South Carolina Gamecocks (nERD: 14.20, Record: 19-4, Last Week: 23)
23. Southern Methodist Mustangs (nERD: 14.55, Record: 20-4, Last Week: NR)
22. Butler Bulldogs (nERD: 14.57, Record: 18-5, Last Week: 18)
21. Arizona Wildcats (nERD: 14.58, Record: 21-3, Last Week: 16)
20. Creighton Bluejays (nERD: 14.80, Record: 20-4, Last Week: 20)
19. Oklahoma State Cowboys (nERD: 14.86, Record: 15-8, Last Week: 22)
The Oklahoma State Cowboys are currently the hottest team in the Big 12. Winners of five straight games, the Cowboys are coming off their most impressive win of the season, an 82-75 defeat of the West Virginia Mountaineers in Morgantown. They embarrassed a top-five defense, according to our metrics, by sinking 62.5% of their shots, including over 60% from three.
During their winning streak, they are averaging 84.2 points per game and have quietly crept up to top-two status regarding adjusted offensive rating, per kenpom.com. The backcourt trio of Juwan Evans, Jefferey Carroll, and Phil Forte are averaging 49.4 points while sinking 5.7 three-pointers at a 46.3% rate in 10 Big 12 Conference games.
Next up for the Cowboys is a pair of home games starting with a nationally televised tilt against the sixth-ranked Baylor Bears.
18. Cincinnati Bearcats (nERD: 15.22, Record: 21-2, Last Week: 15)
17. Oregon Ducks (nERD: 15.38, Record: 21-3, Last Week: 17)
16. Wichita State Shockers (nERD: 15.68, Record: 21-4, Last Week: 19)
All year long, there have been two teams dominating the Missouri Valley Conference standings, the Illinois State Redbirds and the Wichita State Shockers. Back on January 14, the Redbirds got the upper-hand, knocking off the Shockers 76-62, which is Witchita State's only loss in the MVC this year. Not ready to settle for second-place, the Shockers have been trouncing anyone who has came their way since.
Before the rematch with ISU this past Saturday, WSU had won five games in a row by an average of 21.6 points.
Looking like a team on a mission, the Shockers destroyed the Redbirds 86-45 by beating them in every facet of the game. The defense limited them to just 33.3% shooting while causing 19 turnovers. On the offensive end, four starters reached double-digit scoring while shooting 56.6% from the field.
With no wins over a top 25 opponent and only schools outside of the top 100 remaining on the schedule, the Shockers need a strong run to end the season to guarantee a spot in the field of 68, even with a top-20 offense and defense.
15. Florida State Seminoles (nERD: 16.23, Record: 20-4, Last Week: 20)
14. Wisconsin Badgers (nERD: 16.30, Record: 20-3, Last Week: 13)
13. UCLA Bruins (nERD: 16.40, Record: 21-3, Last Week: 14)
12. Duke Blue Devils (nERD: 16.54, Record: 18-5, Last Week: 12)
11. Baylor Bears (nERD: 17.11, Record: 20-3, Last Week: 10)
Once the top team in all the land, the Bears have fallen out of our top 10 after suffering consecutive losses last week.
Against the Kansas Jayhawks, the Bears were outshot 27 to 6 at the free throw line, allowing the Jayhawks to squeak out the five-point victory. In the loss to Kansas State, the defense was on point by limiting the Wildcats to just 56 points, but the offense went M.I.A.
For the year, Baylor shoots a reasonable 47.4% from the floor, good for a top-60 rank in Division I. They even own a top-25 offensive rating, but against Kansas State, the Bears made only 38.5% of their attempts while committing 16 turnovers. Two players took over 50% of the shot attempts, Johnathan Motley and Manu Lecomte. Unfortunately, they were 9-for-27 (33.3%), leaving the team just short in the end.
With three top-40 schools next up on the schedule before a rematch with Kansas, the Bears don't have much room for error over the next two weeks.
10. Purdue Boilermakers (nERD: 17.25, Record: 19-5, Last Week: 11)
9. Kansas Jayhawks (nERD: 18.44, Record: 21-3, Last Week: 7)
8. North Carolina Tar Heels (nERD: 18.72, Record: 21-4, Last Week: 5)
7. Villanova Wildcats (nERD: 18.93, Record: 22-2, Last Week: 6)
6. Virginia Cavaliers (nERD: 19.00, Record: 19-5, Last Week: 8)
5. Florida Gators (nERD: 19.17, Record: 18-5, Last Week: 9)
The Florida Gators have been on one hell of a run lately -- not only have they won four straight games, but they have also done so in extraordinary fashion.
While simply beating teams outside the top 150 like Missouri and LSU won't make anyone take notice, people start to pay attention when you do it by an average of 37.0 points. Add in a 32-point beatdown of the top-70 ranked Oklahoma Sooners, in terms of nERD rating, and you have all the makings of an attention-grabbing run. However, the Gators and their sixth-ranked defensive, regarding adjusted defensive rating per kenpom.com, took it a step further by laying a 22-point thrashing on the Kentucky Wildcats.
They held Malik Monk and Co. to only 66 points on 37.7% shooting. A remarkable feat as the Wildcats came into the contest averaging over 90 points per game while shooting 49% from the field.
With their next few games coming against middle-of-the-pack SEC teams, the Gators have to avoid looking ahead to a showdown with the current top team in the conference, South Carolina, in two weeks.
4. West Virginia Mountaineers (nERD: 19.38, Record: 18-5, Last Week: 4)
3. Louisville Cardinals (nERD: 19.61, Record: 19-5, Last Week: 3)
2. Kentucky Wildcats (nERD: 20.36, Record: 18-5, Last Week: 1)
1. Gonzaga Bulldogs (nERD: 20.46, Record: 24-0, Last Week: 2)
After 14 weeks and 24 games, the Gonzaga Bulldogs are still perfect. While some may criticize the quality of their conference opponents, and rightfully so, the Bulldogs just continue to go out and dominate whoever comes their way.
With a top-three offense and defense in terms of efficiency, Gonzaga deserves to be in the top spot of any ranking or poll. They are winning their conference games by an average of 27.1 points per game, and the offense is shooting nearly 16 percentage points better than their opponents (53.6% to 37.8%). In the Zags' closest win since entering West Coast Conference play, the Bulldogs held a 16-point halftime lead over BYU before winning by 'only' 10 points, 85-75.
If the undefeated are going to fall to anyone in the regular season or conference tournament, it will likely be Saint Mary's. Our 25th-ranked team and 20th-ranked team in the AP poll, the Gaels will get a chance to prove their worth and put a blemish on Gonzaga's flawless record this Saturday as they host nation's top team.