How the Thunder Stole Game 5 From the Spurs and Took Control of the Series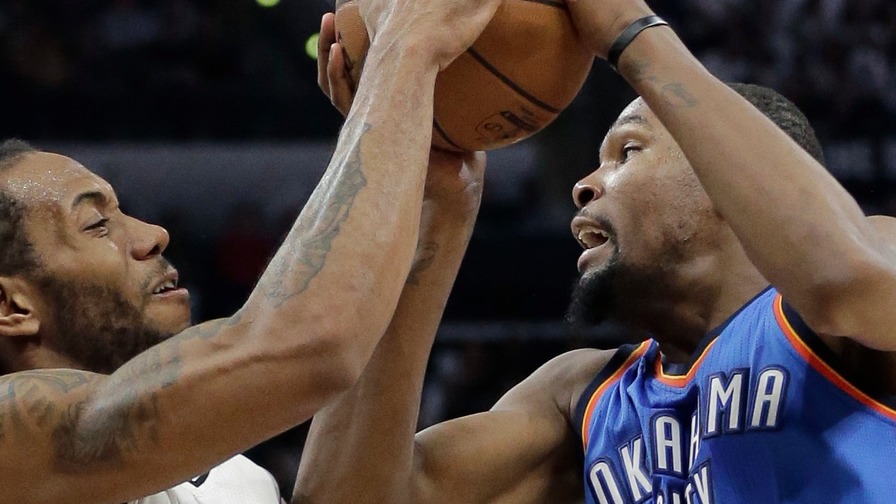 The San Antonio Spurs -- as far as we're concerned -- were the best team in the NBA this season. Yes, even better than that 73-win team that you've heard so much about (click on that link if you don't believe me).
The Oklahoma City Thunder had a great season as well, coming in as our third-ranked team, but our numbers don't quite have them on the same plane as the Spurs. To wit, San Antonio opened this series as 68.48% favorites to win it, according to our algorithms.
But after a 95-91 win in San Antonio on Tuesday night, the Thunder are now only one win away from beating those odds. With a 3-2 series lead, we now give Oklahoma City a 68.13% chance of closing this series out and advancing to the Western Conference Finals and a 51.44% chance of that happening in Thursday's Game 6 back in Oklahoma City.
How did we get here?
You Can Call It a Comeback
In Game 4 of this series, the Spurs had a great chance to take a 3-1 lead, but a big fourth quarter from the Thunder turned their fortunes around. With the series instead locked at 2-2 going into Game 5, San Antonio once again looked poised to take a pivotal game and force an elimination game against the Thunder, but yet again, Oklahoma City responded.
With 7:53 left in the third quarter of last night's game, San Antonio got out to what would be their biggest lead of the contest at 62-49. 13 points with a quarter and a half to play isn't much to overcome against most teams, but against the Spurs, it's usually a veritable mountain. At that point, we had the Spurs favored to win by 92.83%, according to our numberFire Live platform.
Even up to the 4:02 mark of the fourth quarter, the Spurs were 85.86% favorites to win with an 88-82 lead, but the Thunder willed themselves back and managed to flip the script by game's end
With 1:48 left in the final frame, an Enes Kanter layup capped off an 8-0 Thunder run and gave Oklahoma City a 90-88 lead and a 64.16% win probability -- their first lead since the dying minutes of the first half and the first time that our system had favored them the whole game.
This series might eventually have an asterisk attached to it for refereeing controversies, and the final play of this one will likely throw fuel on that fire.
With nine seconds left and the Thunder up 92-91, Dion Waiters inbounded the ball to Russell Westbrook. The officials arguably missed a travel on Westbrook and a Kawhi Leonard foul on the floor (both of which would have cancelled out Westbrook's chance at continuation on a shot) before Westbrook gathered and hit a layup over LaMarcus Aldridge, who was whistled for a shooting foul.
Westbrook completed the and-1 by draining the subsequent free throw, and the Thunder beat the Spurs by a final score of 95-91, taking a 3-2 series lead.
Goodbye, Fourth-Quarter Demons
According to The Oklahoman, Oklahoma City lost an NBA-high 15 games this season when leading through three quarters.
After two huge fourth-quarter performances in a row, however, it's becoming clear that the Thunder are finding ways to exorcize the end-of-game demons that have haunted them all season long.
During the 2015-16 regular season, Oklahoma City's average point differential of 0.0 in fourth quarters ranked them 15th in the NBA, sandwiched between the lottery-bound Minnesota Timberwolves (0.1, 14th) and Sacramento Kings (0.0, 16th).
In the playoffs? The Thunder lead all postseason teams with an average point differential of 3.8 in final frames. That's making a huge difference in this series in particular, and it has them on the verge of making it back to the Western Conference Finals for the first time since 2014 when they lost to these very same Spurs on their way to a title.
Monster Performances From Westbrook and Durant
In Game 5, Russell Westbrook flirted with a triple-double, scoring 35 points on 12-for-27 shooting from the field and 3-for-7 from three-point range, while adding 11 rebounds, 9 assists, and 2 steals. His superstar teammate, Kevin Durant, also balled out with 23 points, 6 rebounds, 5 assists, 2 steals, and a block.
It's pretty par for the course for both of these guys to go off in the same game at this point, but the extent to which they carried their team is actually pretty significant:
Russell Westbrook and Kevin Durant scored or assisted on 80 of the @okcthunder's 95 points
— ESPN Stats & Info (@ESPNStatsInfo) May 11, 2016

According to ESPN Stats and Information, Westbrook and Durant accounted for 84% of Oklahoma City's points scored in Game 5. That marks their highest total this postseason and their second-highest in any game ever (with Game 4 of the 2012 Finals against the Miami Heat barely edging it out at 86%).
Doing it with Defense
The San Antonio Spurs had the league's third-ranked offense in the NBA this season, registering an Offensive Rating of 108.4 points scored per 100 possessions. In their three losses to Oklahoma City in this series, the Spurs have managed only a 97.9 Offensive Rating.
It's a very small sample, but for context, the Philadelphia 76ers finished this season with the 30th-ranked offense with an Offensive Rating of 96.6. That mark by the Spurs, prorated out over the full season, would've placed them 29th in the Association.
The Thunder finished the season ranked only 13th in Defensive Rating, so it bodes incredibly well for them that they've managed to kick it up a notch on the defensive side of the ball at exactly the right time in the playoffs.
We'll see if they can continue to hold the Spurs down and complete the series upset on Thursday night, when the matchup shifts back to Oklahoma City for Game 6.