Minnesota's Improbable Win Was a Devastating Blow to Golden State's Chance for 73 Wins
Seven days ago, the Golden State Warriors won a huge overtime battle with a tough Utah Jazz team.
At the time, almost anyone you asked would say they were confident that the Warriors would overtake the 1995-96 Chicago Bulls for the best regular season record in NBA history.
After all, at 68-7, the Warriors had to finish off the season 5-2 over their last seven games. For a team that has lost just a single game for every 9.7 wins this season, not a big deal.
Right? Right?
Wrong.
In their very next game, Friday night, the Warriors lost a close one (109-106) to the Boston Celtics -- and they had Isaiah Thomas and his possibly record-sinking shot to thank for that.
After their loss at the hands of the Celtics, we had the Warriors projected for 71.9 wins, so we weren't all that high on them or their chance at achieving the record.
Since then, the odds haven't been in their favor.
The Warriors bounced back to defeat the Portland Trail Blazers by a score of 136 to 111, but last night, they lost a game in which they were all but assured victory.
Coming into last night's matchup, the Warriors and Minnesota Timberwolves were (and continue to be) separated by 24 spots in our power rankings. Fast forward to today, and the Warriors own a nERD -- a team ranking that is indicative of a team's ultimate winning percentage -- of 80.6, which is more than double to that of the Timberwolves' 38.8.
Rewinding to last night, I'm assuming the young Timberwolves don't care much for rankings, odds and things of that sort.
Prior to tip, our numbers gave the Warriors a 90.7% chance to win the game. Roughly eight minutes into the game, with a 25-10 lead and 4:11 left in the first, the Warriors had improved their chances and maxed out at 98.01%.
Going into halftime -- on the back of Shabazz Muhammad and his 13 first-half points -- you would've thought that the Timberwolves were within reach. However, down just nine, we gave Minnesota a measly 4.85% chance to come back and take the win.
With 7:48 left in the third quarter, the Warriors were back up to 97.66% thanks to this Andrew Bogut dunk.

And it was at that point that I took my leave for the night. I didn't see any way that the Warriors could lose this one...
...Until this morning.
Wondering how the Warriors managed to give up a 16-point lead with their kind of firepower, I immediately headed over to numberFire Live to check it out.
I found that, in the third quarter, the Warriors had a win probability of 90% or higher throughout. And despite an eight-point lead at the end of the third quarter, Golden State was still at 93.38%.
From that point on, the Warriors were in a dog fight, never once putting more than eight points between themselves and the Wolves. Before they knew it, the two were tied at 94 apiece with 6:42 to go.

As you can see, the two traded some win-probability-packed punches over the next two minutes. Down the stretch, it went back and forth.
With 53 seconds remaining the Warriors were back to 86.07%. That was before Draymond Green was called for traveling just 20 seconds later. With that, the Warriors' win probability dropped 10 percentage points, and with time winding down, Andrew Wiggins put Andre Iguodala in the spin cycle to send the game to overtime.

Wiggins took the momentum of that play into overtime, as he scored nine points in the extra quarter, leading his Minnesota squad to a 124-117 victory meanwhile damaging the Warriors' once high hopes for NBA history.
According to our numbers, before last night's game, the Warriors had a 40.18% chance of breaking the record.
Less than 24 hours later, their probability of accomplishing that feat is 11.26%.
The Warriors have a very slim margin of error, so they can't make any mistakes now, as they must go 4-0 over their last four games.
Two games against the Memphis Grizzlies and San Antonio Spurs stand in their way.
An ailing Grizzlies team shouldn't pose any threat, but if Spurs coach Gregg Popovich doesn't decide to rest all of his starters in the last few games, the Spurs could take a game (if not two) and ruin the Warriors' dreams.
And here's the win probability chart that might've dealt the final blow.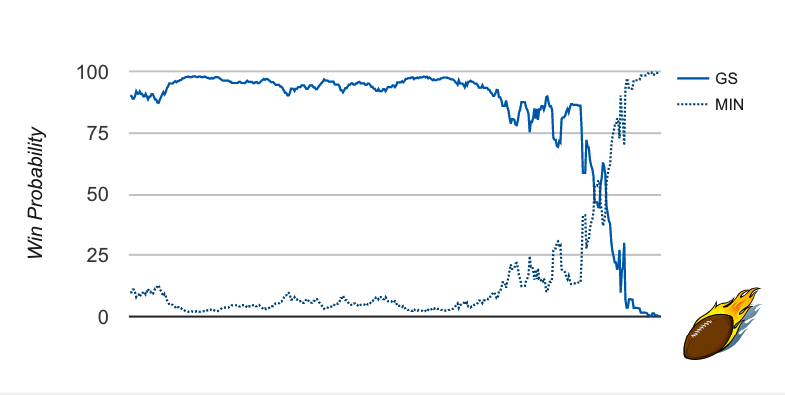 Ouch.