How the Oklahoma City Thunder Have Risen From the Dead to Be Title Contenders Once Again
The Oklahoma City Thunder entered the 2014-15 preseason as title contenders, the same as they have for each of the last several years.
By the end of October, they had lost both members of their superstar duo of Kevin Durant and Russell Westbrook to significant injuries (a Jones fracture and a broken hand, respectively) and suddenly looked like a team that would need some kind of miracle to hold things together long enough to make the playoffs in the competitive Western Conference.
Now, riding high as winners of seven straight and nine of their last 10, the Thunder look like a near lock for the playoffs, a title contender once again, and a team that could end up being one of the peskiest 7 or 8 seeds in NBA history.
A Bumpy Start
To say the Thunder's season has been a roller coaster ride would be an understatement. For an idea of how in and out and then back in the playoff picture they've been this season, here's a chart that plots how our algorithms projected their playoff (orange) and title (blue) chances during each week of the season to date.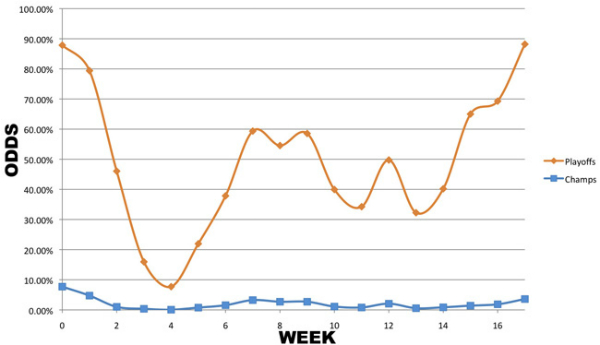 As you can see, the Thunder started the season with high expectations. Our metrics initially projected them to have an 87.9% chance to make the playoffs (a near lock as a pre-season projection) and an elite 7.7% chance of winning the title. Then, everything went off a cliff with the Durant and Westbrook injuries. At the low point of the season (week four above), their playoff chances went all the way down to 7.7% and their title chances to 0.1%.
They were reeling without their two best players, sitting with a record of 4-12 going into a November 28th game against the New York Knicks at said low point in week four. As you can guess by looking at the stark rise in playoff chances following that date, that just so happens to be the game when OKC got Westbrook back, one before Durant's original return, and not coincidentally when things started looking undeniably up for the Thunder.
Westbrook hit the ground running upon his return to the lineup, ripping off nine straight games of at least 20 points, 5 rebounds, and 5 assists (the only player not named LeBron to achieve such a feat in nearly two decades), while Durant slowly ramped up to his MVP form from the previous season. The Thunder won 10 of 12 during that period and salvaged their playoff chances, bringing them back over 50%. That was, of course, until Durant went down with yet another injury -- this time, a severely sprained ankle.
In the time that's followed since then, Durant has been in and out of the lineup several times for general soreness and is now sidelined at least a week after having a screw from his foot surgery replaced. The Thunder's last low dip in playoff chances (as recently as January 31st) of 32.3% coincides with a five-game stretch when Durant sat two games, attempted one, then sat another two.
One would assume, just by looking at the chart, that the Thunder's meteoric rise in playoff chances since that most recent low point must be a product of their playing consistent, full-strength basketball, but that couldn't be further from the truth. With Durant in and out of the lineup and a big roster shuffle coming in the middle of the streak at the trade deadline, words like "consistent" and "full-strength" don't even come close to applying here.
No, this dominant stretch by OKC is unequivocally linked to Russell Westbrook's taking complete control of the situation -- regardless of KD's game-to-game status -- and dragging the team back into contention himself.
Before we talk about Westbrook, though, we need to talk about just how good the Thunder have been this month.
February Thunderstorm
Since the beginning of February, Durant has missed two games, played five, and now has missed the last three (and will likely be out a few more), while starting center Steven Adams has missed the last six with a broken hand. On top of that, OKC said goodbye to longtime rotation staples Reggie Jackson and Kendrick Perkins at the trade deadline, while having to integrate newcomers Enes Kanter, D.J. Augustin, Kyle Singler, and Steve Novak over the last three games.
Despite all that, the Thunder have a record of 9-1 for the month and have arguably been the league's most dominant team in February. During that stretch, they've defeated their opponents by an average of 12.4 points per game, while posting a Net Rating (points scored minus points allowed per 100 possessions) of +12.8 (both league highs).
They've had the NBA's best offense this month (Offensive Rating of 112.1 points scored per 100 possessions) and its seventh-best defense (Defensive Rating of 99.3 points allowed per 100 possessions), compared to 23rd and 10th, respectively, for the 47 games before it.
That kind of turnaround would be shocking for any team that had last season's MVP and one of the three best basketball players in the world (at a minimum) jumping in and out of the lineup throughout the season, but Westbrook is forcefully making his case for this season's award with his inspired play and improved leadership. How can you be more valuable than "the most valuable," you ask?
Westbrook's MVP Case
Well, in the month of February alone, Westbrook has posted averages of 29.5 points, 8.2 rebounds, 10.1 assists, and 1.5 steals, while shooting 48.7% from the field, 38.9% from long range, and 92.7% from the free throw line. That has not only all but guaranteed him Western Conference Player of the Month honors (to go with the All-Star MVP trophy he won smack-dab in the middle of it), but it has also padded his already impressive and MVP-caliber line of 25.9 points (second in the NBA), 6.5 rebounds, 8.0 assists (fifth), and 2.0 steals (second) per game.
Also.
The @okcthunder's Net Rating (+/- Per 100 Possessions) in February with... Westbrook on the floor: +19.2 Westbrook off the floor: -3.0

— NBA.com/Stats (@nbastats) February 25, 2015
Plus, this stuff keeps happening on an almost nightly basis.
The last player before Westbrook to record 20+pts,15+asts & 5+rebs in a game in which he played <30mins was Magic Johnson (20/16/8 in '89)

— NBA.com/Stats (@nbastats) February 23, 2015
and
.@RussWest44 is the 1st guard since Fat Lever in 1987 to finish with a 20-10-10 triple double in under 30 minutes of play

— NBA.com/Stats (@nbastats) February 25, 2015
plus
.@russwest44 has tied Bird, Magic & Fat Lever for the most career games in the shot clock era w/ a triple-double & under 30mins played (3)

— NBA.com/Stats (@nbastats) February 25, 2015
with a bit of
Per ELIAS, @russwest44 is the first player with 20+pts/10+asts in 4 straight wins since Magic & Kevin Johnson during the '89-90 season

— NBA.com/Stats (@nbastats) February 25, 2015
Seriously though, this one:
Westbrook's Per 40 Minute Averages with Durant off the floor have been sensational @okcthunder @nbatv #INDvOKC pic.twitter.com/PW3f4iDDzh

— NBA.com/Stats (@nbastats) February 25, 2015
Russ' nERD -- our own metric that estimates how many games above or below .500 a league-average team would finish an 82-game season with him as a starter -- currently sits at a career-best 9.8, placing him 10th on our Player Power Rankings. He leads the league in Box Plus-Minus at +11.2 and comes in second in Player Efficiency Rating (PER) with 29.1 -- no small feat for a player whose biggest knock has almost always been a lack of efficiency.
Even those who still complain about his ball dominance and the way he leads the Thunder in shots with 20.2 taken per game can no longer ignore the fact that he's also leading the entire Association in Assist Percentage by dropping dimes on 47.8% of the baskets scored by his teammates while he's on the floor. He's simply doing everything for the Thunder regardless of who plays with him on a night-to-night basis.
OKC probably won't win enough games for Russ to get MVP recognition over the likes of James Harden and Stephen Curry (playing with KD probably hurts his chances too), but he certainly deserves to be in the conversation for revitalizing the Thunder's playoff and title hopes during a season mired in inconsistency and doubt.
Chances of Thunder Going Forward
At 88.2%, the Thunder's playoff chances are now even higher than they were before the season began and all the chaos happened. Their championship chances are not quite back on track yet, sitting at less than half the initial 7.7% projection at 3.6%, but that is in large part because of teams such as the Golden State Warriors (33.4%) and Atlanta Hawks (15.1%) taking a much larger piece of the championship-chance pie than anyone could've predicted four months ago.
The Thunder might only sit in the 8 seed in the Western Conference with a 2.0 game lead on the ninth-place New Orleans Pelicans, but the once compelling race for the West's final playoff spot is looking more and more like a foregone conclusion every day. The Pelicans (12.9% playoff chances) are riddled with injuries, and the 10th-place Suns (6.9%) mortgaged what little star power they had at the trade deadline, seemingly pushing the reset button.
When you consider that the Thunder are hitting their stride at the right time, that they added great depth themselves at the trade deadline, and the chance that they might have a healthy and rested KD peaking come playoff time, you can bet there's not a team in the West that wants them in an 8, 7, or even 6 seed matchup.
In fact, it's growing difficult to imagine that anyone will be that surprised if Oklahoma City makes a deep playoff run this spring, regardless of where they finish in the standings. With the added depth and all the experience they've gained gutting things out this season, it's hard not to see them as the contenders they've been for the last five seasons -- perhaps even stronger if they can stay healthy.
At some point, we'll likely look back and wonder why anyone ever doubted them in the first place.