NBA Finals Game 4 Betting Guide: Will the Dubs Respond Once Again?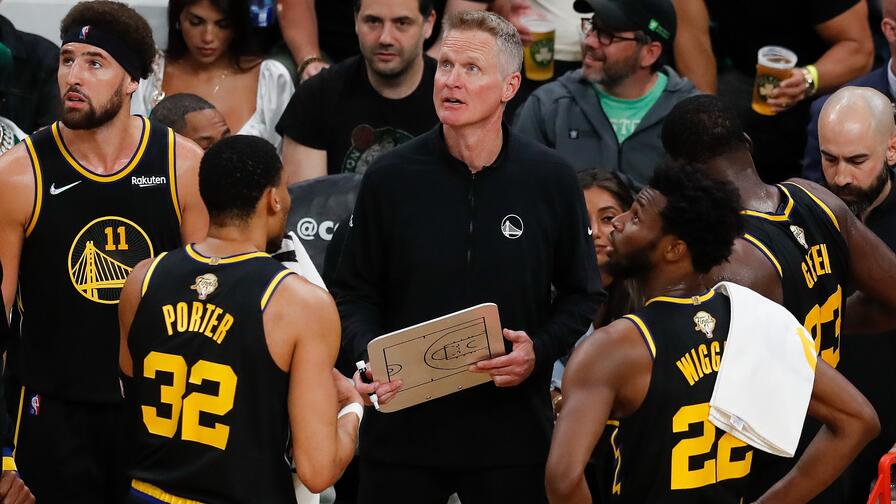 The Celtics responded in Game 3 from their blowout loss with a win they controlled throughout. Now, it's the Warriors' turn to do the same, or they'll head back to Chase Center on the brink of elimination.
Betting on the NBA can be tricky, but you can rely on numberFire to help. We have a detailed betting algorithm that projects out games to see how often certain betting lines hit. You can also track spread bet percentages at NBA odds.
Which NBA bets stand out in tonight's games? All odds are from FanDuel Sportsbook.
Celtics Moneyline (-174) - 1 Star
Our model is in pretty much the same state it was on Wednesday.
The Celtics are the better team analytically, and they're at home, so our model is giving Boston a 63.8% chance to win Game 4 and take another step towards the Larry O'Brien Trophy.
Even against 63.5% implied odds, it's still green lighting a one-unit wager in this spot. I'd concur on the moneyline, but the no-action call on the spread speaks volumes about how well this game is lined.
Here's the biggest issue for Golden State: Stephen Curry is playing well. He's shooting 48.7% (!) from deep and averaging 31.3 points across these three games.
In Game 3, Klay Thompson busted out of his slump with 25 points. They've still lost two of the three contests. If they both flounder, the Dubs are out of the ballgame.
They're just in trouble against the size and physicality of the Celtics' frontline. Boston had a +16 advantage on the glass in Game 3, and they posted 15 offensive rebounds. Outside of the turnover bonanza in Game 2, the C's have largely controlled this series.
Don't count out the heart of a champion, but this series seems to be shifting in the Celtics' direction quickly.
Under 214.0 (-110) - 3 Stars
Personally, I'm staying away from this total, but numberFire's model -- much less emotionally involved than I am -- is doubling down.
Though the Dubs and C's combined for 226 points in Game 3, the game still had just a pace (i.e. - total number of possessions) of 94.50. It's not a lightning-quick pace, and both teams shot worse than 38.0% from deep.
It was 39 free-throw attempts that padded Game 3's total. numberFire still believes these two teams fall short of 214 total points a sizable 62.4% of the time. That's enormous value against the standard 52.5% implied odds at -110.
In 8 of the 10 most similarly-profiled games in numberFire's database, the two teams either fell short of or pushed this 214-point total. However, the only two exceptions were notable ones to me. They were the two games in Boston this season between the Celtics and Warriors.
The model is holding strong, but I'm good sitting this out and waiting for more data.
Swaim-Game Parlay (+505)
Celtics ML
Jayson Tatum Over 27.5 Points
Al Horford 6+ Rebounds Recorded
Draymond Green Over 6.5 Points
Draymond Green 4+ Assists Recorded
Just one game on the slate means it's Same-Game Parlay season now more than ever on FanDuel Sportsbook. For some fun, I drop 0.25 units a day on one to see if it hits. Feel free to tail mine...or create your own!

Our +1000 whopper on Wednesday fell short by a single Jaylen Brown steal. It's okay, friend. I forgive you. Just bring home that NBA Finals MVP trophy.
The cornerstone -- with the total somewhat suspect to yours truly -- was easily Celtics moneyline (-174) today.
However, the one thing I'm still waiting on in this series that's well overdue is the eruption from Jayson Tatum. Tatum is shooting just 32.9% in the three games thus far, and his lowest field-goal rate for a playoff series this year against better defensive squads was 42.1%. He's due for regression, and that made Jayson Tatum Over 27.5 Points (+100) a sweet deal to start the build.
As a kicker that's not priced high enough, Al Horford has been a glass cleaner for Boston for three weeks. He's collected at least six boards in his last eight games. Al Horford 6+ Rebounds Recorded (-620) was a helpful addition.
I'm turning to the Golden State side for the final two legs though. The host of America's fastest-growing sports podcast stunk it up in Game 3, but I'm betting Draymond Green can't actually play worse than that pitiful effort.
He's projected by our model for 8.0 points and 9.3 assists but playing it safe at rates that could even cash in a blowout, Draymond Green Over 6.5 Points (-198) and Draymond Green 4+ Assists Recorded (-650) seemed like more than fair.