Oklahoma City Thunder Stat Monkey Brief: Thunder/Timberwolves (12/20/12)
Win 21 and number 12 in a row is in the books for Oklahoma City, and what a strange win it was. Only two members of the Thunder scored in double digits - Kevin Durant and Russell Westbrook - but the team still came away with a 100-92 win over the Hawks. Even with two dynamic scorers, it is still slightly weird that they led a good team like Atlanta for most of the game without anybody else generating even a little offense. With a quick turnaround in traveling to Minnesota for tonight's game, the Thunder players who struggled yesterday evening will have to fix things on the fly.
Role Players on a Roll
It comes as no surprise that the Thunder want to win with Durant and Westbrook as the leading scorers. But what you couldn't tell from last night's performance is that Oklahoma City has relied less upon its two brightest stars this season from a pure production standpoint. Durant and Westbrook are each averaging fewer points per contest than they did last season, while the team is scoring more.
The two biggest reasons for that are Serge Ibaka, who entered last night with a career high effective field goal percentage of .589, and Kevin Martin, whose eFG of .584 is superb. Both guys are in the top twenty of numberFire's nERD rankings (ahead of Westbrook) proving that a supporting role does not necessarily mean they are lesser players. As a direct result of Ibaka and Martin's contributions, Westbrook and Durant have gone from accounting for just over 50 percent of the team's scoring last season to 45 percent this season.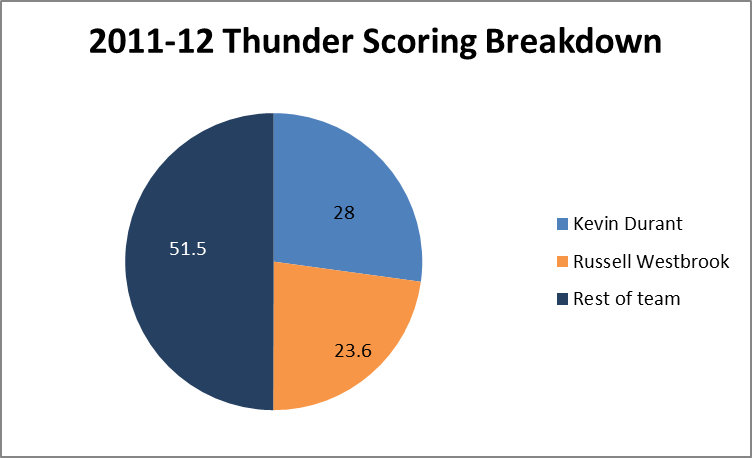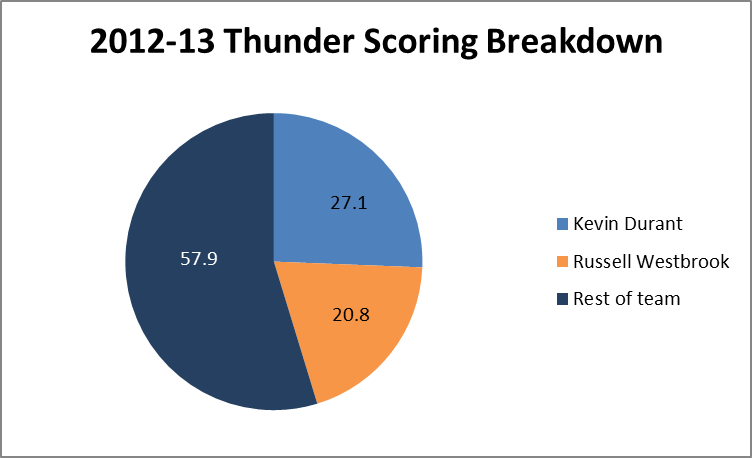 Of course last night was the exception to the new rule, or at least the Thunder hope so. Durant and Westbrook had to score 68 percent of all of the team's points to get a win. It is nice to know that they can do that when needed, but if Ibaka and Martin go a combined 5-18 again anytime soon, this win streak may soon be over.
Against a Timberwolves defense that ranks in the top half of the NBA in eFG, offensive rebounding percentage allowed, turnover percentage forced and free throw-to-field goal attempt ratio allowed, the Thunder can ill afford to stay in a funk. Or maybe they can. The new formula of more balanced scoring has been resoundingly successful, but they just showed they can weather terrible nights from everybody else thanks to the dominance of Durant and to a lesser extent Westbrook.