NBA Finals Betting Guide: With the Lakers Favored, How Can Miami Offer Value?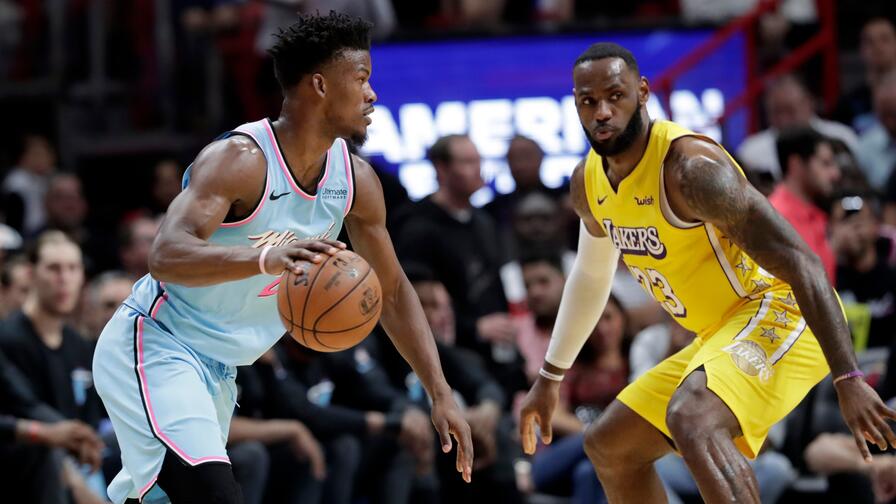 The NBA Finals are upon us.
No matter how different an October finish to the season feels, it's hard to hate this matchup between LeBron James' Los Angeles Lakers and Jimmy Butler's Miami Heat.
At FanDuel Sportsbook (and anywhere you look), the Lakers are favored to win the Finals.
| To Win NBA Finals | FanDuel Sportsbook Odds |
| --- | --- |
| Los Angeles Lakers | -360 |
| Miami Heat | +260 |

An upset over a seven-game series isn't super likely (I'll tell you just how likely it is in a second), but that doesn't mean we can't make sharp bets.
Outright Winner
Our algorithm views the Lakers as 75.5% likely to win it all initially, which works out to an implied line of around -308. So they aren't quite as favored as the line requires, but backing the Heat isn't the easiest call to make, either
There is a lot more posted about these Finals to explore.
We already know the overall odds that the Lakers (75.5%) and Heat (24.5%) win outright, but a direct simulation of the series 10,000 times can let us look at more granular data.
Total Games
You can bet on whether the series goes four, five, six, or seven games.
| Series Total Games | FanDuel Sportsbook Odds |
| --- | --- |
| 4 Games | +420 |
| 5 Games | +240 |
| 6 Games | +230 |
| 7 Games | +255 |

Based on 10,000 simulations of the series, the best value on this bet is on a five-game series, which our algorithm views at 28.2% likely to occur, most often with a Lakers win, of course.
The next-best value is a six-game series (29.0% likely in our simulations). Despite the overwhelming odds in the Lakers' favor, the sims see this one going past a sweep quite often, giving us easier ways to bet this thing than just the Lakers at -370.
Correct Series Score
Here's the landscape for predicting the exact outcome of the series.
| Series Correct Score | FanDuel Sportsbook Odds |
| --- | --- |
| Los Angeles Lakers 4-1 | +290 |
| Los Angeles Lakers 4-2 | +320 |
| Los Angeles Lakers 4-3 | +460 |
| Los Angeles Lakers 4-0 | +470 |
| Miami Heat 4-3 | +700 |
| Miami Heat 4-2 | +950 |
| Miami Heat 4-1 | +1500 |
| Miami Heat 4-0 | +3600 |

The idea of a Heat sweep seems silly, but it's posted at +3600. You wouldn't need much to return something huge there. That's actually where the best value is when comparing the simulation odds to the posted odds.
More realistically, the Heat in five or Lakers in seven are the best bets. Surprisingly, the Heat in seven games is the worst value, so if you think the Heat can get it done, the sims suggest taking them to finish it off early. If not, expect a full seven-game series for LeBron's Lakers -- if you're looking for strictly the best betting value.