FanDuel Daily Fantasy Basketball Helper: Tuesday 1/28/20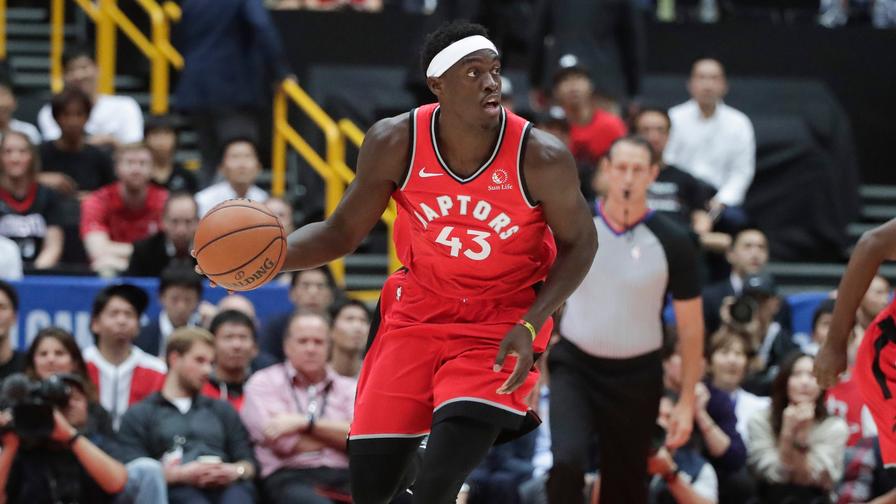 If you're new to daily fantasy basketball -- maybe you started your DFS journey during the MLB or NFL seasons, or maybe basketball is your sport and this will be your first year giving it a shot -- you're in for a treat. The NBA scene changes on a week-to-week, day-to-day, and -- depending on injury news -- even a minute-to-minute basis, making every slate a unique one that requires an ever-changing approach.
With so much changing so quickly, we're here with plenty of tools to help you out. We have daily projections, a matchup heat map, a lineup optimizer, and a bunch of other great resources to help give you an edge.
Daily fantasy NBA is very reliant on opportunity, so you'll need to make sure that you're up-to-date with key injuries. Our projections update up until tip-off to reflect current news, we have player news updates, and the FanDuel Scout app will send push notifications for pressing updates regarding your players.
We'll also be coming at you with this primer every day, breaking down a few of the day's top plays at each position.
Let's take a look at who you should target on today's main slate.
The Slate
Away
Home
Over/
Under
Home
Spread
Away
Total
Home
Total
Away
Pace
Home
Pace
Washington
Milwaukee
242.0
-16.0
113.00
129.00
5
1
Atlanta
Toronto
233.0
-12.5
110.25
122.75
8
14
New Orleans
Cleveland
231.5
+8.5
120.00
111.50
3
30
Phoenix
Dallas
226.5
-7.0
109.75
116.75
11
22
Denver
Memphis
225.0
-1.0
112.00
113.00
28
7
Boston
Miami
218.0
-2.0
108.00
110.00
18
25
Golden State
Philadelphia
213.0
-12.0
100.50
112.50
13
24
New York
Charlotte
209.0
-1.5
103.75
105.25
20
29
Point Guard
Luka Doncic ($11,000) is always near the top on a per-dollar basis despite his price. The Phoenix Suns represent an uptick in pace for the Dallas Mavericks. With Giannis Antetokounmpo ruled out, Doncic now has the highest ceiling of any player in action, and the combination of point guard defense, spread, and over/under is one of the best combined matchups for all point guards tonight.
Darius Garland ($4,000) and Collin Sexton ($6,000) see a huge increase in pace tonight against the New Orleans Pelicans. No team is slower offensively than the Cleveland Cavaliers. The Pelicans rank 11th among 16 teams in action against point guards, and Garland is a top-four point guard value based on numberFire's projections -- third if Ricky Rubio ($5,600) misses. It's a great game environment for the Cavs.
Without Giannis, the Milwaukee Bucks all get a boost. With Antetokounmpo off the floor, Eric Bledsoe ($5,800) has a 33.5% usage rate and averages 1.42 FanDuel points per minute over a 232-minute sample. He's now an elite play. The Bucks are big favorites over the Washington Wizards, who are a dream matchup for any squad. Both teams rank top-five in offensive pace, and the Wizards are dead last in defensive rating since December 1st. Against top-10 offenses in that split, they allow 120.1 points per 100 possessions.
Core Plays: Luka Doncic, Darius Garland, Eric Bledsoe
Secondary Plays: Kyle Lowry ($7,300), Ricky Rubio, Collin Sexton
Tournament Plays: Kemba Walker ($8,000), Terry Rozier ($6,100), De'Anthony Melton ($4,300)
Shooting Guard
Devonte' Graham ($6,400) has seen his price drop $1,400 from where it was at the turn of the calendar despite minutes consistently in the mid-to-upper 30s. The Charlotte Hornets absolutely do have offensive concerns in the game with the lowest total of the night, but what helps is that the New York Knicks are just 27th in defensive rating since December 1st. The minutes in this matchup are enough to carry Graham to core play status.
Jrue Holiday ($7,300) is really the only other shooting guard who rates out well enough to be considered a full-on core play for me tonight. It's a deep position with options, but Graham and Holiday are the two who look best. Holiday's Pelicans are drawing the NBA's 29th-ranked defense (since December 1st). Holiday does have just a 19.5% usage rate (and 0.91 FanDuel points per minute) when sharing the floor with Zion Williamson, but he still projects for 5.50 FanDuel points per $1,000 in salary (or 5.50x value).
Khris Middleton ($7,100) jumps into core play territory without Antetokounmpo. Middleton has a 33.4% usage rate and a per-minute average of 1.33 FanDuel points. The matchup is pristine.

Core Plays: Devonte' Graham, Jrue Holiday, Khris Middleton
Secondary Plays: Damion Lee ($4,400), Kevin Huerter ($4,900), Norman Powell ($4,700)
Tournament Plays: Jimmy Butler ($8,500), Fred VanVleet ($7,500), Marcus Smart ($5,800)
Small Forward
Pascal Siakam ($7,600) was actually the best floor/ceiling option at the position in my model before Antetokounmpo got ruled out. The Atlanta Hawks rank 8th in offensive pace and 21st in defensive rating since December 1st. Siakam is back to a big-minute role (34.2, 32.5, and 37.3 in his past three games), so he's just underpriced right now.
Jaylen Brown ($6,200) should get a bump tonight. Jayson Tatum is doubtful, and Enes Kanter is out. Brown has a 26.4% usage rate without both of those players on the floor. Even against the Miami Heat, he is projected for the best value rating of the night (5.56x value) among small forwards.
Core Plays: Pascal Siakam, Jaylen Brown
Secondary Plays: Troy Brown ($4,700), Will Barton ($6,000), Gordon Hayward ($6,400)
Tournament Plays: Tobias Harris ($7,400), Marcus Morris ($5,800), Brandon Ingram ($8,200)
Power Forward
Zion Williamson ($6,300) and Derrick Favors ($5,500) are both more than viable for the Pelicans against the Cavaliers, who are a decent 10th among 16 teams in action in fantasy points allowed to power forwards. Williamson has generated 1.40 FanDuel points per minute on a 32.8% usage rate over 66.5 minutes of action. He's increased his playing time from 18.3 and 21.0 minutes to 27.3 last game, in which he had a 21-point, 11-rebound double-double. Favors still has played 22.6, 27.2, and 27.7 minutes in these three games with at least 24.0 FanDuel points in all of them.
Kristaps Porzingis ($7,000) is sliding into a 26-or-so minute role in four games since returning, but he still is getting shots up (17, 11, 14, and 15 field goal attempts in these). Porzingis' price is down $1,400 to reflect the new role.
Ersan Ilyasova ($3,700) enters punt play status without Antetokounmpo. Ilyasova has a decent 17.5% usage rate without Giannis, and he should see minutes in the mid to upper 20s.
Core Plays: Zion Williamson, Derrick Favors, Kristaps Porzingis
Secondary Plays: Ersan Ilyasova, Julius Randle ($7,400), Daniel Theis ($5,200) Davis Bertans ($5,100)
Tournament Plays: Bam Adebayo ($7,900), PJ Washington ($5,200), Kevin Love ($7,200)
Center
It's rare to see such significant opportunity cost on an eight-game slate, but if Joel Embiid ($9,000) doesn't play, then Nikola Jokic ($10,100) really stands out as a FOMO play. Jokic has a ceiling of 55.3 FanDuel points, 11 points higher than every center other than Embiid. Jokic has really become more of a focal point in recent games without Jamal Murray, and he has 15 or more shot attempts in six straight games.
Deandre Ayton ($7,700) has a strong individual matchup against the Mavericks, and that translates to a great value projection of 5.47x. Ayton has been logging heavy minutes of late: 35.8, 38.6, 30.5, 36.0, and 39.6 over the past five. Ayton has also posted 50-plus FanDuel points in three of his past six games, and his price doesn't reflect that upside.
Core Plays: Nikola Jokic, Deandre Ayton
Secondary Plays: Mitchell Robinson ($4,600), Tristan Thompson ($5,500), Brook Lopez ($5,300)
Tournament Plays: Jonas Valanciunas ($6,600), Joel Embiid ($9,000)