FanDuel Daily Fantasy Basketball Helper: Thursday 1/16/20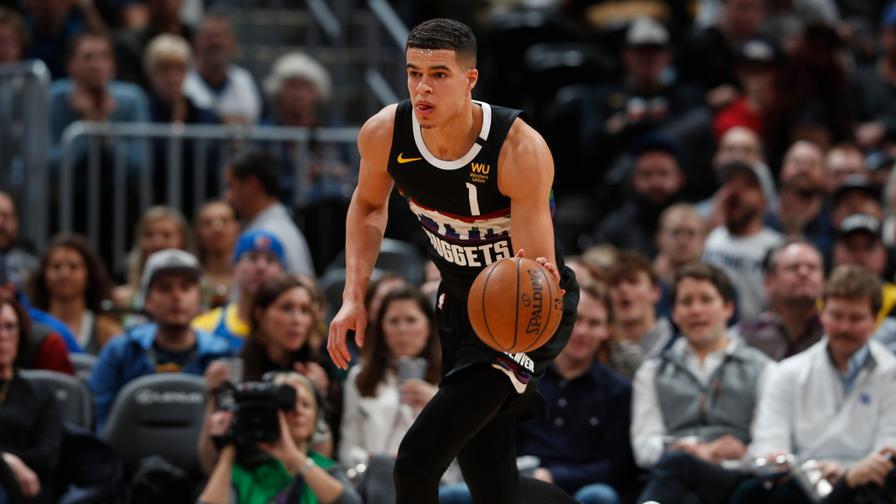 If you're new to daily fantasy basketball -- maybe you started your DFS journey during the MLB or NFL seasons, or maybe basketball is your sport and this will be your first year giving it a shot -- you're in for a treat. The NBA scene changes on a week-to-week, day-to-day, and -- depending on injury news -- even a minute-to-minute basis, making every slate a unique one that requires an ever-changing approach.
With so much changing so quickly, we're here with plenty of tools to help you out. We have daily projections, a matchup heat map, a lineup optimizer, and a bunch of other great resources to help give you an edge.
Daily fantasy NBA is very reliant on opportunity, so you'll need to make sure that you're up-to-date with key injuries. Our projections update up until tip-off to reflect current news, we have player news updates, and the FanDuel Scout app will send push notifications for pressing updates regarding your players.
We'll also be coming at you with this primer every day, breaking down a few of the day's top plays at each position.
Let's take a look at who you should target on today's main slate.
The Slate
Away
Home
Over/
Under
Home
Spread
Away
Total
Home
Total
Away
Pace
Home
Pace
Phoenix
New York
226.0
+3.0
114.50
111.50
11
16
Utah
New Orleans
225.5
+4.5
115.0
110.5
23
3
Boston
Milwaukee
223.0
-9.0
107.0
116.0
19
1
Orlando
LA Clippers
217.5
-11.5
103.0
114.5
26
4
Denver
Golden State
212.5
+5.0
108.75
103.75
28
13

Point Guard
Point guard lacks a true stud, as nobody is priced above $6,700. However, we have plenty of promising plays at the position.
Monte Morris ($4,000) should be a chalky pick today, as the Denver Nuggets are without Gary Harris and Paul Millsap, as well as possibly Jamal Murray. Morris, who started the second half of their last game, sees a 1.9 percentage point boost to his usage rate without those three on the court, up to 20.2%. He produced 0.91 FanDuel points per minute, or 32.7 per 36 minutes. numberFire projects him for nearly 28 minutes, so he should be paying off his salary with the extended run.
Ricky Rubio ($6,300) owns a 23.7% usage rate with Kelly Oubre off the floor, and he generates a decent 0.93 FanDuel points per minute, as well. Rubio and the Phoenix Suns are in the game with the highest total (by a smidgeon), and the New York Knicks are 28th in garbage-time-free defensive rating since the start of December. Rubio is projected for 5.97 FanDuel points per $1,000, or 5.97x value. We generally should aim for 5.0.
Lonzo Ball ($6,500) has a value rating of 5.27x in his matchup with the Utah Jazz. Utah sits 11th in defense since the start of December when removing garbage time, so that's something. Ball's New Orleans Pelicans are very much banged up, and they could be running a short rotation tonight. Ball has a 19.7% usage rate and per-minute average of 0.96 FanDuel points without Jrue Holiday on the floor.
Core Plays: Monte Morris, Ricky Rubio, Lonzo Ball
Secondary Plays: Kemba Walker ($6,700), Elfrid Payton ($5,700), Eric Bledsoe ($6,100)
Tournament Plays: Markelle Fultz ($5,500), Patrick Beverley ($5,300)

Shooting Guard
Donovan Mitchell ($6,600) has had his price cut $600 from last game, and he is down to $6,600 from $8,300 just four games ago. He now plays the Pelicans, who are a huge pace-up opponent for the Jazz. New Orleans is 17th in defensive rating since the start of December. Mitchell is projected for a robust 6.00 FanDuel points per $1,000 tonight.
Josh Hart ($4,100) would benefit from a thin Pelicans rotation, and he is projected for 33.4 minutes tonight (and 6.49x value). Hart has cleared 33 minutes in four straight games while producing 19.8 or more FanDuel points in all of them. The matchup isn't ideal, but the opportunity is all but guaranteed for Hart at a low salary.
Lou Williams ($6,200) faces a top-10 defense in the Orlando Magic, yet he's without Paul George. With George on the sideline, Williams boasts a 30.0% usage rate and averages a hefty-for-the-price 1.14 FanDuel points per minute. That helps us overlook the matchup.
Core Plays: Donovan Mitchell, Josh Hart, Lou Williams
Secondary Plays: D'Angelo Russell ($7,400), Khris Middleton ($6,800), Damion Lee ($4,900)
Tournament Plays: Devin Booker ($8,800), Evan Fournier ($5,700), Jordan Clarkson ($4,300)

Small Forward
Giannis Antetokounmpo ($11,500) has been the best fantasy asset of the season, and a matchup with the Boston Celtics is actually a fine thing, as blowout potential is limited. The Milwaukee Bucks are always in a pace-down matchup, as no offense is faster than their own, and Boston ranks fourth in garbage-time-free defensive rating since December. They're also second in that split against top-10 offenses. We should see a full workload for Giannis, and his ceiling is just absolutely unmatched.
Will Barton ($6,400) has a 24.1% usage rate when we look at his role without Millsap, Harris, and Murray, and he's done well with it to get to 1.08 FanDuel points per minute. Barton is projected for a heavy 36 minutes and a value rating of 5.28x. The Golden State Warriors' defense has been trending up but is actually only 21st against top-10 offenses since December 1st.

Mikal Bridges ($4,500) is slated for 35.4 minutes, as the Suns are going to be without Kelly Oubre. Make no mistake: Bridges isn't the most productive player. His usage rate over 430 minutes sans Oubre is just 12.8%, a team low. He still manages a bad-but-not-dreadful 0.80 FanDuel points per minute and is in store for heavy minutes again. He's also coming off a 15-point, 3-rebound, 4-assist, 4-steal, 1-block game.
Core Plays: Giannis Antetokounmpo, Will Barton, Mikal Bridges
Secondary Plays: Brandon Ingram ($8,900), Bojan Bogdanovic ($5,700), Joe Ingles ($5,600)
Tournament Plays: Gordon Hayward ($5,800), Jaylen Brown ($6,000), E'Twaun Moore ($4,200)

Power Forward
Michael Porter Jr. ($3,600) will be another go-to source of value with the Nuggets thinned out. Porter Jr. has seen a 21.5% usage rate with the three relevant Nuggets off the court this year, and he has posted 0.98 FanDuel points per minute over 185 such minutes. numberFire projects him for just shy of 27 minutes and a silly value rating of 7.72x.
Kawhi Leonard ($10,100) should not be forgotten despite all the value and Giannis. Leonard's usage rate is 36.9% without George, and his per-minute output is 1.57 FanDuel points. The overall game environment against the Magic isn't ideal, but a closer game means more minutes for Leonard.
Derrick Favors ($5,400) isn't a high-usage player (14.8% on the season) but is productive (1.16 FanDuel points per minute). Removing Jrue Holiday doesn't do much to his production numbers, yet Favors is pegged for 25 minutes for the Pelicans against his former team. He's a high-floor play at worst.
Core Plays: Michael Porter Jr., Kawhi Leonard, Derrick Favors
Secondary Plays: Jerami Grant ($4,000), Omari Spellman ($4,800), Draymond Green ($5,900)
Tournament Plays: Aaron Gordon ($5,700), Jayson Tatum ($7,600), Dario Saric ($3,500)

Center
Nikola Jokic ($9,400) deserves special attention, as he's not fitting into natural builds. However, he has a 32.1% usage rate and a per-minute average of 1.53 FanDuel points without Harris, Millsap, and Murray. He's got an elite ceiling relative to the other centers and could be overlooked simply because of Giannis and Kawhi's inclusion on the slate.
Deandre Ayton ($7,400) -- with Oubre and Frank Kaminsky off the court -- has just a 62-minute sample but has generated 1.22 FanDuel points per minute on a 23.6% usage rate. That's a usage boost of 1.8 percentage points. The better reason to be excited is the matchup with the Knicks, who have been just an average rebounding team all season and an average center matchup. He has the best tournament value rating in my range-of-outcome projections.
Core Plays: Deandre Ayton, Nikola Jokic
Secondary Plays: Montrezl Harrell ($6,200), Mitchell Robinson ($4,700)
Tournament Plays: Aron Baynes ($4,200), Brook Lopez ($4,800)