3 NBA FanDuel Tournament Plays to Target on 1/13/20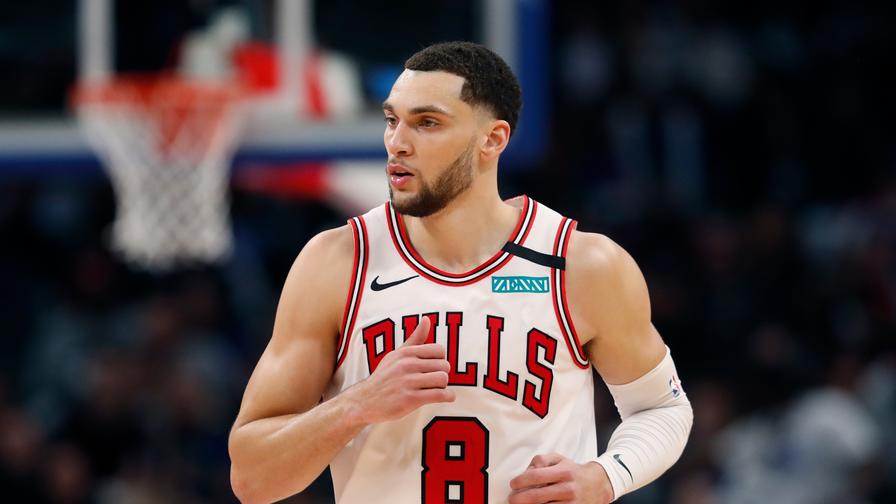 "One cannot be betrayed if one has no people."
- Kobayashi (The Usual Suspects)
When it's time to start building DFS tournament lineups, especially for NBA tournaments, the fundamental choice to make is whether or not to buy into the chalk plays of the slate. More than any other sport, the popular plays in NBA are popular for a reason. Where we often get into trouble in tournaments, however, is when we begin to blindly trust a slate's chalk.
This regular piece will focus on tournaments looking through the lens of the projected chalk plays -- the usual suspects -- of that night's games. The Usual DFSuspects, if you will. In an attempt to understand the context of the slate, we will look at lower-owned plays that help you gain leverage against the competition.
Let's look at plays for Monday's FanDuel main slate.
Guard
Zach LaVine ($8,200) - Usage monster. That's all you need to know about LaVine heading into tonight's contest with the Boston Celtics. Forget the fact that it is a tough matchup on paper. With Wendell Carter Jr. on the shelf and Lauri Markkanen still struggling despite more opportunity, LaVine has essentially decided to become LeBron James lately, with a 31% usage rate on the season plus at least 20 points and 5 assists in five of his last seven games.
LaVine has increased his fantasy points per game by more than seven over the last two weeks, and in his last five contests, he's averaged 50 FanDuel points with a usage rate bumping up against 35%. Put in perspective, James Harden, Giannis Antetokounmpo and Luka Doncic are the only players averaging more than 35% usage on the season.
If LaVine continues to run the offense the way he has the last week or two, he will continue to crush value until his salary reaches the $10,000 mark.
Forward
Miles Bridges ($5,000) - I want you to be able to afford players like James, Andre Drummond, and Hassan Whiteside tonight. In order to do that, we are going to have to get creative in our spend downs in tournaments. There is a plethora of value available on the New Orleans Pelicans, Detroit Pistons, and Philadelphia 76ers, so pivoting from those teams while still playing the chalk studs is a simple way to differentiate.
Bridges has an under the radar strong matchup against the Portland Trail Blazers. On the year, the Blazers have struggled against the small forward position, allowing the fifth-most points to the position. Why is that? They simply have no defenders who have been able to contain their opponents since Rodney Hood went down with injury. According to NBA.com, there are 170 forward-eligible players who average at least 15 minutes per game this season. In that group, each of Mario Hezonja, Carmelo Anthony, Anthony Tolliver, and Kent Bazemore rank in the bottom half of defensive rating.
Bridges has played at least 32 minutes and scored at least 32 FanDuel points per game in four of his last five, and he's seen his fantasy points per game increase by more than six from his season average in the last two weeks. For a low-owned dart throw in tournaments, Bridges checks all the boxes.
Center
Nikola Vucevic ($8,200) - Normally an extremely tough matchup for for opposing centers, the Sacramento Kings are not quite the same with starter Richaun Holmes on the bench. According to numberFire's nERD statistic, Holmes has accumulated a mark of 5.4 in his 1087 minutes so far this season, meaning the Kings should win 5.4 games above .500 based on his performance. The two players who are replacing Holmes -- Harry Giles and Dewayne Dedmon -- have a combined -2.5 nERD in only 413 minutes. The production on both ends of the floor has suffered at the position, and now they have the task of slowing down Vucevic.
With Jonathan Isaac out for an extended period and Aaron Gordon constantly banged up, Vucevic is carrying the team on his back. He has scored at least 41 FanDuel points in eight of his last nine games, including an average of 45.2 in his past five. With Drummond and Whiteside the chalk up top and Enes Kanter and Gorgui Dieng getting the roster love on the cheap side, a mid-range player like Vucevic is the tournament play at center tonight.