FanDuel Daily Fantasy Basketball Helper: Tuesday 11/12/19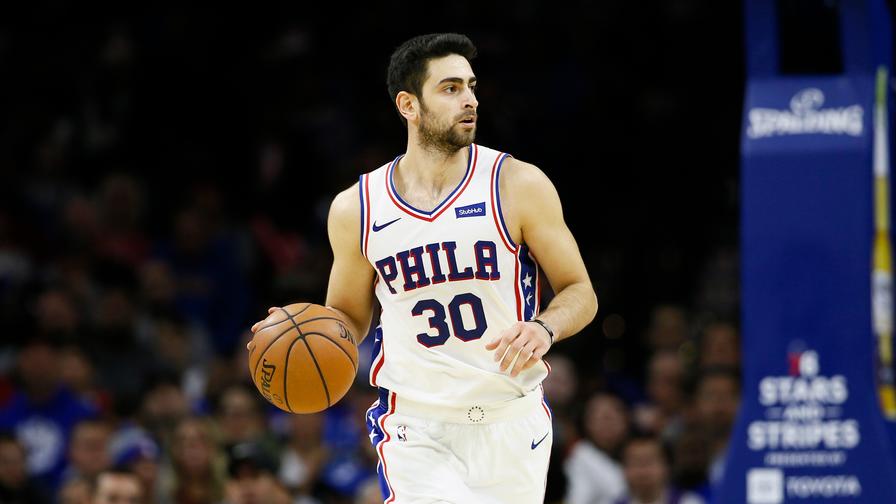 If you're new to daily fantasy basketball -- maybe you started your DFS journey during the MLB or NFL seasons, or maybe basketball is your sport and this will be your first year giving it a shot -- you're in for a treat. The NBA scene changes on a week-to-week, day-to-day, and -- depending on injury news -- even a minute-to-minute basis, making every slate a unique one that requires an ever-changing approach.
With so much changing so quickly, we're here with plenty of tools to help you out. We have daily projections, a matchup heat map, a lineup optimizer, and a bunch of other great resources to help give you an edge.
Daily fantasy NBA is very reliant on opportunity, so you'll need to make sure that you're up-to-date with key injuries. Our projections update up until tip-off to reflect current news, we have player news updates, and the FanDuel Scout app will send push notifications for pressing updates regarding your players.
We'll also be coming at you with this primer every day, breaking down a few of the day's top plays at each position.
Let's take a look at who you should target on today's main slate.
The Slate
Away
Home
Over/
Under
Home
Spread
Away
Total
Home
Total
Away
Pace
Home
Pace
Portland
Sacramento
222.0
+1.5
111.75
110.25
18
23
Brooklyn
Utah
219.5
-7.0
106.25
113.25
5
24
LA Lakers
Phoenix
219.0
+2.5
110.75
108.25
17
14
Cleveland
Philadelphia
218.5
-10.0
104.25
114.25
30
11
Detroit
Miami
216.5
-7.5
104.50
112.00
28
22
Oklahoma City
Indiana
214.0
-2.5
105.75
108.25
26
19
New York
Chicago
212.5
-6.0
103.25
109.25
25
4
Atlanta
Denver
209.5
-11.0
99.25
110.25
16
29

No game is substantially above or below the rest on the eight-game main slate. This is a good one -- with no must-play stacks.
Point Guard
Point guard is looking like the deepest of the multi-roster positions tonight on FanDuel. Kyrie Irving ($9,900) rates out as a top-five play at the position according to my projections -- after adjusting for salary. Irving has posted 1.50 FanDuel points per minute on the season along with a 23.9% usage rate that ranks him fifth in the NBA. Even against the Utah Jazz' second-ranked defense, Irving stands out among the studs.
The best value comes in the form of Cory Joseph ($3,700) and Coby White ($4,200), and they should be a popular combination together.
Joseph is projected for an astounding 7.06 FanDuel points per $1,000 in salary, per numberFire's projections. We expect him to play just shy of 35 minutes while De'Aaron Fox is out multiple weeks. He averages only 0.77 FanDuel points per minute, but that's fine with the near-guaranteed workload.
White has averaged 0.80 FanDuel points per minute, but has played 23, 23, 29, and 27 minutes in his past four games while taking 15, 13, and 16 shot attempts in his past three. The New York Knicks rank just 20th in defensive rating.
High floor mid-range plays include Mike Conley ($6,800) and Chris Paul ($6,600). The best tournament values in my model are Joseph, White, Irving, Conley, Paul, Darius Garland ($4,700), Aaron Holiday ($4,100). Jamal Murray ($7,200), Malcolm Brogdon ($8,700), and Trae Young ($9,600) are after them and could carry low ownership based on how point guard stacks up.
Core Plays: Cory Joseph, Coby White, Kyrie Irving
Secondary Plays: Mike Conley, Chris Paul, Darius Garland
Tournament Plays: Jamal Murray, Malcolm Brogdon, Trae Young
Shooting Guard
If spending up on any shooting guard, it'd be Donovan Mitchell ($8,400) against the Brooklyn Nets. He's put forth 1.16 FanDuel points per minute -- a bit underwhelming -- on a 30.2% usage rate. The Nets are 25th in defensive rating.
Buddy Hield ($7,000) and Bogdan Bogdanovic ($5,600) both look good at their price points in a game against the Portland Trail Blazers with Fox out. With Fox off the court this season, Hield has a 22.9% usage rate and Bogdanovic has a 28.7% usage rate, according to RotoGrinders' CourtIQ. Hield's sample is small, and a boost in usage is all but guaranteed.
Furkan Korkmaz ($4,200) is the best per-dollar play at the position in my model. He has played 34, 25, 25, and 28 minutes the past four games. Without Simmons, numberFire projects him for 27.7 minutes tonight and a value rating near 5.0.
Garrett Temple ($3,600) is a salary relief play with Caris LeVert ruled out; Temple is third in my model.
Core Plays: Buddy Hield, Bogdan Bogdanovic, Furkan Korkmaz
Secondary Plays: Donovan Mitchell, Garrett Temple, DeAndre Bembry ($4,600)
Tournament Plays: Zach LaVine ($7,900), Devin Booker ($8,800), Shai Gilgeous-Alexander ($7,700)
Small Forward
Anthony Davis ($11,700) is probable to play, but if he were to sit, then we'd have to catapult LeBron James ($11,500) up the rankings against the Phoenix Suns.
As it is, not many small forwards jump out as elite values, and that means I'll prioritize other positions over small forward when building lineups.
The Indiana Pacers' duo of T.J. Warren ($6,100) and JaKarr Sampson ($3,600) look good even in a slow-paced game against the Oklahoma City Thunder's 10th-ranked defense. Sampson ranks first in numberFire's value projections among small forwards. The reason for optimism is that Jeremy Lamb, Myles Turner, and Goga Bitadze are out, opening up a lot of opportunity all over the court.
Another pair of teammates are in play: Markieff Morris ($4,700) and Luke Kennard ($6,100), as Blake Griffin is out. Neither are particularly productive on a per-minute basis (0.72 FanDuel points for Morris and 0.86 for Kennard), but there should be around 34 minutes for Kennard and 28 for Morris.
The best tournament values in my model are Sampson, Tobias Harris ($7,300), Warren, Cedi Osman ($4,300), and De'Andre Hunter ($4,600).
Core Plays: JaKarr Sampson, T.J. Warren, Luke Kennard
Secondary Plays: Markieff Morris, LeBron James, Tobias Harris
Tournament Plays: Cedi Osman, De'Andre Hunter, Joe Ingles ($4,400)
Power Forward
If Davis plays, then he's going to be someone we just have to consider, based on how good he has been (1.53 FanDuel points per minute), but he's not a must-play given the late tip and injury concerns.
The go-to power forwards for me are Julius Randle ($7,700) and Richaun Holmes ($6,400).
Randle is way up in pace against a Chicago Bulls team that ranks 15th in defense and 30th in rebounding rate. Holmes has played right around 30 minutes in his past six games and is right near 1.0 FanDuel points per minute (0.98).
Bam Adebayo ($8,200) also looks nice against the Detroit Pistons. Despite an 18.0% usage rate, Adebayo has put up 1.22 FanDuel points per minute on the season and rates out as a strong tournament play.
For the Suns, we have two choices that stand out, too: Dario Saric ($4,500) and Frank Kaminsky ($3,800). Kaminsky is a big source of salary relief who doesn't carry significant upside (0.80 FanDuel points per minute), but numberFire projects him for about 26 minutes, and he has a 20.0% usage rate on the season. Saric has offered a little more juice (0.84 FanDuel points per minute) despite a 16.1% usage rate.
Core Plays: Julius Randle, Richaun Holmes, Bam Adebayo
Secondary Plays: Anthony Davis, Dario Saric, Frank Kaminsky
Tournament Plays: Domantas Sabonis ($9,500), Lauri Markkanen ($7,200), Kyle Kuzma ($4,600)
Center
Center is loaded at the top, with Andre Drummond ($10,400), Joel Embiid ($10,800), Nikola Jokic ($9,000), and Rudy Gobert ($8,200) all rating out top-five in my model by a good margin. Dewayne Dedmon ($3,900) also finds himself in there.
I'd rank them Jokic, Embiid, Gobert, Drummond, Dedmon if I had to pick, but we can probably be fine letting the remaining salary dictate the choice.
Embiid faces a Cleveland Cavaliers that's about mid-level in defensive rating and rebounding rate. Drummond is without Griffin again and gets a tough overall draw against Miami but has the per-minute dominance (1.54) to overcome it.
But for Jokic, the Hawks are thin in the frontcourt with John Collins suspended and Alex Len questionable.
Core Plays: Nikola Jokic, Joel Embiid, Rudy Gobert
Secondary Plays: Andre Drummond, Dewayne Dedmon
Tournament Plays: Hassan Whiteside ($8,500), Wendell Carter Jr. ($6,800), Kelly Olynyk ($4,600)