3 Daily Fantasy Basketball Players to Avoid on 3/7/19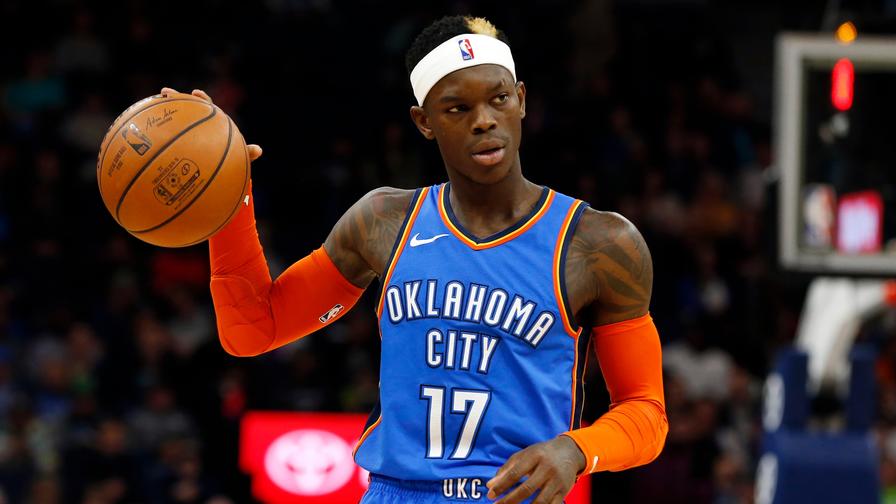 In daily fantasy basketball, finding players you want to roster is a lot easier than finding players to avoid.
You can find a ton of great information and research on guys you might want to include in your DFS NBA lineups, but what about guys you may want to lessen your exposure to, or even fade altogether?
Avoiding players whose matchups or situations aren't as great as they seem can often be just as important as finding the best targets. After all, it takes only one player to sink a lineup. Searching for the landmines could mean the difference between winning and losing your contests. Which players should we avoid tonight?
Dennis Schroder, SG, Oklahoma City Thunder
FanDuel Price: $5,800
With only two games on Thursday's slate, there are no "avoid at all costs" players, but with Paul George back in the lineup for the Oklahoma City Thunder, Dennis Schroder's minutes will take a step back, while his salary has yet to do so.
On Tuesday, with PG3 playing, Schroder saw just 29 minutes, his fewest amount of court time in two weeks. As expected, the Thunder guard's role in the offense was reduced as well as he took just eight shots against the Minnesota Timberwolves. He finished with only 24.3 FanDuel points, a rate of 0.84 FanDuel points per minute. While those aren't terrible numbers for Schroder, at his price tag of $5,800 on Thursday, we would hope to find some better value, especially considering the guard's track record against the Portland Trail Blazers.
In two previous meetings against Portland this season, Schroder finished with 20.2 and 20.1 FanDuel points as he posted 11.5 points, 2.0 rebounds, and 2.5 assists in just 25.6 minutes per game. That would leave Shroder with 3.5 Fanduel points per $1,000 of salary on Thrusday, which is less than ideal even on a limited slate.
Nikola Mirotic, SF, MIlwaukee Bucks
FanDuel Price: $5,500
Just like with Schroder, Nikola Mirotic has the potential to play big minutes off the bench, but with the Milwaukee Bucks healthy at the moment his ceiling is limited.
In three of his last five games, Mirotic has seen fewer than 23 minutes as the Bucks dole out heavy minutes to their starters. The reduced role has affected the forward's fantasy production too as Mirotic has posted three games with 21 or fewer FanDuel points. Overall, in his seven games in a Bucks' uniform, Mirotic is averaging just 12.3 points on 10.1 shots per game. A far cry from the 16.7 points and 12.7 shots he was averaging with the Pelicans this season. Also hurting Mirotic's chances to go off on Thursday is the less-than-favorable matchup with the Indiana Pacers.
The Pacers lead the NBA in allowing just 103.7 points per game with opponents ranking in the bottom-10 of the league as they shoot 44.9% from the floor and 33.4% from three the last 10 games. Add in the limited number of FanDuel points per game Indy allows (213.9) and Mirotic could be in for a long night.
Al-Farouq Aminu, PF, Portland Trail Blazers
FanDuel Price: $4,900
Unlike the other two players we talked about, Al-Farouq Aminu is a starter for the Blazers and has been playing regular minutes throughout the season. However, over the last five games, the forward's production has taken a dip, making him forgettable in fantasy.
Aminu is playing over 27 minutes per game but has managed to collect just 8.4 points and 4.2 rebounds a game since February 25. He is taking only 7.0 shots a night and has seen his usage rate dip to as low as 6.1% in the five games, as Maurice Harkless has assumed more responsibility in the Portland offense. The surging play of Jake Layman hasn't helped Aminu's fortunes either and will make it hard to roster him against the Thunder on Thursday.
The Thunder and Jerami Grant have held their own against power forwards, with Grant limiting those he guards to 43.9% shooting from the floor -- 3.1 percentage points less than expected. OKC is also the second-best rebounding team in the NBA -- 47.9 boards a game -- capping Aminu's potential on Thursday.
---

Dale Redman is not a FanDuel employee. The views expressed in his articles are the author's alone and do not necessarily reflect the views of FanDuel.