6 Fantasy Basketball Players to Buy and Sell for Week 8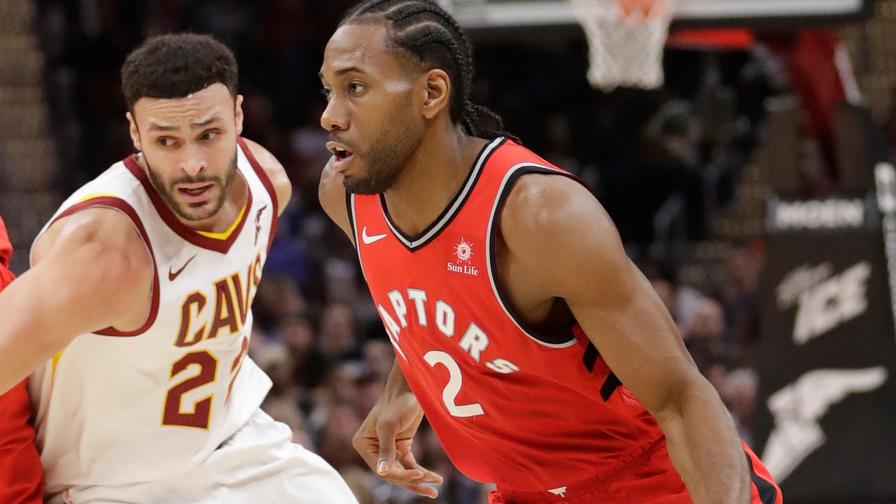 It's that time of the week once again when we look for three players to buy and three to sell in fantasy hoops.
The buy options are most often players who are not living up to expectations and present a nice buy-low window, but sometimes it's also about jumping on a player in the midst of a breakout before he reaches his full potential.
On the other side of the coin, we look at players to sell, either because they are temporarily punching above their weight class, or because their situation is about to get less friendly for fantasy purposes.
As always, check out last week's edition (and the week before for good measure) for other ideas that might still be relevant. We try not to repeat ourselves from week to week.
All rankings come courtesy of Basketball Monster.

Now, let's hit the market.
Buy
Kawhi Leonard, SG/SF, Toronto Raptors
Kawhi Leonard's last season with the San Antonio Spurs in 2017-18 was a bumpy one. He spent most of the year nursing a mysterious quad injury, to the point where he only played a total of nine games in the regular season and not a single playoff game.
A blockbuster offseason trade sent Kawhi to the Toronto Raptors, which ignited some optimism that he might be able to return to his first-round fantasy form in his new surroundings. Concerns about his health kept his average draft position (ADP) down to a modest 11.3 across the industry, but those who drafted him still hoped they would be getting the guy who had three consecutive top-six finishes in nine-category leagues prior to last year.
And so far, his owners have gotten just that. Through 19 games, Leonard is ranked sixth overall in nine-cat leagues with averages of 25.6 points, 1.5 three-pointers, 8.5 rebounds, 3.0 assists, 1.6 steals, 0.6 blocks, and 2.1 turnovers per contest, and a shooting split of 48.7% from the field and 85.6% from the free throw line.
Apart from a minor ankle injury that cost him two games, Leonard has seemed relatively healthy, playing a robust 34.3 minutes per contest. He has not, however, played both games in a single back-to-back set to date. The Raptors are being extra cautious with their new star, and it has caused him to miss six of the team's 25 games so far this season.
If Kawhi's owner in your league is getting frustrated with all those rest games, see if you can acquire him for a first- or second-round player with a lower ceiling. He can be the best player in fantasy hoops on any given night and Raptors head coach Nick Nurse has said that the back-to-back restriction might soon be lifted. The Raptors play their next back-to-back set on December 11th and 12th, so that might be the perfect time to strike if Kawhi sits one of those two games.
Clint Capela, PF/C, Houston Rockets
Clint Capela had a breakout season in 2017-18, finishing as the 35th-ranked player in nine-category leagues on a per-game basis. This year, he's taken an even bigger leap forward, currently ranking 20th overall with his numbers up across the board.
Through 23 games this season, Capela is averaging 18.1 points, 0.0 three-pointers, 11.8 rebounds, 1.7 assists, 0.4 steals, 2.2 blocks, and 1.6 turnovers in a healthy 34.4 minutes per contest, while shooting 66.5% from the field and 59.5% from the free throw line.
If you can convince Capela's current owner that he or she is selling high on the big man, or that his low free throw percentage is too much of a detriment, you should jump on the opportunity. Capela's only been getting better as the season has worn on, ranking eighth overall over the last month, and fourth over the last two weeks. His 59.5% free throw percentage is currently a career high, and he's been trending up in that area as well, hitting for 69.2% (18-for-26) over his last eight games.
The 24-year-old Swiss center is leaping into the conversation with bigs like Joel Embiid, Nikola Jokic, and Karl-Anthony Towns in terms of fantasy relevance. So get a ticket to the show while you still can.
Malcolm Brogdon, PG/SG, Milwaukee Bucks
The Milwaukee Bucks have been one of the top teams in the NBA this season, and while a lot of the focus surrounding that development has rightfully fallen on MVP candidate Giannis Antetokounmpo, Malcolm Brogdon's subtle third-year breakout has been a contributing factor as well.
Brogdon, a former Rookie of the Year, currently ranks 58th in nine-category leagues with averages of 15.4 points, 1.9 threes, 4.4 rebounds, 3.5 assists, 0.5 steals, 0.2 blocks, and 1.6 turnovers per contest, and a sterling shooting split of 52.4% from the field and 97.3% from the line.
He's been getting even better as the season has progressed as well, ranking 48th over the last month, 16th over the last two weeks, and fifth over the last seven days.
He's not suddenly going to be a first-round guy going forward, but top-50 returns seem perfectly in reach with his starting job, 30.5 minutes per game, and 18.6% usage rate locked up. Brogdon had a modest 128.3 ADP across the industry coming into this season, so you may very well be able to convince his current owner that he or she is selling high on him if you want to buy in on his post-hype breakout.
Sell
Paul Millsap, PF/C, Denver Nuggets
Paul Millsap was essentially a lock for first- or second-round value from 2010 to 2016, but he's dropped off a bit over the last couple years. In 2016-17 -- his final campaign with the Atlanta Hawks -- he ranked 45th overall in nine-category leagues, and he finished 82nd last year in his first go around with the Denver Nuggets.
This season, he's having a bit of a renaissance, ranking 51st on the year as a whole, but 44th over the last month, and 15th over the last two weeks. Over that two-week period (six games), he's averaged 15.8 points, 1.0 triple, 7.8 rebounds, 2.3 assists, 2.2 steals, 1.0 block, and 1.8 turnovers in 28.2 minutes per contest, while shooting 58.2% from the field and 78.6% from the line.
He will continue to have surges of production like this current one, but the 58.2% shooting over this current stretch might not be unsustainable for a guy that has not even sniffed 50% since his days in Utah five seasons ago. We saw last year that Millsap can fade into the background on a moment's notice, so now is a perfect time to sell high on a guy who is pushing 34 and whose best days are clearly behind him.
D'Angelo Russell, PG/SG, Brooklyn Nets
D'Angelo Russell is having the best fantasy campaign of his NBA career, ranking 71st in nine-category leagues after three consecutive seasons of failing to crack the top-100 (including a 189th-ranked finish last year).
Through 25 games, the 22-year-old guard is averaging 18.0 points, 2.5 three-pointers, 4.0 rebounds, 5.8 assists, 1.3 steals, 0.3 blocks, and 2.6 turnovers in 29.1 minutes per contest, while shooting 40.7% from the field and 73.2% from the free throw line.
The counting stats are mighty nice, but the shooting percentages and high turnovers are a bit of a concern, and a good enough reason to see if now is a good time to sell high on him.
He's still surprisingly young in his fourth NBA season, so this breakout could very well be for real, but his drain on your percentages at such a high volume (17.1 field goal attempts per game) shouldn't be overlooked. See if you can get a more well-rounded mid-round asset in exchange for him.
Harrison Barnes, SF/PF, Dallas Mavericks
Harrison Barnes is one of the least inspiring and most over-drafted mid-round assets in fantasy hoops. He had an ADP of 67.3 coming into this season, despite finishing 76th in nine-category leagues during his first campaign with the Dallas Mavericks in 2016-17, and 89th last year.
Barnes has dropped even lower this season, ranking 110th in nine-cat leagues through 17 games played. He's averaging 18.3 points, 2.4 triples, 4.8 rebounds, 1.3 assists, 0.8 steals, 0.2 blocks, and 1.5 turnovers in 32.0 minutes per contest on the season, while shooting 41.7% from the field and 80.3% from the free throw line.
He has shown some signs of life lately, ranking 62nd over the last month and 23rd over the last two weeks, but that does nothing more than present you with a perfect sell-high opportunity.
Barnes scores a decent amount of points and hits the scattered triple, but he doesn't get enough rebounds for a forward, doesn't offer much in terms of assists, brings almost nothing to the table when it comes to defensive stats, and doesn't hit for a very good percentage from the floor. Unless you're absolutely strapped for points, you can do much better at his mid-round price tag.