NBA Position Battles: Whose Role Is Growing Down the Stretch?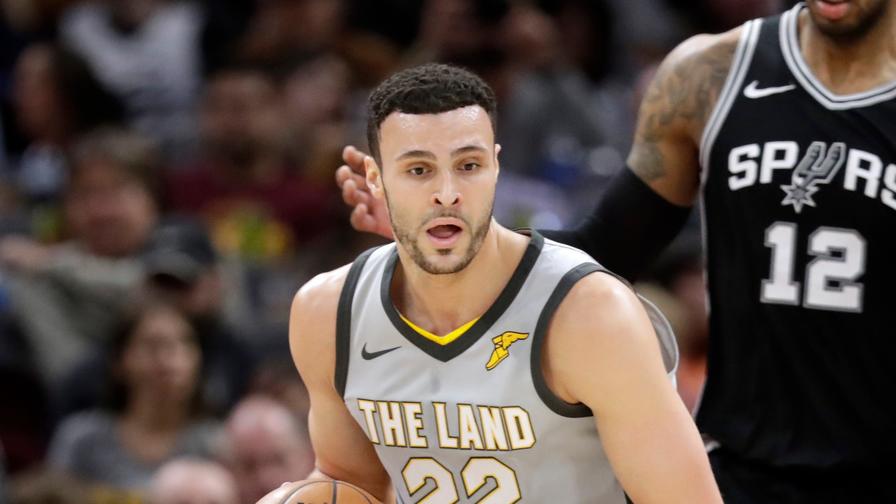 After a week off, we're back at it with the NBA's intrasquad position battles. But if there's there's one thing we've learned over the last 14 days, it's that the NBA never sleeps. In fact, it does quite the opposite, continuously running at the pace of a doubleshot espresso followed by a Red Bull chaser.
In other words, a lot has happened in the span of two weeks. There's been major injuries, impressive win streaks (now all snapped) and even warnings against egregious tanking. From top to bottom, the NBA has been filled with news and noteworthy items.
Here, we'll touch on a few -- from LeBron James' Cleveland Cavaliers to the lowly Dallas Mavericks -- to make sense of how each team will and should handle question marks in their rotations as the playoffs approach.
Posturing in the East
We're all well aware of the wholesale changes in Cleveland, and we know that it's taking them time to gel. But injuries really haven't helped their cause.
Since the team's eventful trade deadline, they've dealt with injuries to Jeff Green, Tristan Thompson and -- as recent as Friday night -- both Cedi Osman and Rodney Hood. That's not even considering Kevin Love's pre-deadline injury that's expected to keep him out until late March. The frontcourt is certainly thin, but maybe thin is better -- at least for now.
Green has returned to the lineup, but he's not starter material and serves as a key contributor off the bench. However, it's Thompson's absence that has forced new addition Larry Nance Jr. to start at center and play big minutes for the Cavs. But playing beside King James hasn't been a difficult adjustment for the ultra-athletic big man.
Since coming over to Cleveland, Nance is averaging 11.9 points (on 61.4% shooting), 8.5 rebounds, 1.5 assists, 1.5 steals and 1.0 blocks per game. His per-36 numbers are above his averages with the Los Angeles Lakers and are all career-high clips to this point. That's translated to 17.0 points, 13.3 rebounds, 2.3 steals and 1.3 blocks in three starts so far.
People are already talking about Nance remaining in the lineup when Thompson is healthy enough to return from his ankle injury. I'm not sure if anyone can argue with that as the Cavs are better with Thompson off and with Nance on, according to NBA.com's on/off data. So far, Nance's splits even trump those of Love -- though that's a discussion for a different day. In the here in and now, Cleveland coach Tyronn Lue shouldn't overthink it -- keep Nance in the lineup and maintain the 3 seed out East.
So long as Lue keeps giving Nance good minutes, Nance should remain a big fantasy value. According to Basketball Monster, he ranks 12th among all players and 6th -- right behind LeBron -- among forwards over the past three games. If you're looking for rebounds, steals or a bump in field goal percentage, grab Nance if he's still out there in shallower leagues.
Fighting in the West
Out in the West, the New Orleans Pelicans find themselves in a similar spot to the Cavs. They come into the weekend as the 4 seed with a record of 38-27, but they've been a lot hotter than Cleveland and seem to have figured out life after Boogie.
Who can argue with a 10-game win streak?
Absent DeMarcus Cousins and led by generational talent Anthony Davis, New Orleans is now 7-1 with the NBA's ninth-best net rating (2.6) over that span. Davis is dealing with an ankle injury, but the team was hitting on all cylinders prior to his absence on Friday. The frontcourt duo of Emeka Okafor and Nikola Mirotic have been a big reason for their success.
While there's no replacing someone like Boogie Cousins, the Pelicans have managed to do as much as they can to make up for the loss of his production. Prior to going down with a season-ending Achilles injury, Cousins was averaging 25.1 points, 12.8 rebounds, 5.3 assists, 2.2 threes, 1.6 steals and 1.6 blocks per-36 minutes. Since both Okafor and Mirotic were acquired, they've combined for per-36 marks of 28.9 points, 21.2 rebounds, 2.5 assists, 2.7 threes (all Mirotic), 1.6 steals and 4.9 blocks. You're not getting that from one guy, but it's helped to support the MVP-caliber play of Davis and lead to a surge up the standings. Until proven otherwise, expect Pels coach Alvin Gentry to continue playing Okafor 16-plus minutes in a starting role and bringing Mirotic off the bench for 30-some minutes a game.
While Okafor's not really a season-long fantasy option, Mirotic ranks 46th among all players in nine-category formats since February 5th (Okafor's first game with the team). On a per-game basis, he's a plus in threes, rebounds, blocks and turnovers. And when his price and the matchup is right, he makes for a solid DFS play, providing 32.5 FanDuel points per game at an average of 4.38 points per $1,000.
Feeding from the Bottom
For the Mavericks, they're nowhere near securing home-court advantage or even a playoff spot. They'll be lucky if they continue to fall toward the upper half of this year's lottery odds. That doesn't mean they're throwing in the towel on the season, though. Somewhat surprisingly, they've brought Nerlens Noel back from injury to see what he can provide to the team before he hits free agency again this summer.
In his first four games back, Noel has played well, and Dallas coach Rick Carlisle is praising him for his efforts. The two were once believed to be at odds, but it looks like Noel's willingness to get back out there and do the little things has landed him back in Carlisle's good graces. That is, of course, on top of Noel's 8-point, 14-board game against the Denver Nuggets on Tuesday.
Noel is progressively getting better and earning more minutes (having played 26 in Tuesday's game) at center. All total, he's averaged 5.3 points, 7.8 rebounds, 1.3 steals and 1.0 blocks in an average of 18.6 minutes per game since his return. He's being rested on Saturday, but he will play on the back end of this weekend's back-to-back set on Sunday against the Houston Rockets. The big man could certainly see 25-plus minutes again with four days off between games, and that should be music to the ears of fantasy owners.
In the four games that Noel's played between 20 and 29 minutes this season, he's averaged a very respectable 7.3 points, 7.3 rebounds, 1.3 blocks and 1.3 steals per contest. For those playing on FanDuel, those numbers -- particularly the blocks and steals -- are very enticing for a player who hasn't seen a $5,000 price tag since late October. He's a cheap punt option at center in DFS, and he's still available in 59% of all Yahoo! season-long leagues. Don't let him go bad on the waiver wire.