NBA Position Battles: Who Will Seize the Denver Nuggets' Point Guard Job?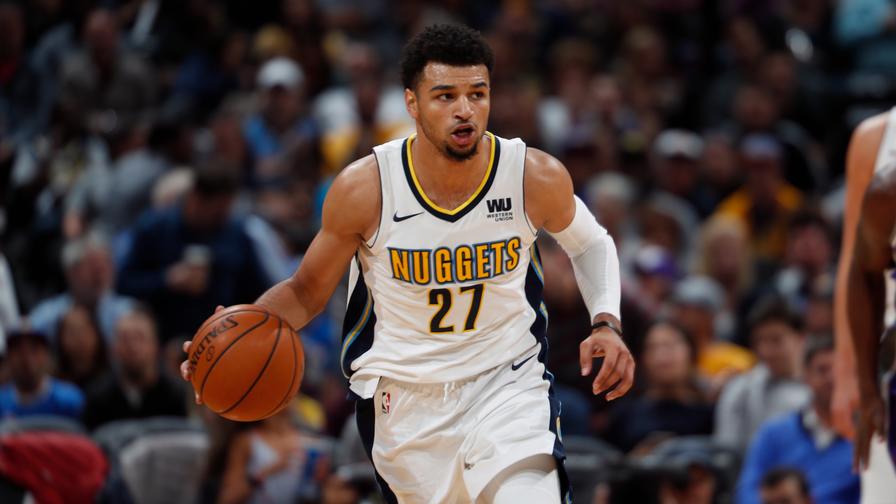 The defending champion Golden State Warriors are having their struggles. The Cleveland Cavaliers are still figuring out things defensively. The Gordon Hayward-less Boston Celtics have the best winning percentage in the NBA. And the Philadelphia 76ers are above .500 for the first time since November 2013.
All that is to say that the NBA season is still young. There's a lot we don't know with such a small sample size in front of us.
Beyond team trends, there are so many more questions than answers in regards to players' roles. We will dive into some of those position battles here -- using our data and metrics to see who should be starting or occupying a certain role for a team. Whether it's a head-to-head competition or a timeshare, these battles are crucial to how a team's season plays out and maybe even how your fantasy hoops season goes over the next five months.
Let's get it started with a look at a few battles across the league.
Denver's Point Guard Situation
Coming into the 2017-18 campaign, many people were on the Denver Nuggets as a breakout squad in the Western Conference. One of the big reasons why was how Jamal Murray finished off his rookie season as the team's starting point guard. Over his last seven games, he logged six starts and averaged 15.1 points (on 44.9% shooting), 1.6 threes and 5.0 assists in 33.5 minutes per game. Not bad for a 20-year-old rookie.
During that same time, former lottery pick Emmanuel Mudiay averaged just 23.6 minutes a game in five games off the Denver bench. He was inactive for the last two contests, but that hasn't prevented him from getting minutes to start the new season. So far, Mudiay's averaged 18.3 minutes to Murray's 25.2 a night -- and that's with Murray starting all nine of the team's games to date. But, outside the minutes and labels, how have the two performed in their time on the court?
Here are their per-36-minute stats so far.
| Player | Points | Three-Pointers | Assists | Rebounds |
| --- | --- | --- | --- | --- |
| Murray | 17.8 | 1.6 | 3.9 | 3.3 |
| Mudiay | 19.8 | 1.8 | 5.1 | 5.5 |

Taken over 36 minutes, Mudiay has been the much more productive player this season. While racking up numbers, he's also (surprisingly) out-shot Murray from everywhere but the free throw line, and as a result, Mudiay is posting career-high clips in player efficiency rating (14.4), win shares (0.3) and win shares per 48 minutes (.062). That's even more impressive when you consider Mudiay's team-high 26.7% usage rate.
Contrary to popular opinion, Murray's been outplayed by Mudiay thus far in 2017 and deserves more minutes.
New York's Center Rotation
The New York Knicks have one of the more puzzling rosters in all of the NBA. They have two veteran point guards and another who has yet to celebrate his 20th birthday. On the wings, they have a lot of wild cards, including a very expensive Tim Hardaway Jr. But the area with the most question marks is down low.
With four centers -- Enes Kanter, Kyle O'Quinn, Willy Hernangomez and Joakim Noah -- in tow, it's hard to figure out what direction coach Jeff Hornacek is going from night-to-night, let alone the future. Kanter's standing as the starter has been a constant, but his minutes have fluctuated, peaking at 30-plus twice and falling below 18 on two separate occasions. The same goes for O'Quinn and Hernangomez in their backup roles. With Noah still out due to suspension, the veteran O'Quinn has played 16.4 minutes across eight games while the 23-year-old Hernangomez has appeared in just five games, logging an average of 9.6 minutes a night.
Noah isn't expected to enter the rotation upon his return, but that still leaves a jumbled up mess with the Knicks' three-man shuffle. Quite frankly, it shouldn't.
In his time on the floor, Kanter has been a big-time factor for the Knicks. On a per-36-minute basis, his 15.2 rebounds lead the team, and he does much more than crash the glass. The 25-year-old's 20.4 points per 36 trail only Kristaps Porzingis' as Kanter's .219 win shares per 48 rate first on the team and 18th in all of the league.
The issue with Kanter has always been his defense, but the Knicks haven't been exactly lights out on D while playing him fewer minutes. They're 19th in defensive rating and 17th in offensive rating, so maybe it's time to eat the small defensive tradeoff that comes with Kanter's elite offensive game.
The Suns' Logjam in the Frontcourt
If you have a television or computer, you're probably well aware of the early changing of the guard in Phoenix. And if you've been following the NBA, you know that when a new coach takes over, things change. In addition to play style and culture, players transition into different roles and minutes, and that's no different with Jay Triano taking over as the Phoenix Suns' interim coach.
Under Earl Watson, the Suns rolled out smaller lineups consisting of the disgruntled Eric Bledsoe along with Devin Booker, T.J. Warren, Tyson Chandler and rookie Josh Jackson playing the power forward role. The team went 0-3 with a total point differential of -92 in those games, so that's been scrapped.
Ignoring the inevitable departure of Bledsoe, the Suns have been pretty consistent with their backcourt, but the frontcourt has been a different story. Triano has opted for Marquese Chriss at power forward with Dragan Bender entering the fold and Jackson playing inconsistent minutes off the bench.
At small forward, Warren has watched Jackson eat into his minutes in all but one game. In Wednesday's surprising win over the Washington Wizards, Warren scored 40 points in 35 minutes of action. Unfortunately, he suffered a head injury early in Friday's loss to the Knicks. But before that, things were unclear as Warren never once played more than 28 minutes under Triano's watch. Instead, Warren has been joined by five others (including Alex Len at center) in playing at least 22 minutes per game over the team's last six.
In terms of frontcourt lineups, here's how things have shaken out for combinations that have played at least 20 minutes together over that time.
| Frontcourt | Min | Pace | Off Rtg | Def Rtg | Net Rtg |
| --- | --- | --- | --- | --- | --- |
| Warren, Chriss, Chandler | 87 | 103.3 | 103.1 | 101.8 | 1.3 |
| Jackson, Bender, Len | 82 | 106.0 | 96.8 | 102.9 | -6.1 |
| Warren, Bender, Chandler | 40 | 109.5 | 132.4 | 100.7 | 31.6 |
| Warren, Jackson, Chandler | 37 | 106.7 | 65.3 | 120.6 | -55.3 |
| Warren, Chriss, Len | 32 | 101.8 | 113.3 | 116.6 | -3.3 |
| Jackson, Chriss, Len | 27 | 108.9 | 116.7 | 126.1 | -9.4 |
| Warren, Bender, Len | 24 | 100.6 | 108.9 | 119.4 | -10.5 |
| Jackson, Chriss, Chandler | 22 | 105.0 | 140.3 | 114.5 | 25.8 |

There's a lot of combinations there, and a lot more bad than good. If there's good to take away from it, it's that the starting frontcourt carries a positive net rating. Not so surprisingly, it's also clear that Warren's lineups have been much better on the offensive end as most of those involving Jackson at the small or power forward spot have been poor offensively and perform negatively overall.
Triano looks like he's on the right track, but it will take a lot more time for the Suns to flush out what exactly works and what doesn't.

Lightning Round
Thankfully, the Suns' point guard battle seems to have solved itself. Over the last six games, Mike James has averaged 11.3 points, 5.3 assists and owns a net rating of 10.5 over 26.4 minutes per game under Triano. Backup Tyler Ulis has yet to receive a start and is averaging 9.7 points, 4.2 assists and 21.6 minutes while accounting for a net rating of -7.9 in that same span.
Speaking of point guards, the Chicago Bulls have an obvious situation on their hands with Kris Dunn and Jerian Grant. Since Dunn made his Bulls debut after being sidelined with a finger injury to start the season, he's averaged 25.3 minutes to Grant's 22.8 despite Grant starting all three games. It looks like Dunn could be trending toward a starter's role. However, it's worth noting that his net rating (-9.0) has been far worse than Grant's (-1.4).
For the Sacramento Kings, it comes down to youth versus experience at the power forward spot. Zach Randolph has the experience to help build a culture within the squad, but Skal Labissiere has been the superior player through eight games. Based on NBA.com's on-off splits, Randolph has been a -16.3 player per 100 possessions whereas Labissiere's been a 24.7 improvement -- with the Kings posting better offensive and defensive ratings when he slots in the lineup.
There are really no numbers needed to describe the situations of the Los Angeles Lakers, Milwaukee Bucks and Indiana Pacers. In L.A., Larry Nance Jr. just went down with a hand injury, so Kyle Kuzma will start in his absence and could easily hold on to the role when Nance returns in four-to-six weeks. As for Milwaukee, Greg Monroe's absence has allowed Thon Maker and John Henson to split time at center. And for Indiana, it's a matter of finding minutes for Domantas Sabonis alongside a healthy Myles Turner and everyday power forward Thaddeus Young.