Fantasy Basketball: 2017-18 Draft Targets When Punting Free Throw Percentage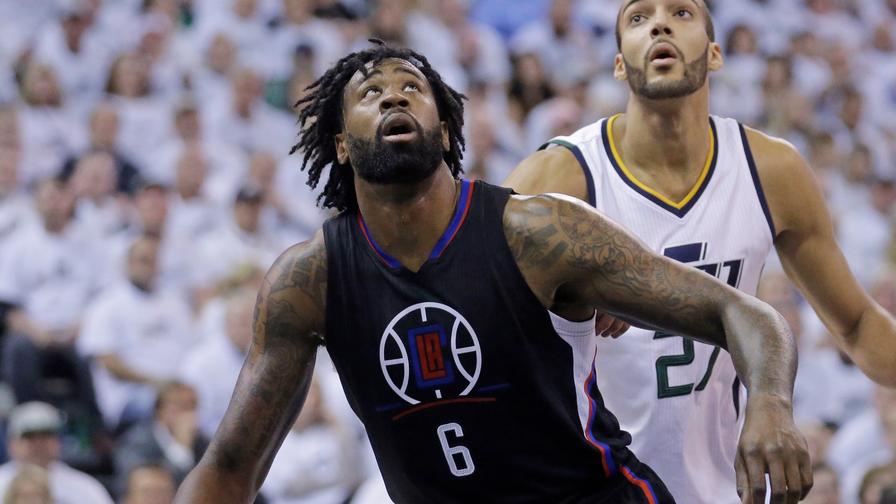 One of the most common strategies in head-to-head fantasy basketball leagues is category punting. That is where you devalue or "punt" a category (or more) in order to focus on stacking your team in other areas.
If that's your game, we've got you covered. This is part 8 of 9 in our handy series of punting guides, in which we'll focus on punting assists.
In each installment, we'll look at punting in one of the nine standard-league stat categories (points, threes, rebounds, assists, steals, blocks, field goal percentage, free throw percentage, and turnovers), providing you with helpful tips and draft targets at every position along the way. In the end, we hope these guides will collectively serve as a useful reference on your draft day if the opportunity to punt arises (or as a buying guide of sorts for trades after your draft has finished).
When possible, we'll try to make sure the top targets at each position don't overlap in terms of average draft position (ADP), so that you can conceivably grab all five guys discussed below (or at least fill out a full lineup by using the additional options listed below each of the top targets).
Always remember: punting doesn't mean you're actively trying to tank a category, just that you don't mind not being successful in it. The goal is always to target players who bring a lot of value outside of the punting category in question, while avoiding options who draw a large portion of their value from it.
All stats, rankings, and punt values come from BasketballMonster.com, while ADP values are courtesy of FantasyPros.com.
Punting Free Throw Percentage
Here we are. Welcome to the punting strategy.
Even if you're not all that familiar with punting in fantasy hoops, there's a good chance that you still know about punting free throw percentage. It's the most obvious of the punting strategies, since drafting a really bad free throw shooter like DeAndre Jordan, Andre Drummond, or Dwight Howard all but guarantees that you won't be competitive in that category.

Since guys like Jordan, Drummond, and Howard shoot free throws so poorly and at such a high volume, you're often better off punting free throw percentage if you select one of them, rather than haphazardly trying to make up for it in the rest of your draft. Heck, if you really want to dominate the big man categories -- like rebounds, blocks, field goal percentage, and low turnovers -- see if you can grab yourself all three of those aforementioned bigs in the first few rounds.
It might seem challenging to make up ground in categories like threes, assists, and steals, but locking down multiple dominant bigs early leaves you lots of room to go after guards and wings in the middle of your draft to fill out your roster.
Point Guard - PG Jrue Holiday
Reg. 2016-17 Rank (Round): 52 (5)
Punting FT% Rank (Round): 46 (4)
Ranking Differential: +6
Current Yahoo O-Rank: 44
Current ESPN Projection: 50
There are not many point guards who maintain or gain value when punting free throw percentage, but Jrue Holiday's 70.8% mark from the charity stripe last year was not exactly his strong suit, so he's one of the few.
In a build that generally devalues point guards, you run the risk of not having enough juice in guard categories, so thankfully Jrue has you covered in threes (1.5), assists (7.3), and steals (1.5). As an added bonus, he also gives you solid scoring (15.4), and respectable rebounds (3.9) and blocks (0.6) for the position.
With so many great stacking options in his line beyond the mediocre free throw percentage, Holiday is arguably the best possible point guard target when executing this punt.
Early-round targets: PG John Wall, PG Kyle Lowry, PG/SG Goran Dragic
Mid-round targets: PG Elfrid Payton, PG Lonzo Ball, PG Markelle Fultz
Late-round targets: PG/SG Kris Dunn, PG/SG Austin Rivers, PG/SG Tyler Johnson
Shooting Guard - SG/SF Andre Roberson
Reg. 2016-17 Rank (Round): 132 (11)
Punting FT% Rank (Round): 93 (8)
Ranking Differential: +39
Current Yahoo O-Rank: 159
Current ESPN Projection: 427
Andre Roberson goes undrafted in a fair number of fantasy leagues, but someone punting his 44.8% free throw percentage will want to scoop him up with one of the final picks in the draft. In 2016-17, he finished the season ranked 93rd in nine-category leagues with freebie accuracy removed from the equation, and that jumped up to 75th over the last two months of the season.
Granted, he gives you next to nothing in points (6.6), threes (0.6), and assists (1.0), but his contributions in rebounds (5.1), steals (1.2), blocks (1.0), field goal percentage (46.4%), and ultra-low turnovers (0.6) are well worth the late-round flier. There just aren't many guys like him giving you stacking options in five different categories that late in the draft.
Early-round targets: SG/SF Gordon Hayward, SG Bradley Beal, SG/SF Klay Thompson
Mid-round targets: PG/SG Victor Oladipo, SG/SF Trevor Ariza, PG/SG Avery Bradley
Late-round targets: SG/SF Brandon Ingram, SG/SF Dion Waiters, SG/SF Kent Bazemore
Small Forward - SF/PF LeBron James
Reg. 2016-17 Rank (Round): 14 (2)
Punting FT% Rank (Round): 4 (1)
Ranking Differential: +10
Current Yahoo O-Rank: 9
Current ESPN Projection: 9
LeBron James hit a career-low 67.4% from the free throw line in 2016-17, so if you get him near the end of the first round of your standard fantasy draft this season, you should consider punting that category right away.
Apart from accuracy at the line, the only other area LeBron hurts you in is turnovers (4.1), and your team will naturally be low on those in this big-friendly build anyway. In other words, James is a near-perfect player for the free throw punter, since his weaknesses are either ignorable or strong by default, and he helps you in literally every other category.
And what better way to start your draft than to strengthen your points (26.4), threes (1.7), rebounds (8.7), assists (8.7), steals (1.2), blocks (0.6), and field goal percentage (54.8%) from the jump?
Don't overthink LeBron's age or miles, he's still a great fantasy pick in any format.
Early-round targets: SF/PF Giannis Antetokounmpo, SF/PF Draymond Green, SF Otto Porter
Mid-round targets: SF/PF Ben Simmons, SF/PF Aaron Gordon, SF/PF James Johnson
Late-round targets: SF/PF Thaddeus Young, SF T.J. Warren, SF/PF Wilson Chandler
Power Forward - PF/C Andre Drummond
Reg. 2016-17 Rank (Round): 83 (7)
Punting FT% Rank (Round): 17 (2)
Ranking Differential: +66
Current Yahoo O-Rank: 56
Current ESPN Projection: 71
Andre Drummond is technically a center, but there are so many valuable players available to you at that position when punting free throws that you're almost better off slotting him and other dual-eligible power forward/centers in at the four when you can.
Whichever position you decide to use him at, Drummond is an absolute must-draft in this build, since removing his putrid 38.6% from his line last year vaults him up a ridiculous 66 spots in nine-category rankings to make him a top-20 value. His contributions in points (13.6), rebounds (13.8), steals (1.5), blocks (1.1), field goal percentage (53.1%), and low turnovers (1.9) are all drool-inducing when you don't care about free throws.
Add in the fact that he's only 24-years-old and still has plenty of room for growth, and there are a plethora of reasons to get excited about Drummond in this build.
Early-round targets: PF/C Anthony Davis, PF/C Blake Griffin, PF/C Paul Millsap
Mid-round targets: PF/C Nikola Vucevic, PF/C Nerlens Noel, PF Julius Randle,
Late-round targets: PF/C Pau Gasol, PF Marquese Chriss, PF/C Derrick Favors
Center - C DeAndre Jordan
Reg. 2016-17 Rank (Round): 49 (5)
Punting FT% Rank (Round): 10 (1)
Ranking Differential: +39
Current Yahoo O-Rank: 45
Current ESPN Projection: 57
If you decide to draft DeAndre Jordan, you basically have no choice but to punt free throw percentage.
Last season, DJ hit only 48.2% of his 5.2 Hack-a-DeAndre attempts per game, and that is simply irreparable damage to a fantasy team that wants to be competitive from the line. Of course, if you do decide to punt that category, you're looking at a sizable value jump. Remove free throw accuracy from Jordan's 2016-17 ranking of 49th in nine-category leagues, and he skyrockets up the charts by 39 spots to become the 10th-best asset in fantasy hoops.
His 12.7 points and 0.6 steals are nice, but all that value comes from the crazy category juice in his 13.8 rebounds, 1.7 blocks, 71.4% field goal percentage, and mere 1.4 turnovers per contest. DJ might fall to the fourth or fifth round in your draft because of his free throw shooting, but don't feel bad about grabbing him anywhere from the first round onward if you're punting it. He's honestly that valuable.
Early-round targets: PF/C DeMarcus Cousins, C Rudy Gobert, C Hassan Whiteside
Mid-round targets: C Jusuf Nurkic, PF/C Clint Capela, PF/C Dwight Howard
Late-round targets: C Steven Adams, PF/C Willie Cauley-Stein, PF/C Tristan Thompson