Ranking This Year's Top NBA Free Agents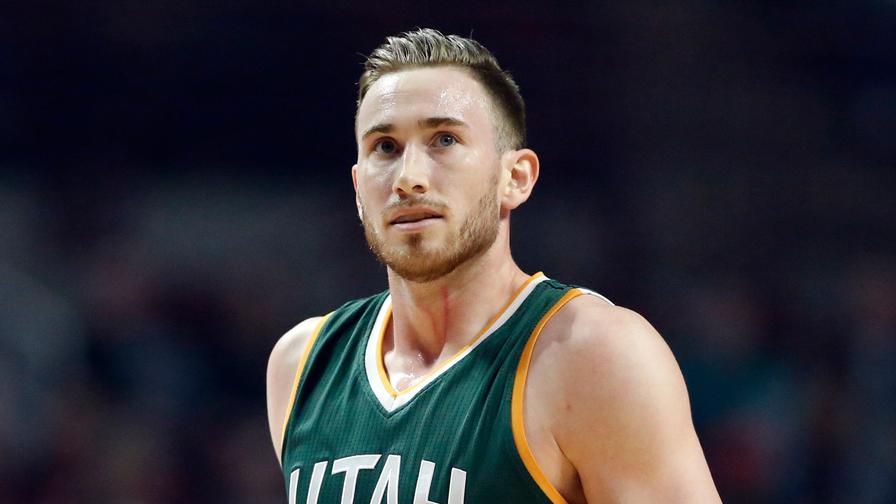 Independence Day is upon us, people!
No, I'm not talking about Will Smith slaying aliens or our nation's star-spangled holiday. I'm talking about NBA free agency.
As the country gets ready to set off their red, white, and blue firecrackers, the real fireworks start on Saturday, when the new NBA year gets underway. And, as you go through your parties, picnics, and family functions, you'll find basketball lovers combing through Twitter and retweeting one #WojBomb after another.
Before we get to that point, though, let's take a snapshot of this year's top available players in the only way we know how to here at numberFire.
Using our proprietary nERD metric (a player ranking that accounts for a player's total contributions, based on efficiency), we'll reflect on each player's performance in 2016-17, and then go through their potential landing spots and best fit.
Without further ado, here are the top 10 players for hire, starting with number 10.
10. Andre Iguodala, SF, Unrestricted Free Agent
It feels kind of weird to say this -- with the greatness of Kevin Durant and Stephen Curry hitting the open market -- but another member of the Golden State Warriors, Andre Iguodala, could be the biggest component to this year's free agency period. Reports have ranged from his signing on the cheap to his seriously considering a Golden State departure.
If Iggy re-signs, it would be business as usual for the defending champions. They'd hold on to their valuable swingman and sixth man. If that doesn't happen, though, the 33-year-old could go back to the Philadelphia 76ers or get big money from the Utah Jazz if Gordon Hayward moves on from the Jazz. There's a world of opportunity for a one-time Finals MVP and a guy whose 5.5 nERD ranked 36th in the Association in 2016-17.
Possible Destinations: Golden State Warriors, Minnesota Timberwolves, Philadelphia 76ers, San Antonio Spurs, Utah Jazz, Brooklyn Nets, Los Angeles Clippers, Orlando Magic
Best Fit: 76ers
9. George Hill, PG, Unrestricted Free Agent
You can talk all you want about Jrue Holiday, but -- after Curry and Kyle Lowry -- George Hill is the most valuable floor general out there. In his first (and possibly only) season with the Jazz, the nine-year veteran contributed 16.9 points and 4.2 assists per game across 49 games.
While it's true that Hill has had problems staying healthy in two of the last three seasons, his 5.9 nERD speaks for itself. This type of efficient play would fit well with any of the three teams below, but a return to the Spurs (where Hill played his first three seasons) is definitely in the cards.
Possible Destinations: Utah Jazz, San Antonio Spurs, Minnesota Timberwolves
Best Fit: Spurs
8. Danilo Gallinari, SF, Unrestricted Free Agent
It remains to be seen whether Danilo Gallinari's stock will suffer as a result of this year's pool of available wings, but in a vacuum, he could present big value at the right cost this offseason.
Due to injury troubles, Gallinari missed 19 games in 2016-17. However, his 63 games were the most he's played since 2012-13. Maybe things are starting to turn around for the 28-year-old. After all, his 6.1 nERD constituted a personal best. It's surprising that things haven't heated up more than they have on the Gallo market.
Possible Destinations: Denver Nuggets, Los Angeles Clippers
Best Fit: Denver Nuggets
7. Pau Gasol, C, Unrestricted Free Agent
At 36 years old, the veteran big will be entering his 17th season in 2017-18. But don't let Pau Gasol's age fool you. With a 6.7 nERD this past season, Gasol ranked 28th among all players and 2nd on the Spurs behind Kawhi Leonard.
This one's not so exciting, as Gasol plans to re-sign with San Antonio on a longer deal. Still, the Spurs will take what they can get as they look to remain among the top of the Western Conference ranks.
Possible Destinations: San Antonio Spurs
Best Fit: Spurs
6. Blake Griffin, PF, Unrestricted Free Agent
Chris Paul's now with the Houston Rockets, so that officially ends the Lob City era for the Los Angeles Clippers. Knowing that, Blake Griffin has some big decisions to make in the coming week or so. He'll have to consider the Clippers' ability to pay him the most money, but he might be thinking it's time to move on with a likely re-build taking shape in the City of Angels. In fact, he's already planning to sit down with the Phoenix Suns tomorrow.
Whether Griffin returns to L.A. or heads elsewhere to start fresh, he would do so as the league's 26th-best player, by way of nERD (7.3). Coming off a season in which the versatile power forward averaged 21.6 points, 8.1 rebounds, and 4.9 assists per game, he will be coveted by several teams in search of an offensive force down low.
Possible Destinations: Los Angeles Clippers, Phoenix Suns, Boston Celtics, Houston Rockets, Miami Heat
Best Fit: Heat
5. Otto Porter, SF, Restricted Free Agent
Of this list, only Otto Porter is a restricted free agent, meaning the Washington Wizards can match any offer he gets on the market if they so wish. Where this situation gets interesting is with the Wizards' current cap situation. Thanks to the recent deals dished out to Bradley Beal and Ian Mahinmi, the team has more than $91 million in guaranteed salaries, not counting the $27.5 million max Porter could warrant.
Whether they want to admit it or not, the Wizards might need the forward more than they know. This past season, Porter posted the highest nERD (9.4) of any Wizard, which turned out to be good enough for 20th in the NBA. A lot of Porter's value stems from his three-point shooting stroke -- a stroke that produced 1.9 three-balls per game on 43.4% shooting.
Possible Destinations: Washington Wizards, Brooklyn Nets, Indiana Pacers (via sign-and-trade for Paul George)
Best Fit: Wizards
4. Kyle Lowry, PG, Unrestricted Free Agent
It's hard to imagine Lowry as anything but the Toronto Raptors' point guard, but a change is certainly possible this summer. If the Raptors' poor playoff showing wasn't enough, both Jimmy Butler and Randy Foye have been in Lowry's ear of late.
This is another instance where the incumbent team can throw the most money at their star, but young, up-and-coming teams like the Timberwolves and 76ers have to be intriguing for the 11-year veteran. And, carrying an 11.3 nERD, Lowry would instantly become a key presence for either team. In the same way, the Raptors would surely miss his 22.4 points, 7.0 assists, and 4.8 rebounds on a nightly basis.
Possible Destinations: Toronto Raptors, Minnesota Timberwolves, Philadelphia 76ers
Best Fit: Timberwolves
3. Gordon Hayward, SF, Unrestricted Free Agent
Once you get past Chef and KD's inevitable re-signings, Gordon Hayward is where all the fun should start. As an unrestricted free agent, Hayward will be courted by a few could-be contenders like the Celtics and Rockets. But his Utah squad could lure him back as the only team able to offer him a five-year max deal.
Having averaged 21.9 points across 34.5 minutes in 2016-17, Hayward rated out as the league's 15th-best player (12.0 nERD), by our calculations. So, no matter which team he signs with, he'll be joining a team bound for the playoffs.
It will be interesting to see whether it will be Hayward or Iguodala to set the rest of the free agent pieces in motion during this year's free agent frenzy.
Possible Destinations: Utah Jazz, Boston Celtics, Miami Heat, Houston Rockets
Best Fit: Celtics
2. Stephen Curry, PG, Unrestricted Free Agent
Stephen Curry has one thing on his mind: a back-to-back championship with the Warriors. Given the team's willingness to bring Curry back, and that he would leave roughly $70 million on the table, don't expect the two-time MVP to be on the move anytime soon.
In 2016-17, Curry put up 25.3 points per game on a true shooting rate of 62.4%. His 15.9 nERD placed him seventh in the NBA and third among all guards. He and Durant will again take the court as the league's most feared duo.
Possible Destinations: Golden State Warriors
Best Fit: Warriors
1. Kevin Durant, SF, Unrestricted Free Agent
After all was said and done, Kevin Durant was the winner of this past NBA season. In his first year with the Warriors, he won his first NBA championship, took home Finals MVP honors and, with a nERD of 17.6, ranked fourth overall in our power rankings.
In 62 games, Durant averaged 25.1 points, 8.3 rebounds and 4.3 assists per game. He's already said that he'll re-sign with the Warriors at a lower price point, so it's only a matter of when, not if.
Possible Destinations: Golden State Warriors
Best Fit: Warriors