The Cleveland Cavaliers Can't Keep Pace With the Golden State Warriors
Things are not looking good for the Cleveland Cavaliers.
After being outscored in the first two games of the NBA Finals by an average of 20.5 points, the defending champs find themselves in a two-zip hole. Yes, in last year's Finals, the Cavs were down two games upon their return to Cleveland, and that worked out okay, but there are some stark differences between then and now.
I don't know if you've heard, but this time around the Golden State Warriors have a dude named Kevin Durant, and he's pretty decent. His impact on both the offensive and defensive end has made a huge difference in this series, as Golden State has appeared, at times, impossible to defend.
Another difference between 2016 and 2017 that's flown under-the-radar is the blistering pace at which this series has been played. If you're unfamiliar with the term pace factor (or just pace), it's the number used to estimate how many possessions a team has per game.
Controlling the Pace
The Warriors posted the fourth-quickest pace during the regular season, while the Cavs had a pace factor of 98.4, which ranked 16th in the NBA. What should really come as a surprise is how willing Cleveland has been to match Golden State's up-tempo style of play, considering that's not their preferred M.O.
During the first three rounds of this year's playoffs, Cleveland slowed things down even more, maintaining a pace factor of just 94.1, per NBAwowy.com. In last season's finals, Cleveland controlled the tempo of the series, slowing the pace way down, to a 91.6 mark, which would have ranked dead last in the NBA this season.
The table below displays the importance of Cleveland's change in style -- a slower pace leads to improved defensive efficiency for the Cavs.
| Cleveland Cavaliers | Pace | Defensive Efficiency |
| --- | --- | --- |
| 2015-16 NBA Finals | 91.6 | 108.2 |
| 2016-17 NBA Regular Season | 98.4 | 108 |
| 2016-17 NBA Playoffs | 94.1 | 101.7 |
| 2016-17 NBA Finals | 103 | 118.9 |

Wearing Down
It appears the Cavaliers have been making a concentrated effort to match Golden State's pace of play -- which, as it turns out, isn't a good idea, because the non-stop movement is tiring Cleveland out.
In their first halves, Cleveland's pace factor hit 109, but in the second, dropped to 97. and their exhaustion can be quantified:
| Cleveland Cavaliers | Offensive Efficiency | FG% | Defensive Efficiency |
| --- | --- | --- | --- |
| First Half | 106.4 | 45.2% | 116.5 |
| Second Half | 90.7 | 35% | 121.6 |

Effect on LeBron
Not only has playing at a quicker pace had a negative effect on Cleveland's team efficiency, but it's been visibly wearing down their players who are used to playing at a much slower pace -- especially, believe it or not, LeBron James.
That, of course, is massively problematic, because if the Cavs are going to have any chance to get back into the series, they're going to need him to be as efficient as he can for all four quarters.
Take a look at James' first and second half splits through the first two games:
| LeBron James | Usage | FG% | 0-3 ft | 4-9 ft | 10-15 ft | 16+ ft |
| --- | --- | --- | --- | --- | --- | --- |
| First Half | 35.3% | 65% | 70% | 10% | 5% | 15% |
| Second Half | 26.4% | 44.4% | 33.3% | 11.1% | 11.1% | 44.5% |

Early in the games, a fresh LeBron has appeared unstoppable, taking not-settling to the extreme, and getting to the hoop at will. He's put up a mind-blowing 70% of his shots from within three feet in the first halves of this series. In his second halves -- whether it be due to playing from behind or battling fatigue -- James has settled for jumpers far more often, taking nearly half of his shot attempts from way outside the paint.
If you prefer visuals to numbers, compare his first half and second half shot charts from Game 2:
First Half
Uh, LeBron's shot chart pic.twitter.com/mqhRY0Iprf
— Hardwood Paroxysm (@HPbasketball) June 5, 2017
Second Half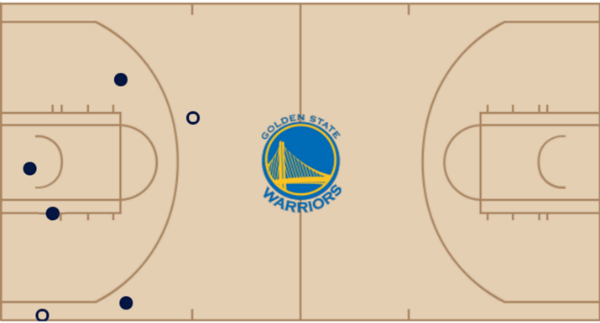 It'll be interesting to see how both teams adjust for Game 3 in Cleveland. For the sake of the competitiveness of this series, let's hope the Cavaliers do a better job of controlling the tempo, because the first two games have proven that they can't keep up with Golden State's run-and-gun style of play.