How the Boston Celtics Pulled Even in Their Matchup With the Chicago Bulls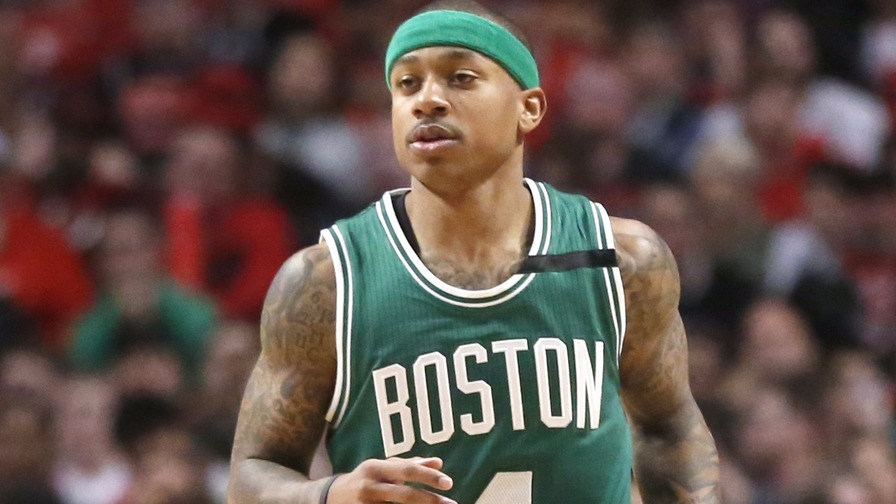 The Boston Celtics have the honors of being the Eastern Conference's 1 seed in the 2017 NBA Playoffs, but they entered with the worst point differential (+2.7 points per game) and net rating (+3.1 points per 100 possessions) for a 1 seed since the 1978-79 Seattle Supersonics. And through the first two games of their opening series against the Chicago Bulls, they looked overmatched.
The 8-seeded Bulls dominated both contests in Boston, with former Celtic point guard Rajon Rondo imposing his will against his former squad. But after some much-needed adjustments and an unfortunate injury for Chicago, the Celtics were able to make this a series again by tying things up at two games each.
What exactly were those adjustments that made this matchup competitive again?
Fully Embracing Small-Ball
Despite being the prohibitive underdog, the Bulls entered with one major advantage -- their ability to dominate Boston on the offensive glass and create second-chance opportunities.
Chicago ranked fourth in offensive rebounding rate this season, while the Celtics finished 26th in defensive rebounding rate. To help combat that, head coach Brad Stevens decided to go with a starting frontcourt of Al Horford and Amir Johnson. However, that strategy backfired -- the Bulls posted an absurd 38.3% offensive rebounding rate during the first two games. That's nine percentage points better than the second-best team, which was the Indiana Pacers, according to NBA.com.
Playing with this kind of lineup also made it difficult for Boston to generate offense. The Bulls were able to limit Isaiah Thomas' effectiveness, forcing the Celtics to turn the ball over more frequently than they did in the regular season, which can be seen in the below table.
| Celtics Offense | Offensive Rating | eFG% | TOV% |
| --- | --- | --- | --- |
| Regular Season | 111.1 | 52.5% | 12.2% |
| Games 1 and 2 | 102.7 | 51.6% | 16.5% |

Instead of continuing to play big men that constricted the amount of space Thomas had to operate on offense, Boston went small. Stevens removed Johnson from the starting lineup in favor of Gerald Green, who had played just six minutes between the first two games. He also basically committed to playing one big man at all times, with that being Horford.
In the first two games, bigs not named Horford (Johnson, Jonas Jerebko, Tyler Zeller, and Kelly Olynyk) played 90 minutes, but that has decreased to 56 minutes over the next two. Despite downsizing, they actually did a better job of keeping Chicago off the offensive glass -- their offensive rebounding rate went from that 38.3% mark in Games 1 and 2 to just 30.7% in Games 3 and 4.
This change in strategy also worked for the Celtics' offensive issues, as they posted a 110.2 offensive rating with a 55.2% effective field goal percentage in Games 3 and 4.
Exploiting the Loss of Rajon Rondo
The fractured thumb suffered by Rondo during Game 2 is another reason why the Celtics have been able to crawl their way back into this series.
Rondo was averaging 11.5 points, 10.0 assists, 8.5 rebounds and 3.5 steals over the first two games, and without him on the court, Boston has stymied the Bulls offense by exploiting his replacements. Head coach Fred Hoiberg started Jerian Grant in Games 3 and 4, seeing limited success. They produced a horrific -80.8 net rating, as opposed to the +22.4 net rating when Rondo was playing.
Grant and Michael Carter-Williams have actually made things easier for Boston on defense because of their inability to shoot, as well -- Grant is shooting 20.0% from the field in the first round, while MCW isn't much better at 25.0%.
This obviously cramps the spacing for Jimmy Butler and Dwyane Wade, and things have gotten so difficult that Hoiberg turned to little-used guard Isaiah Canaan in Game 4 for some much-needed space. Canaan played 34 minutes, which was 15 minutes more than he's played since the All-Star break.
Coincidentally enough, he outperformed his fellow guards rather easily in the plus-minus department.
| Player | Minutes Played | Plus-Minus |
| --- | --- | --- |
| Isaiah Canaan | 34:07 | +11 |
| Jerian Grant | 4:41 | -10 |
| Michael Carter-Williams | 8:07 | -11 |

The Bulls will go back to the well with Canaan by putting him in the starting lineup for Game 5. Rondo was attempting to suit up, but will ultimately sit. Since he'll be forced to the sideline once again, the Bulls should consider using rookie Denzel Valentine in the minutes Canaan is off the floor, instead of playing Grant or Carter-Williams.
Optimism for Boston?
After losing Game 2, the Celtics had just a 22.71% chance of coming back to win the series, according to our projections. Now that they've stormed back to tie things up, we give them a 63.38% chance of moving on to the next round with Wednesday's pivotal Game 5 on tap.
It's been a hard series for Boston, but they appear to be getting back on track. And remember those 1978-79 Supersonics we mentioned earlier? Getting compared to them may not be so bad -- they ended up winning it all that year.