NBA Market Share Report: Can a New Bargain Option Emerge With the Loss of Kevin Love?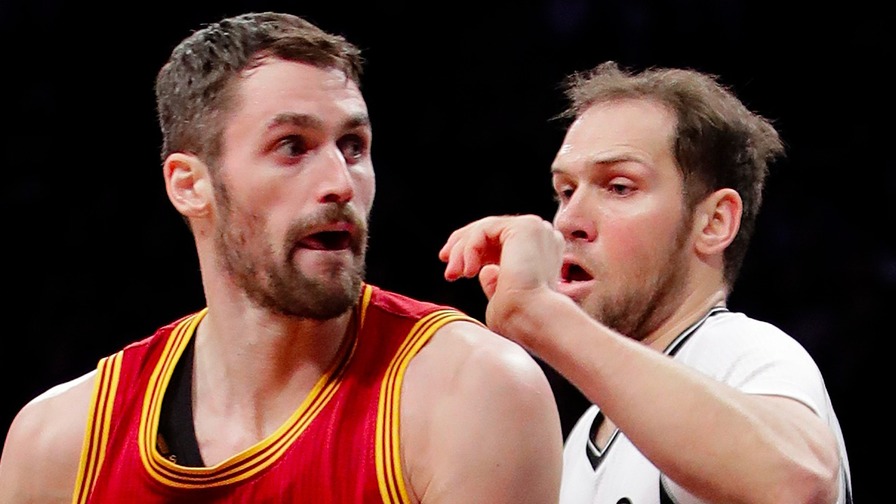 Welcome back to another edition of the NBA Market Share Report. If you didn't happen to catch the last installment, you missed out on words about the red hot Wizards and the Hernangomez in New York, so be sure to take a look.
This week we'll talk about an interesting name that could pop up following the latest shake up in Cleveland, the other fantasy angle in the Toronto-Orlando trade, and the recent form of an LA big man that may be flying just a tad under the radar.
Let us hoop!
Now Where's the Love?
The loss of Kevin Love for at least the next six weeks plops a huge question mark amongst not only the Cleveland Cavaliers, but also the entire Eastern Conference.
On the one hand, the absence of Love could mean more for the Cavaliers' foes than it does their actual squad, which would presumably be just fine so long as they shake things back in order prior to playoff time.
On the other, the Cavs are forced to find an answer for a pretty substantial piece of missing production, which is exactly what us fantasy nerds are interested in.
The first option -- which also may be inevitable -- is even more minutes for LeBron James. Despite his MVP-caliber season and more than 37 minutes a night, James will be looked to first as the guy to help pick up the slack.
The other option could be help from a veteran like Channing Frye, who might be able to help with a few extra buckets, but likely not much in the form of rebounding numbers.
And then there's the recently-signed Derrick Williams, who may be the most intriguing option, at least from a daily fantasy perspective.
Great sequence that highlights LeBron's praise for Derrick Williams@DWXXIII gets LeBron slap, chest pump & Shoutout pic.twitter.com/LFABvXs2OP
— AZ Wildcat Country (@Wildcat_Country) February 15, 2017

On the surface, there's not much to get excited about; Williams doesn't offer much as a rebounder, he's not a creator, and he's a career 29-percent shooter from three. But if things align just right, could a near-perfect blend of more minutes, a low salary, and playing alongside some decent teammates provide us with an inexpensive lineup option?
Williams' recent salary increase to just over $4,000 since joining the Cavs four games ago means we're looking for stat lines somewhere in the neighborhood of 15 points and 6 boards, and that doesn't seem out of the realm of possibility.
At the very least, it's worth keeping an eye on.
#FreeAaronGordon
While there's plenty to talk about regarding the Toronto Raptors and their newly acquired big man, there's the potential for a compelling fantasy angle on the Orlando Magic side as well -- the idea that Aaron Gordon can finally move back to his more natural four spot.
In his second NBA season last year, Gordon played 60 percent of his games at power forward, according to Basketball Reference, and he averaged 21 FanDuel points in 24 minutes per game.
This season, while playing more than 90 percent of his minutes at the three, Gordon is playing more than 27 minutes a night, yet averaging less fantasy points with decreased shooting and rebounding totals.
Although we've seen more than a handful of 30-point fantasy outings from him this season, sliding into the frontcourt should lead to better efficiency, improved opportunity to crash the glass, and more consistent fantasy production.
The Magic may not offer much as a 21-win team with a sputtering offense, but Gordon could serve as a bright spot over the second half of the season. And so long as his salary continues to hover around the $5,000 mark, Gordon should serve as an interesting case moving forward.
Blake's Swell in February
The hype surrounding Nikola Jokic is lots of fun and totally deserved, but while cramming his run this month in comparison to top power forward options like Anthony Davis and Blake Griffin, it was Griffin who stood out as having one hell of a February.
We'll wait until after the All-Star break to get into Jokic and the young big's recent emergence. In the meantime, here's a shout out to Griffin and his recent run over the last eight games; a run in which we should all continue to take advantage of.
So far this month, Griffin is averaging better than 47 FanDuel points per game, including 3 games with at least 50 points and 6 with at least 40. He's also been reliable with at least 4x value in 6 games, and hitting at least 5x value in a handful of them.

Blake Griffin's POSTER SLAM from last night! 💪👀 pic.twitter.com/QMHXYloy57
— NBA TV (@NBATV) February 12, 2017

And the best part of Griffin's gaudy numbers is the price at which we can roster them. His salary hasn't risen beyond the $9,800 mark all season -- averaging just $9,387 this month -- and until it does, Griffin is the most valuable power forward option assuming his current wave continues to swell.
And that'll do it for this week. Remember that Carmelo Anthony being added to All-Star weekend actually isn't all that outrageous, but that we should continue to preach why Bradley Beal was in fact more deserving.
See ya next time!