Will Kevin Love's Injury Have an Impact on the Eastern Conference Playoff Picture?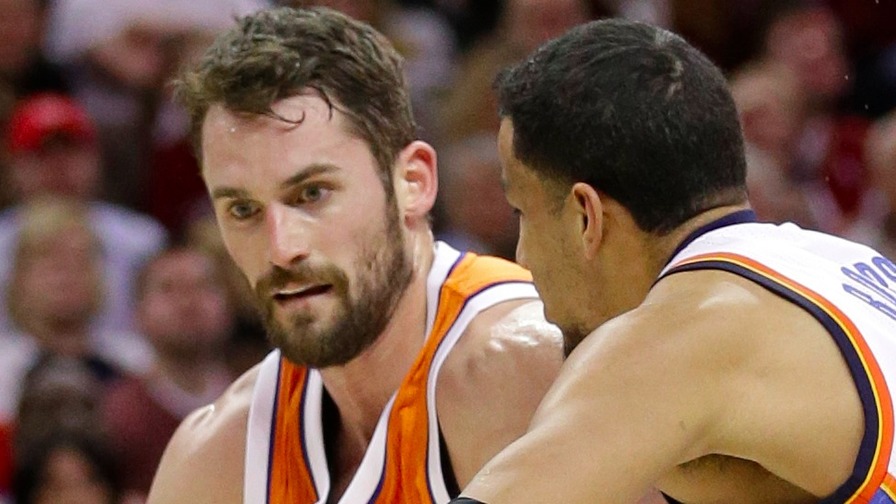 For the first time in his two-plus years with the Cleveland Cavaliers, Kevin Love was set to appear for the Eastern Conference in the All-Star game. Unfortunately, he'll no longer be a participant in this year's midseason showcase.
Love underwent arthroscopic surgery to remove a loose body from his left knee on Tuesday. His timetable is set at six weeks, which would place Love's return somewhere around the end of March, when just eight or nine games would separate the Cavs from the start of the postseason.
What exactly will Cleveland be missing with Love on the shelf for the foreseeable future?
A Lot of Love
In his third season with the organization, the nine-year veteran and four-time All-Star is having his best season alongside the duo of LeBron James and Kyrie Irving.
Advanced metrics like nERD (a player ranking that measures a player's overall contribution to a league-average team, by efficiency), player efficiency rating (PER) and win shares per 48 minutes (WS/48) echo that very statement.
| Love | nERD | PER | WS/48 |
| --- | --- | --- | --- |
| 2014-15 | 7.3 | 18.8 | .165 |
| 2015-16 | 7.3 | 19.0 | .169 |
| 2016-17 | 5.8 | 22.0 | .185 |

In year three, Love has a true shooting percentage of 58.2% -- a 2% and 3% improvement over his 2014 and 2015 campaigns, respectively. He's averaging more points (20.0), rebounds (11.1) and threes (2.6) per game while producing a double-double on a nightly basis for the first time since leaving Minnesota.
This season, with Love and his production off the court, Cleveland isn't the same team. According to Basketball Reference, the Cavaliers have a measly -1.5 net rating (offensive rating minus defensive rating) without him and a 10.5 net rating with him on the court, along with a higher rebound rate at each end.
Needless to say, Love is a big part of what makes the Cavs the reigning NBA champions.
Where Is the Love?
If you look beyond the Cavs' 7-3 record over their last 10, you can see they've been struggling lately. In their last 12 contests, they're 7-5. In their last 15, they're 9-6. But, in terms of net rating, they're just 0.2 below their season average of 4.2 over that same 15-game span.
While their offense has gone from an offensive rating of 110.6 on the season to 113.6 in the last 15, the Cavaliers defense has posted a defensive rating of 109.5 (22nd in the NBA) over that period.
So, this injury is coming at a very less-than-ideal time. Just as the Cavaliers look to right the ship, they'll be forced to implement new rotations and make up for Love's missing production.
No one player will replace him, but veterans like Channing Frye and Richard Jefferson are more than capable of stepping into Love's minutes and contributing all they have to offer. Frye and Jefferson, with a combined 2.6 three-point makes per game, will continue to space the floor for LeBron and Kyrie, which should help alleviate the added pressure on the two to score and lead the team.
Love Hurts?
Due to Cleveland's recent struggles, in addition to both Boston and Washington's hot play, the gap between the top three teams has narrowed to 4.5 games. The Celtics, 9-1 in their last 10, are exactly 2.0 games back, while the Wizards, also 9-1 in their last 10, are 4.5 games off the Cavs' pace. Even the Raptors and Hawks are just 6 games behind the Eastern Conference lead.
Will Love's absence allow any of these teams to swoop in and steal the top seed from right under the Cavaliers' nose? According to our algorithms, probably not.
| Projected Record | Pre-Injury | Post-Injury | Change |
| --- | --- | --- | --- |
| Cavaliers | 53.60 | 53.18 | -0.42 |
| Celtics | 51.5 | 51.50 | 0.00 |
| Wizards | 47.5 | 47.47 | -0.03 |
| Raptors | 48.20 | 48.12 | -0.08 |
| Hawks | 45.7 | 45.62 | -0.08 |

Things narrow, yet not very much. Part of that has to do with the lack of head-to-head matchups between the Cavs and the others during Love's projected timetable. The Cavs will face the Celtics, Wizards and Hawks just one time each in the next month-and-a-half. They'll avoid the new-look Raptors altogether.
There is a fairly significant takeaway, nevertheless. Prior to the recent news, we had Cleveland's championship odds at 9.8%. After, they've been reduced to just 8.16%, which situates them fourth behind the Warriors, Spurs and Raptors.
Don't expect the Cavaliers to surrender the 1 seed, but now is not the time to bet on them to repeat as champions.