Brook Lopez Is a Daily Fantasy Basketball Cheat Code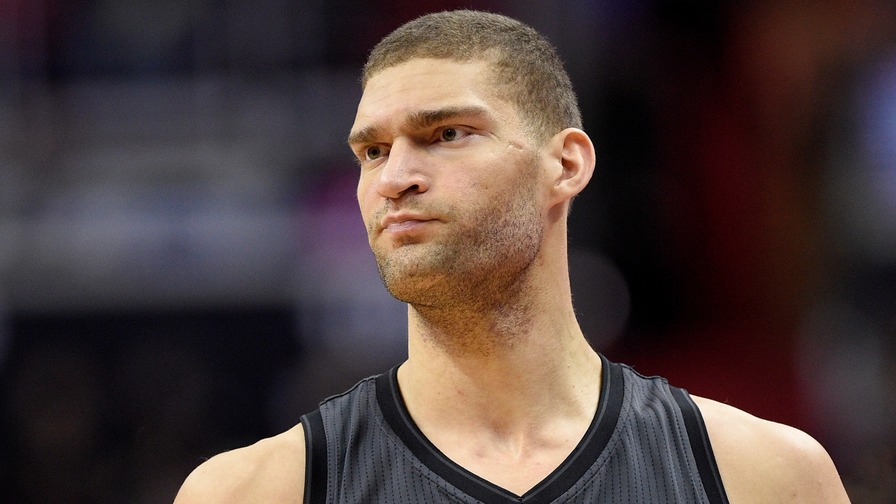 If you're anything like me, you like to eat.
However, I am not the type to try a lot of different types of food. I'm the guy who finds something on the menu I like and then orders that every time I go to a place. I don't like eating food I can't trust to be good every time. So, if I try a food for the first time and don't like it, that will probably be the last time I give that food a chance.
This brings us to sushi. The first time I ever tried sushi was at a cheap Chinese buffet. Not my best decision. After contemplating whether or not I could get away with spitting my food into my napkin in public, I downed the "sushi," chased it with a full glass of water, and put sushi firmly on my "never again" list.
And now this brings us to a few months ago. I had worked up the nerve to ask out a girl I had been interested in for some time. Guess where she wanted to go for dinner? You got it -- she just had to have sushi.
So, against my better judgement, I decided to give sushi a second chance. We went to a highly recommended local sushi joint, and I ordered the California rolls, which were also highly recommended. I have to admit, even with the positive recommendations, I was dreading having to fumble around with the chopsticks and down eight of the slimy, disgusting, excuses for food I had tasted years ago. As if the anxiety of a first date wasn't enough.
To my pleasant surprise though, my sushi experience that day couldn't have been further from what I expected. The California rolls were delicious, and have been each time I have ordered them from that place since.
How does this all tie into Brook Lopez?
The lesson learned is that, sometimes, it's not about the food (or player in this instance) but rather the circumstances related to them.
If you've played daily fantasy for long, you know how volatile BroLo's performances can be. This season, big man has had as many games (six) with 25 or fewer DraftKings points as he has had with 45 or more.
If you selected him on one of the games when he dropped a dud in an excellent matchup -- for example, 12.75 DraftKings points against the Boston Celtics or 24.25 against the Charlotte Hornets -- you were probably left confused and saying "never again" to the inconsistent big man.
What if I were to tell you that you didn't have to eat the cheap, Chinese buffet Brook Lopez anymore, though? What if I could offer you a higher quality selection process for Lopez that offered a much more consistent fantasy performer?
It won't be as consistent as my California rolls that are good every time, but a look at Lopez's game log this season suggests that there are definite trends worth taking into account when considering Lopez in daily fantasy.
Blowout Factor
The Brooklyn Nets currently hold what is easily the worst scoring margin in the NBA (-8.9 points), so it should come as no surprise that blowouts are a constant concern when rostering Brooklyn players in daily fantasy -- specifically Lopez.
A look at his splits below shows what a drastic change it makes to his output for Lopez to be able to play in competitive games.
| Brook Lopez Splits | Double-Digit Losses | Other Games |
| --- | --- | --- |
| Games | 19 | 22 |
| Minutes | 27 | 30.3 |
| FanDuel Average | 29 | 35.9 |
| DraftKings Average | 30.8 | 40.6 |
| 35+ DraftKings Points | 26.3% | 63.6% |
| 50+ DraftKings Points | 0.0% | 18.2% |

In games the Nets have lost by double digits this season, Lopez has been a very unreliable fantasy option, thanks in large part to reduced minutes. He's actually still averaged well over a fantasy point per minute in such circumstances, but the 27 minutes per game make him very unappealing for the price you'll have to pay for him.
In games the Nets have been able to keep the score close, Lopez has been an absolute beast, averaging 40.6 DraftKings points. That average would make him the fifth-highest scoring center, ahead several who are routinely priced above him (Joel Embiid, Andre Drummond, Rudy Gobert, and Nikola Jokic to name a few).
What really stands out from these splits is the stark difference in BroLo's upside in competitive games. He has reached 35-plus DraftKings points in well over half of the games that have remained competitive, as opposed to just 26.3% of blowouts. In 19 games with a double-digit scoring deficit, Lopez has reached 50 DraftKings points exactly zero times.
Trusting Vegas
No matter what your thoughts on "Sin City" are, you need to thank the Vegas oddsmakers because they have made predicting positive outputs from Lopez much easier.
According to VegasInsider.com, Lopez has played in 11 games in which the Nets were listed as double-digit underdogs. In those games, Lopez has averaged 32.7 DraftKings points. Of Lopez's seven games with fewer than 25 DraftKings points this season, the Nets were double-digit underdogs in five.
Likewise, Lopez has excelled in games that Vegas expected Brooklyn to keep close. In 11 games that the Nets have been underdogs by five or fewer points, Lopez has averaged 39.8 DraftKings points, with his lowest output being 29.25 points.
So, be sure to always check the Vegas odds before locking Lopez into your lineup.
Straight Banger
Nah, I ain't talking about all the bangers on J. Cole's latest album, although Jermaine definitely got buckets back in the day. I'm talking about low-post banging, and few do it better than Brook Lopez.
Amid all the attention that has gone to Lopez's unprecedented improvement from the three-point line this season, many have overlooked his dominance in the low post.
Lopez trails only Marc Gasol, a fellow low-post banger who has transitioned into a deep-ball chucker, in points in the post this season, and his 52 percent field goal percentage on post ups is the highest among qualified big men.
Unlike his stroke from downtown, Lopez's low-post efficiency is nothing new. He came just four points away from leading the league in points in the post last season, and his 50.6 percent success rate from down low was again higher than any qualified big man.
It should come as no surprise, then, that Lopez has put on a show when facing teams inept at defending the low-post this season. In 13 games against teams in the bottom-10 of the league in terms of points allowed in the post, Lopez has averaged 39.1 DraftKings points. If you take out four games that were decided by 10 or more points, that average climbs to a ridiculous 42.1 DraftKings points.
All post up numbers can be found courtesy of NBA.com and can be an important part of finding matchups that fit individual players.

Cheat Codes
By now, hopefully, it's becoming apparent that Lopez isn't the maddeningly unpredictable fantasy asset that a quick look at his game log would suggest he is but rather an unbelievable source of value if you understand how and when to roster the talented big man.
Due to his supposed inconsistency, he has remained one of the most underpriced players at any position, especially on DraftKings. His average price on DraftKings this season sits just under $6,600, and he has been above $7,000 just twice. On FanDuel, his average price has been a shade under $7,300 and has risen above $8,000 just once.
Considering some of the numbers that we have taken a look at when he is playing in competitive games, especially when facing teams that struggle to defend the post, being able to roster Lopez at such a modest price on DraftKings seems a bit like cheating. Thanks to his reputation for inconsistency, he doesn't often carry high ownership, either, even when he's in a great spot.
So, going forward, keep an eye out for games that the Nets might be able to keep competitive, especially if the opponent struggles to defend down low. It's always a bit of a risk, as the Nets are one of the most inconsistent teams in the NBA, but the numbers suggest that, far more often than not, you are going to win out when taking a chance on Lopez in such spots.