3 Daily Fantasy Basketball Players to Avoid on 1/24/17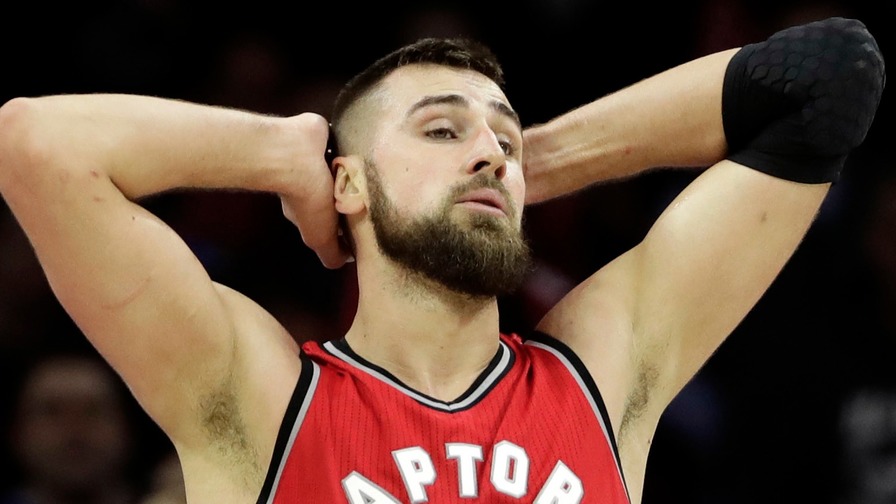 In daily fantasy basketball, finding players you want to roster is a lot easier than finding players to avoid.
You can find a ton of great information and research on guys you might want to include in your DFS NBA lineups, but what about guys you may want to lessen your exposure to, or even fade altogether?
Avoiding players whose matchups or situations aren't as great as they seem can often be just as important as finding the best targets. After all, it only takes one player to sink a lineup. Searching for the landmines could mean the difference from winning or losing your contests.
Jonas Valanciunas, C, Toronto Raptors
FanDuel Price: $5,800
Jonas Valanciunas is hard to fade on nights like this. He is bound to be underowned, and he has some nice upside, as we saw with his last game. However, with the San Antonio Spurs coming to town, Dewayne Dedmon might be enough to shut down the Toronto Raptors' big man completely.
Dedmon has been great on defense this season, and with Pau Gasol missing time, Dedmon got the start last night and played really well. Even on the second night of a back to back, if Dedmon starts again, Valanciunas will find it hard to exceed value tonight.
Dedmon ranks as the eighth-best player in ESPN's defensive real plus-minus rankings, and he is currently holding players he defends to 38.9% shooting from the floor and 42.4% shooting within 10 feet.
Danilo Gallinari, SF, Denver Nuggets
FanDuel Price: $5,600
Danilo Gallinari is another guy who is hard to fade. He is one of my favorite tournament options on most nights, but not on days when he is playing against the Utah Jazz.
The Jazz are holding opposing small forwards to just 0.71 FanDuel points per minute, and in 15 career meetings, Gallinari has been dominated by Gordon Hayward.
Gallinari is shooting 35.9% from the floor against Hayward in his career, and this season, Hayward is holding players he defends 40.6% shooting and 31.4% shooting from downtown.
Jahlil Okafor, C, Philadelphia 76ers
FanDuel Price: $4,600
Joel Embiid will not play tonight, which means that DFS players across the country will be looking for value in the Philadelphia 76ers' frontcourt.
However, Jahlil Okafor is coming off a knee injury of his own and is probable for tonight, but there is also Nerlens Noel to consider this evening.
Noel is going to get some center minutes tonight, but that isn't Okafor's biggest obstacle. It will be going head-to-head against DeAndre Jordan. Jordan ranks 17th in defensive real plus-minus, and even if Okafor gets big minutes, his upside is somewhat limited tonight.