Fantasy Basketball: Does Montrezl Harrell Have More Value Than Clint Capela?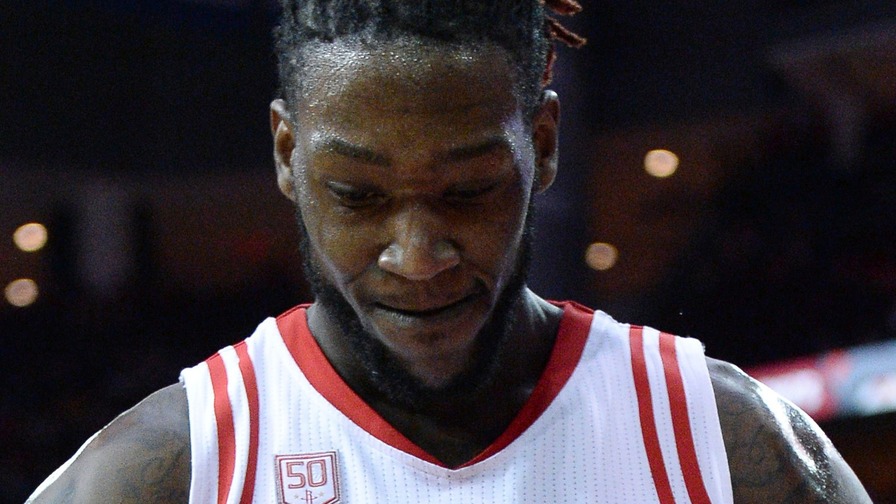 Clint Capela was having a hell of a season for the Houston Rockets before he was injured.
In standard 9-category leagues, he was returning incredible value, given his 96th overall average draft position.
That number itself was heavily influenced by the fact that was 78th on CBS. On Yahoo, he went 109th, and on ESPN, he was drafted 135th, on average. That's a pretty wide range, but if you managed to get Capela in the 10th round or later, you had to be thrilled with his production: 11.2 points, 7.7 rebounds, and 1.6 blocks per game, with a 63.6% field goal percentage that would be good for fourth in the NBA, were he still qualified.
His 44.2% free throw percentage was a wart, to be sure, but on only 2.2 attempts per game, it was palatable.
However, when Capela was injured with a broken leg on December 17th, backup Montrezl Harrell (a player with a seemingly similar skill set) stepped into his role almost flawlessly, and the Rockets reeled off an 11-4 stretch, including a nine-game win streak.
Was Capela really such a product of Mike D'Antoni's system? Had he lost his job so quickly?
Our own Brad Leibfried looked deeper into it, ultimately concluding that, while getting Harrell more minutes was undoubtedly a good thing for the Rockets' depth, Capela's rim protection and low-post defense would be essential to their success in the playoffs.
For fantasy owners, however, the question isn't who the better fit for the team is but rather who is going to be getting the lion's share of the minutes.
Capela or Harrell
In 15 games without Capela in the lineup, Harrell averaged 14.2 points and 4.9 rebounds. He added 16 blocks in those 15 games, while shooting 62.7% from the floor.
He was a whopping plus-91 in that span, a plus-6.07 per game -- a number that would currently be good for 15th in the NBA stretched over a qualified season. He's a valuable piece and will still feature heavily in the Rockets' rotation.
So do you roll with the hot hand? Is Capela worth picking up and/or stashing? He's played just 20 total minutes in his first two games back, and Houston seems committed to easing him back in slowly.
If you compare their per-36-minute stats, the question of Capela versus Harrell becomes clearer.
| Per-36 Stats | Points | Rebounds | Blocks | FG% | FT% |
| --- | --- | --- | --- | --- | --- |
| Montrezl Harrell | 18.4 | 7.7 | 1.6 | 66.1 | 63.5 |
| Clint Capela | 17.1 | 11.8 | 2.4 | 63.2 | 44.8 |

Included here are the most relevant fantasy statistics for these two big men. Harrell has an edge in assists (2.2 to 1.4), while steals and turnovers are both minimal and three-pointers are non-existent.
As you can see, Capela is still clearly the player to own based on extrapolated production. His free throw percentage is ugly, but as mentioned before, it's on so few attempts (he is 30 for 67 on the year) that it is basically negligible.
Harrell's attempts (54 of 85) are roughly the same per game, as he averages just one more free throw attempt per 36 minutes. And while Harrell has a better field goal percentage on the year, as noted above, his percentage dipped to roughly the same level as Capela's when his role was expanded.
However, given his injury, it's fair to ask: will Capela be able to repeat his previous production? As a third-year player and first-year starter, he's far from a proven commodity.
Conclusion
This is the best part. If you're in a league that's deep enough that you're considering this, you should own both guys! Or whichever one you can get your grubby little hands on.
Even before the injury, Capela was playing just under 24 minutes per game. Harrell played 27.2 minutes per game while Capela was out.
Even with Ryan Anderson (30.8 minutes per game) and Nene (16.9) in the mix, both of these players are going to get heavy run. Nene is the one who's more likely to have his role diminish, and Anderson's spotty injury history is another factor to consider.
Remember, there are 96 minutes to divide between those two big man spots -- if Anderson occupies 30.5 of those, you can easily give 25 each to Capela and Harrell, and still have 15.5 left over for the big Brazilian (or fewer).
I'd recommend targeting Capela first because of the superior rebounding and shot blocking. Those, coupled with his elite field goal percentage, make him a true fantasy asset when he's firing on all cylinders. There's a chance he's still on the waiver wire in your league, given his slow return from injury, but that window won't be open much longer.
As for Harrell owners, hang onto him. He has increased value until Capela returns to full strength, and he's earned a bigger role on this Rockets team. Capela's presence likely isn't going to take much -- if anything-- away from that.