It's Time for the Dallas Mavericks to Consider Trading Dirk Nowitzki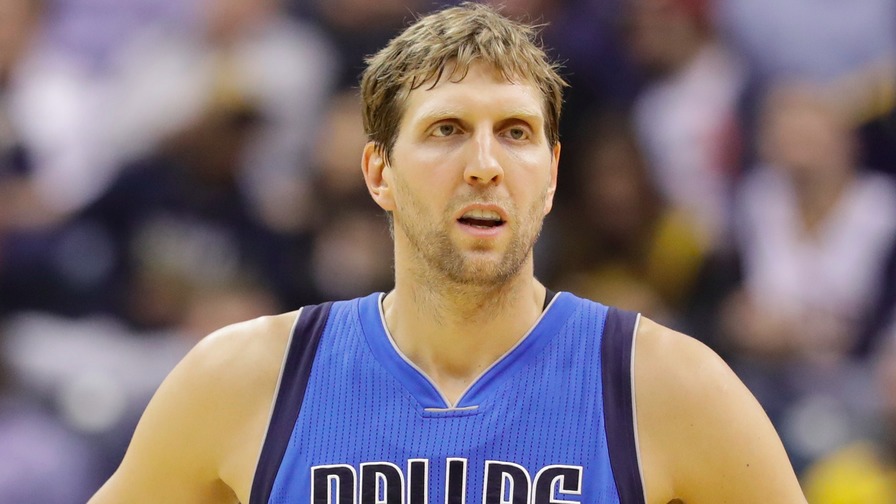 The Dallas Mavericks lost again on Wednesday night. They are now 6-19, tied for the NBA's worst record, and while Mark Cuban has said he does not want to tank, it's time to reconsider.
Any sort of white flag might be unacceptable for the hyper-competitive Cuban, but it's in the best interest of the franchise. After another bad loss at home where they held a lead heading into the fourth quarter, it's time to start thinking for the long-term.
Dirk Nowitzki is 38 years old and has been banged up, but he will eventually be ready to return to the court with enough rest. The Mavs will almost certainly be halfway out of playoff contention by then (if they aren't already) and the writing has been on the wall for a while with this team.
Confronting Reality
Our own Dale Redman broke down the Mavs' problems more in depth a few weeks ago and things haven't changed. Dallas ranks 26th or worse in offensive efficiency, effective field goal percentage and free throws per field goal attempt. That's not what a nearly $110 million payroll should buy.
There are bright spots on this roster, but that's exactly why they need to start tanking and the first move would be trading Nowitzki.
This may be a blasphemous statement to those in Dallas, but let's be honest; the city is doing great. The Dallas Cowboys look like actual Super Bowl contenders. Nowitzki won an NBA title there and by the time the Mavs are ready to do that again, Dirk will be long retired.
That's why it's time to get something for him now. The Mavs have several veterans, including Nowitzki (his final year is a team option), Andrew Bogut and Deron Williams, who have three things in common. All will/could be free agents this summer, they all have been hurt at least once this season and they all have trade value that could bring back pieces while simultaneously giving younger players extended run.
It wouldn't be fun to see Nowitzki get traded, but it's in the best interest of the franchise. If Dallas can unload those three veterans to give guys like Seth Curry, Dwight Powell and Dorian Finney-Smith more playing time, they will be better set up to try and lure free agents to the organization in the summer. Plus, they might get a few picks to add to what should be a top-three pick in the 2017 NBA Draft.
This won't happen without Dirk's blessing, though. He does have a no-trade clause in his contract, according to Spotrac. If both sides agreed that a trade was the right way to go about things this season, these three teams would almost certainly entertain the idea of acquiring the future Hall of Famer.
Toronto Raptors
This is probably the most obvious fit. The Toronto Raptors don't seem any closer to getting Jared Sullinger back and are in desperate need of help at power forward. Pairing Nowitzki with Jonas Valanciunas would give defenses fits and it would improve Toronto's already strong 40.2% shooting from beyond the arc.
Patrick Patterson is shooting only 36.5% from the floor and while Pascal Siakam has played well, he is more suited for a bench role. Imagine a healthy Nowitzki in the starting lineup and you have a team that could legitimately knock off the Cleveland Cavaliers.
Acquiring Nowitzki would take some scoring pressure off DeMar DeRozan and Kyle Lowry, who have accounted for almost 44 percent of the Raptors' offense.
He'd also give them another post-up option, as Valanciunas is converting less than half of his post ups into baskets. When it comes down to playoff time, Toronto could use a versatile scorer like Nowitzki to help DeRozan and Lowry.
Boston Celtics
The Boston Celtics are another team seemingly one player away from taking that next step forward, and a veteran like Nowitzki could make that happen. Boston is also struggling to get production out of the power forward slot and could use a veteran at the position to pair alongside Al Horford.
No Celtics power forward has a positive net rating on offense, and Amir Johnson could be used in a deal to net Nowitzki.
The Celtics already play at a pretty slow pace (95.9 possessions per game), which would be to Dirk's advantage. Boston also needs help getting to the free-throw line, which is another area Nowitzki could provide assistance -- they rank 26th in free throw attempt rate (FTr) at .235. While his numbers are down this season, he has a career FTr of .363 and in the playoffs, that goes up to .456.
Boston has the assets necessary to get a deal done and make it work for both sides. Plus, just imagine Nowitzki wearing green and playing on the parquet floor in the playoffs against LeBron James one last time.
Portland Trail Blazers
While I doubt the Mavs would work out a trade with a conference opponent, the team most likely to be looking to make that deal is the Portland Trail Blazers. Like the Raptors, Portland gets a lot of their scoring from the backcourt, and Nowitzki could lighten the load while being a veteran presence in crunch time.
Al-Farouq Aminu is a great player, but his offense leaves a lot to be desired. Last season in the playoffs, teams would just leave him wide open to shoot, and while he won a few games doing that, it's ultimately a winning strategy for Blazers' opponents since Aminu owns a .359 effective field goal percentage this season.

Put Nowitzki in the starting frontcourt next to Mason Plumlee and teams won't be able to leave him wide open. Portland is currently getting 45 percent of their offense from Damian Lillard and C.J. McCollum, so this would be a great way to balance things out. Considering the Blazers are 5-7 this season when one or both of their starting guards fails to score at least 20 points, it's time to start looking for more scoring and Nowitzki could provide that.
This is the exact situation Dallas wanted to avoid, and it may not even come close to happening between Cuban's desire for Dirk to retire as a member of the Mavs and Dirk himself having a no-trade clause. However, the front office needs to start considering everything to become consistently competitive again.