The Chicago Bulls Have Figured It Out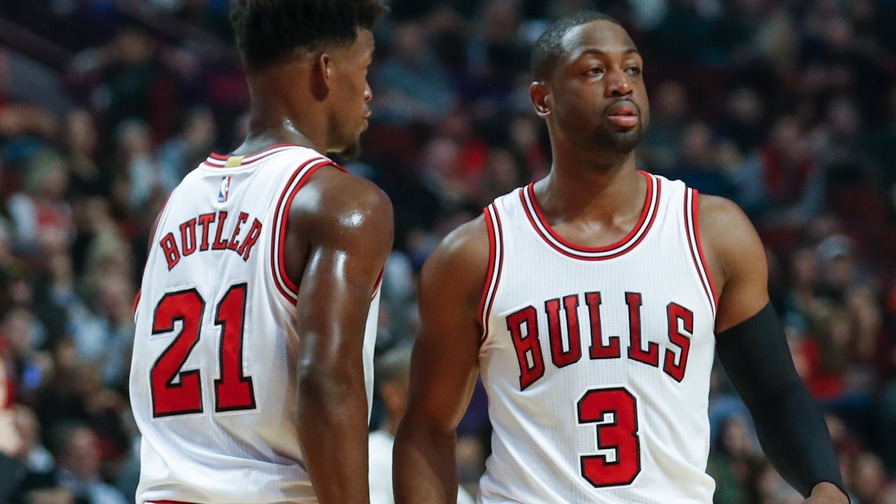 "Could it possibly work?"
That's what just about everyone was saying as the Chicago Bulls entered 2016-17 with questions about whether Jimmy Butler, Dwyane Wade, and Rajon Rondo could all co-exist alongside one another. Our very own Randy Quis tackled the situation prior to this season's tip. In sorting out the Bulls' trio of guards, Randy came to the conclusion that it's Jimmy's team, but outside of that, the role of Rondo and Wade were unknown.
No one can blame him there. After all, neither have shown an ability to convert with consistency from the perimeter throughout their respective careers.
Despite all the questions, the Bulls started off the season with three straight wins over the Boston Celtics, Indiana Pacers, and Brooklyn Nets. But, just as everyone was starting to think this could work, the Bulls lost three straight to Boston, New York, and Indiana.
Since then, the Bulls have shown us more of who they are and what caliber of team they are in the Eastern Conference. They've won four out of their last five, including three straight wins. The most impressive of those coming last night in Portland, where the Bulls jumped on the Trail Blazers early and never looked back. They went on to win the game by 25.
The Bulls currently sit at 7-4 and own the fifth-best record in the East. Now, the only question to ask is, "How?"
Butler and Wade
While Jimmy Buckets is in the process of setting career-highs, D-Wade is putting up very respectable numbers of his own.
| Per Game Averages | Points | Assists | Rebounds | Steals |
| --- | --- | --- | --- | --- |
| Jimmy Butler | 24.5 | 4.3 | 6.1 | 1.8 |
| Dwyane Wade | 17.2 | 3.1 | 4.2 | 1.7 |

That makes for a good one-two punch, but the most impressive number isn't in the above table. Through 11 games, Butler and Wade have combined for 2.6 three-point makes per game on 38% shooting. In comparison to their combined 1.1 makes and 28.5% three-point percentage a year ago, that's a tremendous improvement. They clearly answered the question of whether they could make teams respect the deep-ball.
With individual numbers like this, it wouldn't be difficult for one to surmise that the two have been playing well together. And that assumption would be correct.
Butler and Wade seem to feed off of each other's competitive nature, which bodes well for the Bulls as a team. According to NBA Wowy, when both are on the floor, the Bulls score 109.5 points per 100 possessions and surrender just 102.4.
In their time together, the two are nearly equal in usage percentage. Butler, at 24.9%, and Wade, at 24.1%, use a combined 49% of their team's possessions when they're running the floor in tandem.
When you split the two up, what happens?
Butler or Wade
At the start of the season, it seems like there was this belief that Rondo would be more of an offensive conductor. Needless to say, he that hasn't been the case. Through 10 games, Rondo has amassed a usage of 20% or more on just three occasions. Butler and Wade each have 10 such games.
It's apparent that head coach Fred Hoiberg has seen this all along. From the very start, he's done a very fine job of staggering Butler and Wade's minutes.
On the season, per NBA.com they've played just 20.4 minutes together. Even in last night's game against Portland, absent Rondo, the two only played 21.6 minutes together.
They, not Rondo, are the initiators of the Bulls' offense. They're basically the first- and second-team point guards.
Per NBA Wowy, when Butler is on the court and Wade's off, Butler's usage rises to 32.3%. In the same way, when Wade is on and Butler's off, Wade takes on more possessions, with a usage percentage of 31.4% himself.
They really are about identical no matter if they're paired together or divided.
Rondo's There
Basically, this is all Rondo's been to the Bulls in the short amount of time that he's been there. Sure, he's contributing 7.6 points, 6.5 assists, and 5.6 rebounds in 29.3 minutes a game, but further exploration suggests that he's not doing much to impact the team in a positive way.
When Rondo's been on the floor, the Bulls have put up an offensive rating of 108.3 and a defensive rating of 109.1 points per 100 possessions. Any time that he's been off, they've improved both of those numbers to 109.9 and 98.3, respectively. In terms of net rating, that's a difference of 12.4 points over the course of 100 possessions.
The Bulls are nearly 12 points better than opposing teams without him and almost a point worse with him.
I'm not saying that they need to get rid of Rondo -- though, if you're asking me, they should if they can get something of worth in return when he's eligible in mid-December. In all probability, he'll remain in Chicago, but this suggests that, for a free agent pickup, he's not much of a factor in today's NBA.
He can't consistently hit from deep, and he's not the defender he once was.
When you have this, you don't need that.

Jimmy and D-Wade are running -- and will continue to run -- the show in Chi-town.