Harrison Barnes Is Proving His Worth With Dallas
This summer, Harrison Barnes found himself in the middle of a crazy NBA offseason. He wasn't the number one free agent, by any means, but he was at the center of intersecting storylines.
Fellow free agent Kevin Durant entertained the idea of joining the Dallas Mavericks, but ultimately decided against it. Instead, he signed with Barnes' former team, the Golden State Warriors, who opted not to pay Barnes the money he wanted in the market.
As a result, Dallas was just about forced to offer Barnes a max contract (four years, $95 million) in hopes that, as their consolation prize, he would work out at small forward long-term. He joined former Warriors teammate Andrew Bogut, who had been traded to the Mavericks back in July in order to make room for Durant's max deal.
While it hasn't exactly been a large sample size yet, things have worked out for Barnes in Big D.
Preseason Problems
That being said, the shift didn't come without a growing period. In seven preseason games, Barnes scored just 6.9 points in 20.8 minutes per contest. That number alone isn't all that alarming, since not many teams read much into the NBA preseason.
Still, Barnes didn't look comfortable in his new situation and shot quite miserably throughout the preseason.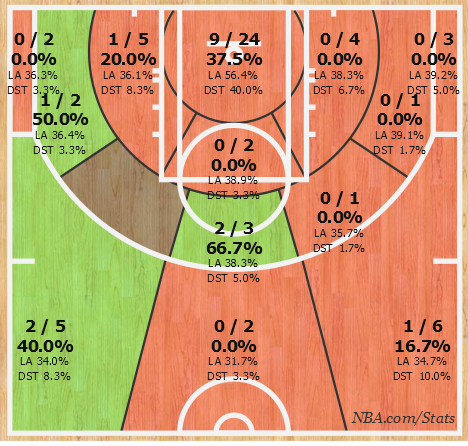 The proof is in the picture. The newcomer converted on a lousy 26.7% from the field as he never found any resemblance of consistency prior to the start of the season. Things were not looking up for Mavs fans.
Regular Season Awakening
By the way he's performed in the regular season to this point, you wouldn't have a clue that Barnes looked lost in the preseason. Through nine games, he's been the Mavericks' lone bright spot. While the team itself is out to a meager 2-7 record, Barnes is averaging a career-high 22.3 points per contest.
Despite career-highs in both usage (25.1%) and shots per game (17.8), the 24-year-old forward has managed to sustain efficient play while bearing a heavy workload. He's shooting 49.3% from the field, including 34.5% from three-point range. In accounting for each, his effective field goal percentage of 52.8% is above his career average, as well.
Barnes has shocked many people by stepping into a star role rather seamlessly.
Doing Bad All By Himself
Having been handed this star status -- and the money that created such an expectation -- Barnes is expected to be a go-to guy for Rick Carlisle. And, in the early stages of the 2016-17 season, he's been just that.
In his final season with the Warriors, Barnes' part was the antithesis of a go-to, isolation player. Offensively, he was a fourth option, with just 65 isolation possessions for 0.82 points per possession, according to NBA.com.
So far this season, Barnes has already seen 53 iso possessions, and he has thrived in doing so. As a matter of fact, Barnes' 1.17 points per possession is tied for fifth among players with at least 20 isolation possessions, and it is first among the four players with at least 50 such possessions.
This is but one reason why he's been so lethal one-on-one.
TO THE RACK! 💪 pic.twitter.com/Hp0SaWopSg
— Dallas Mavericks (@dallasmavs) November 15, 2016

I mean, that's great and all. It's fun to see Barnes doing well considering all that he's gone through this past year, but can we (a.k.a. Mark Cuban) seriously get this guy some help?
Of the other four players who have played in all nine contests, not one is averaging double figures. Of course, injuries have been a major problem. Dirk Nowitzki and Deron Williams have missed a combined 10 games.
Consequently, Barnes hasn't received much help from others on the offensive end. Until Dallas can provide Barnes with some support, they'll likely continue to struggle. Hopefully, in the meantime, Barnes continues to give reporters at least one reason to cover the team. We could do without the ridiculous Cuban Credential Crisis in our lives.