Daily Fantasy Basketball Injury Report: Monday 11/7/16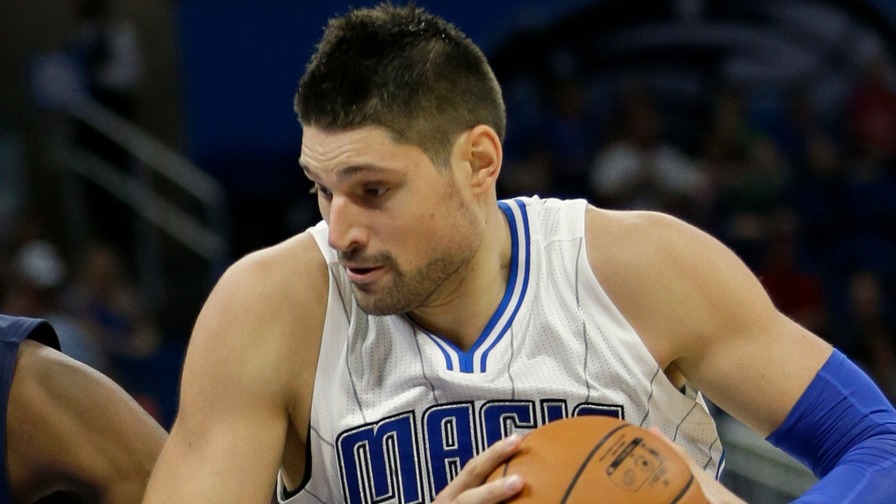 Early-season injuries have been somewhat mild to start the season, and on a seven-game slate on Monday, there aren't a ton of new injuries to discuss.
However, there are some notable question marks that could potentially open up value on a night where being contrarian and using injury news might win you a big tournament.
Notable Injuries
Nikola Vucevic, Orlando Magic
The most surprising injury to crop up on Monday is Nikola Vucevic, who is listed as questionable for Monday's game with the Chicago Bulls. Vucevic reportedly has a right shoulder strain, and he has been noticeably bothered by it at times this season. If he misses tonight, it could do several things to the Orlando Magic rotation. Bismack Biyombo immediately becomes the best value play of the night, while Serge Ibaka gets a nice bump as well. It's also interesting to note that according to NBA Wowy, Evan Fournier leads Orlando in usage rate when Vucevic is off the court this season at 29.5%.
George Hill, Utah Jazz
George Hill has been fantastic for the Utah Jazz to start the season, but coming off their game against the New York Knicks yesterday afternoon, Hill is listed as questionable with a sprained thumb. Hill initially said that he wasn't concerned about the injury, but he should be monitored nonetheless. If Hill is forced to miss tonight's game, Shelvin Mack and Dante Exum would likely split minutes at point guard, with Rodney Hood and Gordon Hayward needing to take on more of a scoring load as well.
Marvin Williams, Charlotte Hornets
Marvin Williams did not practice on Sunday, and he is listed as questionable with a viral infection on Monday. The Charlotte Hornets are already without Roy Hibbert on Monday, so if Williams isn't feeling better by tipoff, the Hornets' frontcourt might be a great source of DFS value on Monday. Cody Zeller and Frank Kaminsky would be forced to play all of the power forward minutes and some center as well, while Spencer Hawes might once again be tournament eligible.
John Wall, Washington Wizards
John Wall is coming off two knee surgeries, and the Washington Wizards have announced that he might not play in early-season back to backs. However, after sitting out on Saturday, Wall should be good to go on Monday night.
Lesser Injuries
Lance Stephenson, New Orleans Pelicans
With the way he had been playing before getting hurt, Lance Stephenson almost ended up in the notable injuries section. However, with groin surgery on the way for Born Ready, he has been waived by the New Orleans Pelicans. In his place, Solomon Hill, Buddy Hield, and E'Twaun Moore will all have to play more minutes, and someone is going to have to step up for the Pelicans offensively outside of Anthony Davis.
Hollis Thompson, Philadelphia 76ers
Hollis Thompson sprained his ankle on Saturday, and he missed practice on Sunday. He is listed as probable, but if that changes, it could open up some minutes at forward for the Philadelphia 76ers. However, right now it looks like he will suit up.