5 NBA Stats to Know Through Week 1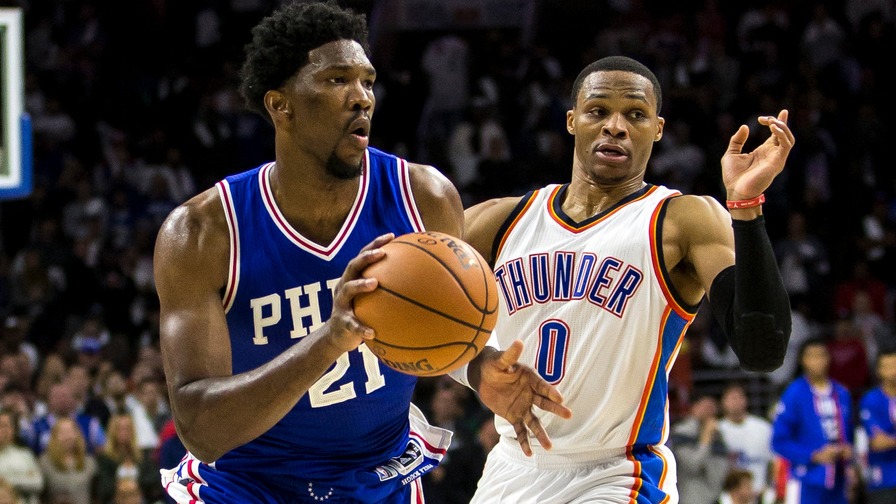 The NBA certainly has a frontrunner this year, as the Golden State Warriors have a 45.7% chance to win the NBA Finals, according to our algorithm.
And only eight other teams have at least a 1% chance to win the title, to make matters worse. But that doesn't mean there aren't storylines to watch for, and some of those are already playing out through one week of action.
What are some things to know through Week 1 of the NBA season?
The Bulls lead the NBA in points per game at 111.5 and offensive efficiency at 115.3.
With new editions Rajon Rondo and Dwyane Wade plus a completely healthy Jimmy Butler, the Chicago Bulls were bound to see a boost in their scoring numbers. However, no one could have predicted that they had the firepower to lead the NBA in points per game, which they are through one week. Coach Fred Hoiberg was known for his up-tempo style at Iowa State, but his first season in charge of the Bulls ended with the team averaging just 101.6 points per game
Much of the boost in scoring is tied to a league-leading 115.3 offensive efficiency paced by the rejuvenated Wade. Wade, who only made seven three-point field goals all last year, has four through two games and has taken advantage of defenders giving him that shot. As a team, the Bulls are pacing the NBA with a 43.5% from deep, which is an unsustainable rate, but it should be noted that they did finish last year 3rd in the NBA in three-point shooting at 37.1%.
Improved bench play has also been noticeable through the Bulls first two games as Doug McDermott, Nikola Mirotic and the newly-acquired Michael Carter-Williams all are playing over 20 minutes per night. If Rajon Rondo can continue his stellar form -- he has 22 assists through two games, along with improved team shooting -- Chicago could soon make fans forget about the slow pace that was a staple of their previous coach Tom Thibodeau's offense.
Joel Embiid is leading the NBA with a 44.5% usage rate
The Philadelphia 76ers have finally started to get a glimpse of why Joel Embiid was considered a top talent coming out of college. Despite being limited to just 38 minutes combined over the first two games, the former Kansas star leads the team in points per game and field goal attempts per game. Also, important to note is that Embiid has hoisted four three-pointers through two games, and coach Brett Brown seems comfortable letting him do so.
To put in perspective how high his usage rate is, consider that his 44.5% rate is 4.3% percentage points higher than that of Russell Westbrook and nearly 6% higher than the all-time single-season mark set by Kobe Bryant.
This rate is certainly boosted by the 20-minute limit that Philadelphia has imposed on him to start the year, but it is also telling about the players surrounding him. The Sixers are playing an unproven point guard in Sergio Rodriguez alongside a rookie wing in Dario Saric while giving big minutes to Nik Stauskas. Perhaps the biggest boon to Embiid's usage is the fact that ball-stopper Jahlil Okafor has only been on the floor for 31 minutes in two games -- almost exclusively without Embiid on the floor -- due to injury.
With veteran point guard Jerryd Bayless and Okafor expected to be fully healthy in the coming weeks -- plus Ben Simmons waiting in the wings -- it will be a matter of time until Embiid sees a drop in usage. However, with the team desperately hoping Embiid is a piece who can turn around their franchise, they may continue to ride him when he's on the court this season.
Andrew Wiggins tops the NBA in points per touch at 0.621 among players averaging over 15 minutes per game
Coming into the season, the Minnesota Timberwolves were expected to take a quantum leap forward and challenge for their first playoff spot in 12 years. Many assumed that second-year big man Karl-Anthony Towns would lead that charge, but despite an 0-2 start, it has been Andrew Wiggins who appears ready to lead the team. A
two-game sample is certainly too small to draw any big conclusions, but early returns have Wiggins pacing the team 27.0 points per game and turning into the highly-efficient player Minnesota fans have been begging for since his rookie campaign.
This efficiency is showing with the 0.621 points per touch, which has been directly related to the 51.5% field goal percentage in two games, which would be slightly more than a 5% boost from last season's mark. On a team that has the potential to have three players score 20 points per game this year, Wiggins will need to maintain that high points per touch rating to keep up the scoring average as the ball will certainly need to be moved through Towns and Zach LaVine.
Russell Westbrook is averaging a remarkable 111.3 touches per game this season
Everyone knew that when Kevin Durant left the Oklahoma City Thunder it would be Russell Westbrook who would have the ball in his hands all the time. However, through three games, he is touching the ball at a historic clip -- his 111.3 touches per game is nearly 12 more touches than any other player this year. That mark would be 10 more than any other player over the past four years, and Westbrook could join Kemba Walker as the only player to average over 100 touches per game, which Walker did the 2013-14 season.
Prior to this season Westbrook had never averaged over 90 touches per game, mostly due to playing with Durant. With a usage rate over 40% this year, it is not a shock to see this many touches for Westbrook, but Thunder coach Billy Donovan will surely want to get the newly-acquired Victor Oladipo more involved as the year progresses.
The positive to this for the Thunder is that the team is winning due in large part due to Westbrook. He became the first player in NBA history to post at least 100 points, 30 rebounds and 30 assists through his team's first three games. Even for a player of Westbrook's stature, it will be difficult for him to be this heavily involved over a full 82-game season, but with Durant out of town, it's certainly Russ' team.
Anthony Davis leads the league in NBA.com's efficiency rating at 41.7, and the Pelicans are still 0-3
Anthony Davis' team is limited, and he's trying his best to make them relevant. Without veterans Jrue Holiday and Tyreke Evans, Davis has played superbly, leading the league in nba.com's efficiency rating at 41.7. (NBA.com's efficiency metric is a similar type of a catch-all metric to ESPN's player efficiency rating.) Still, the New Orleans Pelicans are winless, and it's terrifying to think of what they'd look like without Davis.
Even using traditional numbers, Davis' play is off the charts. He is averaging 37.7 points, 12.3 rebounds, 3.0 rebounds and 2.3 steals per game on the young season. More encouraging for the Pelicans is his 37.7 minutes per game after suffering a sprained ankle in the preseason. Even without a full team, if Davis can continue to play at this pace, he will not only be in the MVP race, but he might be able to pull the Pelicans into playoff contention.