NASCAR Betting Guide: Bank of America ROVAL 400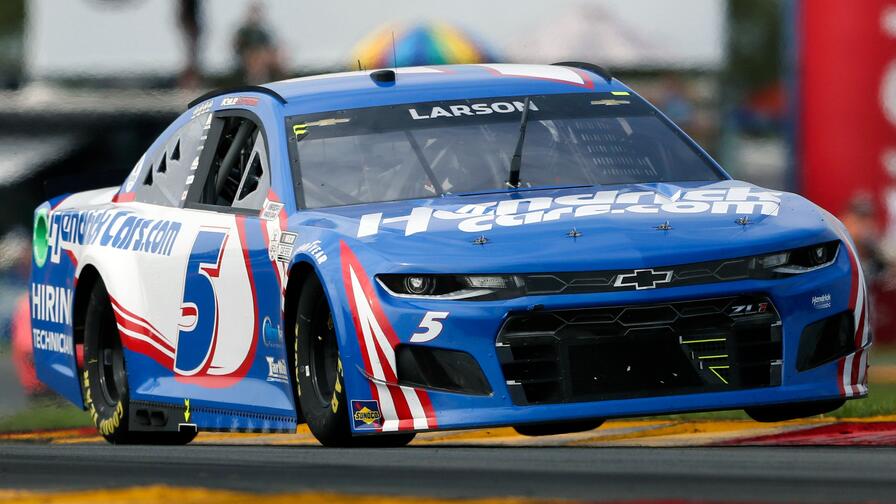 Road courses in 2021 have been all about Chase Elliott and Kyle Larson. We should expect Sunday to be the same.
Elliott is the favorite to win this week, sitting at +230 at NASCAR odds. Larson is +550, and then nobody else is shorter than +800. They're the guys to beat.
Usually, when numbers are that short, my simulations have a hard time seeing value. NASCAR Cup Series races are chaotic events, and there are even more chances for calamity on a 17-turn road course like Charlotte.
This week, things are different.
Let's start at the top and outline what my simulations are seeing there. Then we'll run through some other bets that grade out well based on the odds at FanDuel Sportsbook.
Kyle Larson to Win (+550)
At most books, Larson is +450 to win this week. My simulations would show value there as his implied odds are 18.2% while I've got him winning 21.2% of the time. But at +550, he's a no-brainer.
It's true that Elliott should be the favorite. He has won two of six road-course races this year, and he would have beaten Larson at Watkins Glen had he not had a laundry list of issues. He's the top guy.
But Larson beat Elliott straight up at Sonoma, and he was running Elliott down at Circuit of the Americas before rain halted the race. The gap between these two isn't as large as the odds indicate.
We've also seen Larson compete for a win at this track even when he was with Chip Ganassi Racing. In the inaugural race, Larson led 47 of 109 laps and had a 5th-place average running position. He eventually ran into issues and had to pinball his way to the finish, but that speed matters. Now, he's in the best road-racing equipment in the sport.
Finally, stage points won't be as big of an issue for Larson as Elliott with Larson sitting 22 points above the cutline while Elliott is just 9 points clear. Add it all up, and we should rush to grab this number before it aligns with where Larson is listed elsewhere.
Joey Logano to Win (+2400) or Podium (+650)
Joey Logano is in a similar position to Larson; he's 21 points above the cutline, allowing him to be a bit more care-free on Sunday. And despite a recent downtick, we should have faith in Logano's road-racing abilities.

Logano has finished top-five in three of six road-course races this year. It's easy to forget that, though, because they came in the first three road courses of the season. Since then, he has finished 15th, 22nd, and 34th.
Those finishes are deceptive, though. Logano was running sixth in Indianapolis with five laps left before a broken curb caused a massive crash. He also led 11 laps and won the opening stage at Watkins Glen. He didn't just magically forget how to turn right.
Logano's up-tick on road courses started at this track last year. He had an eighth-place average running position and finished runner-up behind Elliott. My simulations don't view him as a high-upside driver but still give him a 6.3% shot to win, well above his 4.0% implied odds. If you're skeptical he can top Elliott and Larson, his podium odds (19.2% in the sims versus 13.3% implied) also show value. Either way, it's a good week to bet on a Logano bounce-back.
Denny Hamlin to Win Group One (+270)
We've referenced playoff implications a couple of times; the only guy who can truly DGAF it this week is Denny Hamlin, who advanced into the next round via a win at Las Vegas. That advantage will be key in this group.
Here's a look at how Group One shakes out. Listed are the driver's points relative to the cut line, their odds to win the group, and their aggregate average running position on road courses this year.
| Group One | Group Win Odds | Points to Cutline | Agg. ARP |
| --- | --- | --- | --- |
| Martin Truex Jr. | +230 | +20 | 12.3 |
| Kyle Busch | +270 | +9 | 10.7 |
| Denny Hamlin | +270 | Advanced | 9.2 |
| William Byron | +270 | -44 | 13.3 |

Technically, William Byron is also in a go-for-broke situation as he'll need a win to advance. But he has just one top-10 on road courses this year to Hamlin's four, lowering the concern there.
Kyle Busch has been great on the road courses with the same number of top-5s and top-10s as Hamlin. But he's right on the cutline, meaning he'll likely prioritize stage points, which could hurt his finishing outlook.

The stiffest competition here is Martin Truex Jr. Truex is a tremendous road-racer and also has some cushion on the cutline. He can afford to have some fun on Sunday.
Hamlin and Truex are even head-to-head this year with each guy finishing ahead of the other three times in six road-course races. Hamlin would have the edge, though, had he not gotten wrecked while leading on the final lap in Indianapolis. He's an underrated driver on these tracks. Add that to his playoff positioning, and Hamlin makes plenty of sense within this group.
Kurt Busch to Win Group Two (+270)
This group is less about playoff positioning; it just seems like Kurt Busch is under-appreciated as a road racer.
Here's the same table as above for Group Two, minus the playoff implications tied to it.
| Group Two | Group Win Odds | Agg. ARP |
| --- | --- | --- |
| Alex Bowman | +230 | 14.8 |
| Kevin Harvick | +250 | 18.2 |
| Kurt Busch | +270 | 12.0 |
| Ross Chastain | +270 | 15.2 |

Busch has turned this into good finishes, too. His average finish of 10.0 is 4.3 spots better than anybody else in this group. Simply put, Busch is undervalued.
My win simulations are showing value on Busch to win. I'm not biting there because Busch isn't in the playoffs and might give more leeway to the remaining drivers as a result. But this market doesn't require as much upside, making it my preferred route for exposure to Busch.