NASCAR Betting Guide: Hollywood Casino 400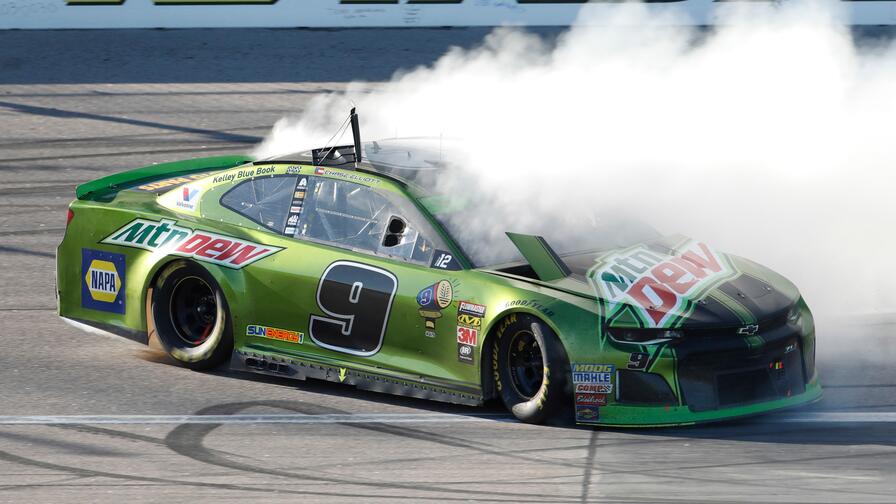 With the NASCAR Cup Series into the Round of 8, wins matter more than they have all year.
If one of the eight drivers left in the playoffs wins a race within the next three weeks, they automatically advance to the championship race in Phoenix. The last time a driver not in the final eight won a race in this round was in 2017. It's not impossible, but we definitely want to focus on the drivers with everything on the line.
That's clearly going to impact the way we bet Sunday's race. Unfortunately, FanDuel Sportsbook is clearly accounting for the playoff implications as none of the remaining playoff drivers has odds longer than +3100.
So, if we want to bet playoff drivers, we're going to have to pony up to get them. That doesn't mean it's not worth it.
With all things considered, who stands out as a value based on the odds at FanDuel Sportsbook? Let's check it out.
Denny Hamlin (+420)
There is no doubt that this is a short number for Denny Hamlin. But sometimes numbers are short for a reason, and in this case, it may not be short enough.
The reason we're incentivized to bet Hamlin at such a short number is that he has taken a blowtorch to the field on tracks like Kansas (and Kansas itself). This is the sixth race of the season at a 1.5-mile track with intermediate banking. In the previous five, Hamlin has a pair of wins and a third-place finish. In that third-place run at Las Vegas during the playoffs, he led 121 laps but caught some bad timing on a late caution. One of the wins was in the first Kansas race back in July.
If we look at overall performance on 1.5-mile tracks, Hamlin is tied with Kevin Harvick (+420) with five top-five finishes, and Hamlin is second behind Harvick with 326 laps led. The reason we're betting Hamlin instead of Harvick is the performance at the tracks with moderate banking, and it makes Hamlin the favorite entering Sunday.
Chase Elliott (+650)
If Hamlin's number is too short for you, Chase Elliott is one to consider. In fact, my model actually likes Elliott a bit more.
Elliott enters the weekend ranked first in my model for the first time all season. What's interesting is that the model doesn't even consider that he won last weekend; that data isn't included at all because it was at a road course. It's just based on races at 1.5-mile tracks and his past history in Kansas.
I, personally, would disagree with the model and put Hamlin at the top. But Elliott is up here thanks to top-five average running positions in both Las Vegas and Homestead, and his seventh-place average running position in the first Vegas race doesn't hurt, either. Elliott will start from the pole, giving him easy access to clean air. With the speed he has shown previously on tracks like this, that could be enough to give him a bump and justify the model's optimism.
Alex Bowman (+2600)
Alex Bowman's odds are second-longest among those left in the playoffs, besting only Kurt Busch (+3100). Busch actually won in Las Vegas a few weeks ago, but my model leans more toward Bowman among the non-elites.

The reasoning there is that Bowman seemed to have the better car in Vegas. He had a sixth-place average running position, the third-best mark in the entire race behind Elliott and Hamlin. Busch's average running position was 13th. He just caught a caution at a good time and took advantage for the win.
Bowman has had fast cars all year long on the 1.5-mile tracks, but he hasn't always been able to capitalize. He has been doing better on that recently, finishing eighth in the first Kansas race and fifth in Las Vegas. Bowman was also runner-up in Kansas last year, nearly getting what would have been his first career win.
The Hendrick Motorsports cars have seemingly lost juice this year on tracks with lesser banking, and Kansas qualifies. But with both Elliott and Bowman showing big speed in Las Vegas, we have reason to believe they've made gains. That puts them on the map, especially with Bowman's number being this long.
Ryan Blaney to Finish Top Three (+500)
I mentioned earlier that Elliott ranks first in my model. The guy in second is Ryan Blaney (+1700 to win). Again, I disagree with the model, but there are reasons it likes Blaney.
Outside of Harvick and Hamlin, nobody has led more laps at 1.5-mile tracks this year than Blaney. Of those, 70 came in Homestead, another of the moderately banked 1.5-mile tracks, and he nearly won the first race in Las Vegas. He led 18 laps in Kentucky and 15 in Kansas, so Blaney is consistently hovering near the front on this track type.
The reason we're not gunning for the outright here is that Blaney isn't a playoff contender. That may not be enough to keep him out of victory lane, but the motivation here is definitely lower than with the others. Blaney's still a threat to find the podium, though, so we can take a swipe at him there at +500.
Matt DiBenedetto to Finish Top 10 (+160)
There are a couple of drivers with interesting top-10 odds for this weekend. Austin Dillon (+195) and Cole Custer (+195) both have wins on 1.5-mile tracks but still have long odds to crack the top 10. Chris Buescher is coming off a ninth-place run in Las Vegas and is +470. But of these guys, Matt DiBenedetto is the one who presents the best value.
DiBenedetto is actually someone we could consider for more aggressive markets. In the five races at moderately banked 1.5-mile tracks, DiBenedetto has a pair of runner-up finishes and a third-place run. He's got the giddy-up to win this race, so if you want a longshot, he's interesting at +7500.
Most of those good runs were aided by strategy and luck, though, as DiBenedetto didn't have an average running position better than seventh in any of them. If we bet him to finish top 10, we don't necessarily need the good fortune to continue in order to cash. We just need him to convert on his speed. This may be playing things a bit safe, but there's a healthy amount of value in DiBenedetto at this number.