Daily Fantasy NASCAR Driver Preview: Hollywood Casino 400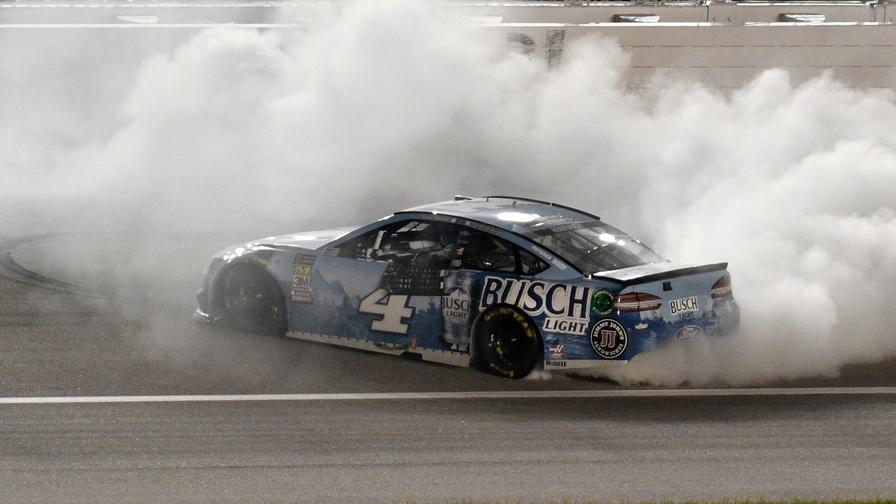 Two of the biggest pillars of driver selection in daily fantasy NASCAR are track history and current form. Knowing where drivers sit on both of those spectrums is going to make our lineups look a whole lot nicer at the end of the race.
By looking at which drivers have excelled at this week's track in the past and those who are currently racing well, we can know which drivers are in line to be good plays for the slate. That's what we're going to try to do today, dividing drivers into those two buckets with noteworthy track history or noteworthy current form.
Clearly, this isn't to say that all of these drivers will be great plays in this race. A lot of that will be dictated by where they start and the scoring history at that track. To read more about what strategies we need to deploy based on starting position, check out this week's track preview.
Later in the week, once qualifying is in the books, we'll go through the top plays for the race based on all of these factors. But which drivers should we be keying on for the time being? Let's check it out. Here are drivers we should monitor for the Hollywood Casino 400 in Kansas.
Track History
Kevin Harvick (FanDuel Salary: $14,500): A good way to get a gauge on which drivers have had the best upside in certain samples is to lean on laps led. You don't generally luck your way into running at the front, and finishes can be a bit fluky if circumstances get out of hand toward the end of a race.
Whether you're looking at laps led at Kansas or in 2019 at 1.5-mile tracks, Kevin Harvick stands out as being the top option this weekend.
Starting in Kansas, Harvick has led 306 laps over the past five races here, 98 more than any other driver in the field. He was out front for 104 circuits this spring, but a pit issue relegated him to a 13th-place finish. He won last year's spring race and has led at least 76 laps in three straight stops at the track.
Harvick's dominance at 1.5-mile tracks isn't concentrated to just Kansas, though. In the seven races at 1.5-mile tracks using the full new rules package (in other words, excluding Atlanta), Harvick has led 385 laps, clearing the rest of the field by 154. He hasn't always cashed in with good results as Harvick is winless on these tracks for the year, but there is no doubting his speed.
Earlier in the year, when Harvick got put back in traffic, he had a tough time working his way back forward. That didn't happen in the Las Vegas playoff race, though, which is our most recent measuring stick for tracks similar to Kansas. It's hard to find reasons not to buy into Harvick, so he should likely sit atop our lists prior to practice and qualifying.
Martin Truex Jr. ($14,000): Before Harvick started cleaning up at Kansas, it was Martin Truex Jr. who swept both of the 2017 races here. His runs since then have been good enough, too, for this spot to be viewed as a plus.
In the two 2018 races, Truex notched a pair of top-five finishes. His average running position was ninth in both, and it gave him nine straight Kansas races with an average running position of 11th or better. Basically, Truex and Harvick have run things at this track since 2016.
You'll notice that 2019 was not on that list for Truex, and that's because the spring race here was one to forget. Truex finished 19th and had just a 19th-place average running position. If that were our most recent sample on Truex at similar tracks, it'd be a big concern.
Thankfully for him, it's not. The aforementioned Vegas race was the most recent at a 1.5-mile track with moderate banking, and there, it was Truex who got the win. We should keep Truex's earlier-season struggles at these tracks in mind, but that huge showing in Vegas means we can have a solid amount of confidence in Truex getting his Kansas mojo back on.
Alex Bowman ($9,700): Alex Bowman nearly got his first career win in Kansas back in the spring, but a late pass by Brad Keselowski ($12,000) forced Bowman to settle for a runner-up. It was not his lone strong run at the track.
During last year's playoff race in Kansas, Bowman notched a ninth-place finish with an 11th-place average running position. It was his best average running position at a 1.5-mile track on the entire year, and he has carried some of that success over into 2019.
After the disappointment in Kansas, Bowman bounced back and did earn his first trip to victory lane in Chicago, another moderately banked 1.5-mile track. Bowman was then strong again in Las Vegas, finishing sixth with a 13th-place average running position. He needs points to advance to the next round, but with Bowman's performance at tracks like this on the year, a big day is certainly within his range of outcomes.
Erik Jones ($9,000): Erik Jones' terrible, horrible, no good, very bad fall continued last week with a 34th-place finish, his fifth time in the past six races finishing outside the top 30. The poo done hit the fan. But that streak has to stop at some point (I think?), and Kansas shapes up to be a pretty good slump-buster.
In Jones' three Kansas races with Joe Gibbs Racing, he has finished in the top 10 each time, including top-fives in each of the past two. His average running position has been in the top 10 for all three races, including a seventh-place mark this spring that he turned into a third-place finish.
Jones has -- of course -- had some issues at 1.5-mile tracks this year, but he has also flashed upside. His three top-five finishes at 1.5-mile tracks using this package are tied for second in the Cup Series, trailing only Keselowski. Additionally, Jones has still had a top-10 average running position twice in his recent rough patch, including a fourth-place finish in Richmond that was wiped out due to disqualification. The downsides here are clearly immense, but we shouldn't quit on Jones just yet.
Aric Almirola ($8,200): With Aric Almirola, you basically know what you're getting. He hasn't finished worse than 16th or better than 7th in any of the 7 races on this track type in 2019, and that's both good and bad. The plus for Almirola is that he's more likely to be on the higher end of that range in Kansas.
Kansas may not be Almirola's favorite track given that he once had a monster crash here that broke bones in his back and forced him to sit out the following several races.
That could have made Almirola (or most normal humans) a bit skittish about racing at this track. But since that wreck, he has 3 top-10s and a 12th-place run in 4 races, and his average running position has been in the top 10 twice in that span. Clearly, that wreck hasn't had a lasting effect.
Almirola doesn't really have top-five upside as he has just two of those this year, both of which came on tracks wildly different from Kansas. But he can get you a top-12 finish at a relatively low salary. As long as he's not starting too close to the front, there is certainly value in a run like that.
Current Form
Ryan Blaney ($10,500): Ryan Blaney is coming off a win in Talladega, which means he doesn't have to worry about points this weekend. He can just run his race and try to rack up playoff points for the next round. That's a plus for a driver who has gotten back to flashing his upside recently, even beyond the win.
In the most recent race at a 1.5-mile track, Blaney started 23rd in Las Vegas, quickly worked his way forward, and posted a 5th-place finish with a 10th-place average running position. His teammates, Keselowski and Joey Logano ($13,000), both had strong cars that day, as well, meaning Penske Racing's got some giddy-up on tracks like this. Blaney's overall marks at these tracks for the season are underwhelming because he had a bunch of issues the first three races, but with two top-six finishes in the past three, he's capable of a high-end finish.
Blaney has proven in the past that he can carry that speed into Kansas, as well. He has three top-fives and five top-10s in nine career races here, and even that sells him a bit short. One of his poor finishes was last year's spring race, but there, he led 54 laps before wrecking while running up front. He also led 83 laps in the 2017 spring race when he was still with Wood Brothers Racing, so it's clear that Blaney can get around this joint. It's worthwhile to buy high on him this weekend.
William Byron ($9,400): William Byron enters this race 12th in the standings, 27 points behind the cutline, meaning he's going to need to mop up this weekend in order to advance to the Round of 8. Thankfully, Byron has had enough speed recently where that's not totally out of the question.
Byron enters this weekend with a top-10 average running position in three of the past five races and five of the past nine. One of those was a ninth-place average running position in Las Vegas, and he converted that into a seventh-place finish.
That Vegas run was the fourth top-10 for Byron at a 1.5-mile track this year, three of which have come within the past four such races. He's yet to have a top-five in that span, so he's a better DFS target if he starts outside the top 10, but there's enough juice that he can be in play pretty much no matter what as long as he is fast in practice.
Ricky Stenhouse Jr. ($7,500): Ricky Stenhouse Jr. is always a risk. When you have a driver like that, you need to ensure the highs are high enough to justify taking a risk, or else you can easily just turn your attention elsewhere. At most tracks, the reward on Stenhouse isn't enough to justify plugging him in. But things have been different this year at the 1.5-mile tracks.
Stenhouse has just three top-10s in all of 2019. One of them was a ninth last week in Talladega, a spot where he has always had success. The other two were both on tracks similar to Kansas. He was sixth in Las Vegas and fifth in Charlotte, both of which are great finishes for someone in this salary tier. That's the type of reward you're looking for.
Stenhouse was also pushing for another top-10 in the first Kansas race. He ran out front most of the night and even led 11 laps, posting a sixth-place average running position before ultimately finishing 11th. He has finished 12th or better in five of seven races at 1.5-mile tracks using this package in 2019, so the volatility may take a bit of a step back when they head to this type of track. That's not to say someone like Stenhouse will qualify as being "safe," but his odds of hitting his ceiling are higher here than most other places, so we should be interested in rolling with him in tournaments if his speed in practice is respectable.
Chris Buescher ($6,600): Chris Buescher is in a rut. After finishing 18th or better in 16 straight races through Las Vegas, Buescher has finished 18th or worse in four straight. That's a point of concern, but as with Stenhouse, Buescher has gotten a lift this year at 1.5-mile tracks.
All four of Buescher's top-10 finishes in 2019 have come at 1.5-mile tracks, though one was in Atlanta, where the series ran a slightly different rules package. One of those top-10s was fairly recent as he was 10th in Kentucky in July, but he hasn't had a top-10 since then, and he hasn't had a top-15 since the playoffs started. But part of that is because we just haven't had many tracks like this on the schedule of late, so the results for Buescher aren't necessarily an indication that he'll struggle again on Sunday.
The plus for Buescher is that arguably the most impressive race of his career came in the first Kansas race. He finished 10th, which won't blow you away, but he had a career-best ninth-place average running position. It's one of only two races out of 145 in the Cup Series in which his average running position has been better than 13th. This, along with Buescher's broader record at 1.5-mile tracks and his propensity for poor qualifying runs, means we can still get jazzed about him despite a poor stretch of late.
Matt DiBenedetto ($6,000): If you've been tracking Matt DiBenedetto this summer, seeing him with a salary at $6,000 is probably a bit surprising. He has been running well for a while now, and his salary has often been closer to $8,000 than $6,000. But his speed has been very track-dependent, and this is not a track type that has suited his equipment.
For the full season, DiBenedetto's best finish at a 1.5-mile track is 16th in Kentucky. It's true that most of these races came before his team started its surge, but even in Las Vegas, the speed was lacking. DiBenedetto had a 19th-place average running position there and finished 21st.
This is not an indictment of DiBenedetto; it's an indictment on his equipment. At the 1.5-mile tracks, drivers have been able to keep their foot on the gas for a long time, and it has exposed the fact that his team doesn't have the speed to keep pace. On tracks that emphasize the driver more, DiBenedetto has shown up big time. This isn't one of those spots, so unless he posts surprising times in practice, it's okay to be wary of DiBenedetto even at this reduced salary.