Daily Fantasy NASCAR: Bank of America Roval 400 Driver Preview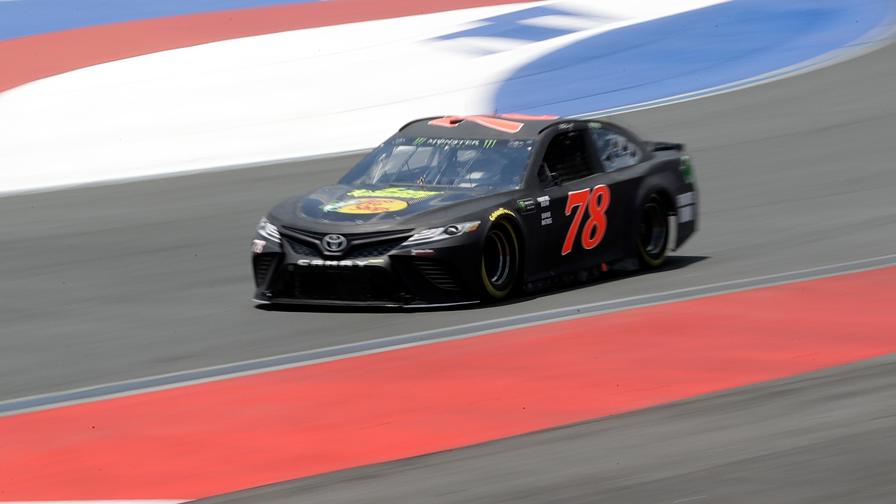 Two of the biggest pillars of driver selection in daily fantasy NASCAR are track history and current form. Normally, we'd be looking at both of those for this week to get a list of drivers we should be monitoring entering the weekend.
This race is a bit different.
Because this is the first time the Monster Energy NASCAR Cup Series has ever raced at the Charlotte road course, we don't have any track history to look at. Instead, we'll be looking more broadly at drivers who have done well at road courses, potentially positioning themselves to excel on Sunday. Then, we'll touch on drivers who have been racing well recently by breaking down current form.
Clearly, this isn't to say that all of these drivers will be great plays in this race. A lot of that will be dictated by where they start and the scoring history at that track. To read more about what strategies we need to deploy based on starting position, check out this week's track preview.
Later in the week, once qualifying is in the books, we'll go through the top plays for the race based on all of these factors. But which drivers should we be keying on for the time being? Let's check it out. Here are drivers we should monitor for the Bank of America Roval 400 at the Charlotte road course.
Road Course History
Kyle Busch (FanDuel Price: $14,500), Martin Truex Jr. ($14,000), and Kevin Harvick ($12,800): "The Big Three" are "The Big Three" for a reason. They can (and do) excel at all track types, making them the favorites entering pretty much any weekend. Road courses are no exception.
That all starts with Martin Truex Jr., who has finished either first or second in three straight road-course races, including a win this year in Sonoma. He could have won the 2017 Sonoma race, too, but mechanical issues bit him after he won the first stage. Truex has been strong in the first two playoff races, as well, skirting a string of poor finishes earlier in the summer.
Kyle Busch hasn't won a road-course race since 2015, but he's consistently running near the front. He has finished seventh or better in eight straight races between Sonoma and Watkins Glen, notching five top-fives in that time. Busch was dominant in Richmond, starting at the back of the pack due to post-qualifying alterations and still managing to lead 92 laps en route to a win. He should be second on our list behind Truex.
Kevin Harvick sits third on this list because his performance at road courses is a bit more course-dependent. Although Harvick has four straight finishes of sixth or better at Sonoma, he has had more issues conquering Watkins Glen. Busch and Truex, on the other hand, have had consistent success at both courses. Harvick's third on this list, but we should still view him as one of the favorites entering the weekend thanks to the season-long dominance this team has pumped out.
Chase Elliott ($12,000): Chase Elliott is only 10 points ahead of the cutoff to advance to the second round of the playoffs, meaning he can't afford a mistake this weekend. But he's also not far enough ahead where he can lag back and race conservatively. With this in mind, we should feel pretty good about Elliott entering the weekend.
The last time the Cup series was at a road course, Elliott snagged his first career victory, holding off Truex for the win at Watkins Glen. Elliott led 52 of 90 laps there and had an average running position of third, which is about as dominant as you can get.
That's not the only time Elliott has run well on a road course, either. He was fourth in Sonoma earlier in the year and eighth in Sonoma last year. Elliott's not in the same tier as "The Big Three," but we'd be wise to consider him near the top of the second rung of drivers.
Denny Hamlin ($12,200): Denny Hamlin's playoff positioning is worse than Elliott's as he enters 16th in points out of 16 drivers, 29 points behind the cutoff line. Hamlin's pretty close to being in the win-or-bust territory. Luckily for Hamlin, he tends to perform well when the cars have to turn right.
In 2016 and 2017, Hamlin rattled off four straight finishes of fourth or better on road courses, including a 2016 win at Watkins Glen. He worked his way forward for a 10th-place finish at Sonoma this summer, and his average running position was 9th on his way to a 13th-place finish in Watkins Glen. The finishes were disappointing, but we can still regard Hamlin as being talented at these types of tracks.
Hamlin is in a major rut, finishing outside the top 10 in 9 of his past 15 races. We need to lower expectations for him because of this as current form does matter on road courses, too. But he needs a win this week, and Hamlin's road-course resume allows us to feel great about him if he starts in a spot to get place-differential points.
Daniel Suarez ($10,300): Daniel Suarez is the only non-playoff driver priced above $9,500, and he doesn't have a ride for next year yet. That paints a grim picture for using him at this price. But Suarez changes that calculus with his success at road courses.
Of Suarez's four career top-five finishes in the Cup series, two have come on road courses. Both were at Watkins Glen as he finished fourth there this year and third as a rookie. He did the same thing while he was driving in the Xfinity Series, finishing fourth at Watkins Glen in 2016 and fourth at Elkhart Lake later in the year. At each level, he has been able to push for wins at this type of track.
Suarez isn't likely to win Sunday as his current form is middling at best. But if he starts in the middle of the pack or lower, you won't need a win for him to pay off, even at this elevated salary. Keep an eye on Suarez this weekend, and if he's starting toward the middle of the pack, you can feel pretty good about targeting him for some upside via both finishing points and place differential.
Michael McDowell ($7,000): Normally, Michael McDowell isn't someone we'd consider as having a decent shot to win on a weekly basis. But McDowell is 60/1 to win, according to the Westgate Las Vegas Superbook, and it's pretty easy to see why.
There have been four practice sessions at road courses this season; McDowell has been in the top 10 in single-lap speed in every single one of them. It has resulted in finishes of 21st and 18th, respectively, but it's clear that he can compete at these spots despite the poor equipment in his cars.
McDowell had a pair of top-15 finishes on road courses last year and won an Xfinity Series race on a road course in 2016. This guy just knows how to get around these spots. He's more expensive than usual at $7,000, but he's an asset we need to target if he's in position to get place-differential points, and he could be in play for tournaments even if he does qualify decently well.
Chris Buescher ($6,400): Chris Buescher is in the same camp as McDowell; they may not always be pushing for top-10 finishes, but they're very capable of that at these types of tracks.
Buescher enters Charlotte having finished in the top 20 in 4 straight road-course races. This includes an 11th-place finish last year in Watkins Glen and a 12th this year in Sonoma, and Buescher's average running position has been 21st or better in all four of the races.
Buescher's win odds are longer than McDowell's at 100/1, meaning he's a bit less viable should he qualify toward the front. But Buescher can get you finishing points on the cheap, and he'd be a great asset for both cash games and tournaments if he were to qualify outside the top 20.
Current Form
Kurt Busch ($11,200): Although Kurt Busch is in the current form section, don't mistake that for his being poor on road courses. That is very much not the case, and we'll expand on that in a second. But Busch's runs recently are abundantly noteworthy.
Despite two finishes outside the top 15 to open the playoffs, Busch has been competitive often recently. Busch has had a top-10 average running position in six straight races, the longest active streak in the Cup series. This includes a win at Bristol and three other sixth-place finishes.
As mentioned, he's not bad on road courses, either, logging 4 straight top-10s and no finishes worse than 12th on a road course since 2012. Busch has a 15-point cushion on the 12th-place cutoff, so things aren't as dire for him as Hamlin, but a win wouldn't hurt. The combo of current form and road-course success means Busch is a strong contender to make a push for victory lane on Sunday.
Erik Jones ($10,000): Erik Jones is in the same boat as Hamlin. He's 21 points behind the cutoff line, meaning it'll be hard for him to advance without a win. But both his current form and recent runs on road courses indicate that this isn't as tall of a task as it may seem.
Jones finished dead last in the playoff opener after a wreck with Harvick 147 laps in. He followed that up with an 11th-place run last week in Richmond. But before this, Jones had four top-fives in his previous six races and won at Daytona three races before that stretch. He's just run into some rough luck.
One of those top-five finishes came in Watkisn Glen, Jones' third straight top 10 at a road course. He was 7th in Sonoma earlier in the year and 10th in Watkins Glen as a rookie. Jones has shown the strength to run up front this year on all tracks, which means he's a tournament play even if he starts in the front. We can trust him in cash if he slips further back.
Alex Bowman ($8,000): Alex Bowman was the final driver to sneak into the playoffs, locking down the 16th spot on points. But he has run decently well the first two races, and he's currently in line to advance. He should be on our radar here, as well.
Bowman finished 19th and 12th at Las Vegas and Richmond, which won't blow you away. But his car was better than those finishes would indicate as Bowman's average running positions were 11th and 10th, respectively. His car has some speed. He showed that at the two road course races this year, too.
In both races, Bowman finished 8 spots better than he started, winding up 9th in Sonoma and 14th in Watkins Glen. He has shown that he can work his way through a pack, and that's right in line with what we want from a process perspective. Bowman needs a good run to advance, and there are reasons to believe he could snag one of those here.
A.J. Allmendinger ($8,600): A.J. Allmendinger has a reputation for being a road-course ringer, and you can bet that will amp up his ownership for this weekend when he's this cheap. But his current form is simply putrid, which makes endorsing Allmendinger a bit complicated.
In 28 races this year, Allmendinger has just 3 top-10 finishes, 2 of which came on restrictor-place tracks. There's a reason he is losing his ride after the season, and it makes you worry a bit about Allmendinger, even at a road course.
We know Allmendinger can win at these tracks. He did so at Watkins Glen in 2014. But in 10 road-course races as a full-time driver at JTG-Daugherty Racing, Allmendinger has just two top-fives and three top-10s. Combine this with Allmendinger's current form, and it becomes clear that he's a driver we should truly trust only if he's in position to get place-differential points.