NASCAR Daily Fantasy Helper: Quaker State 400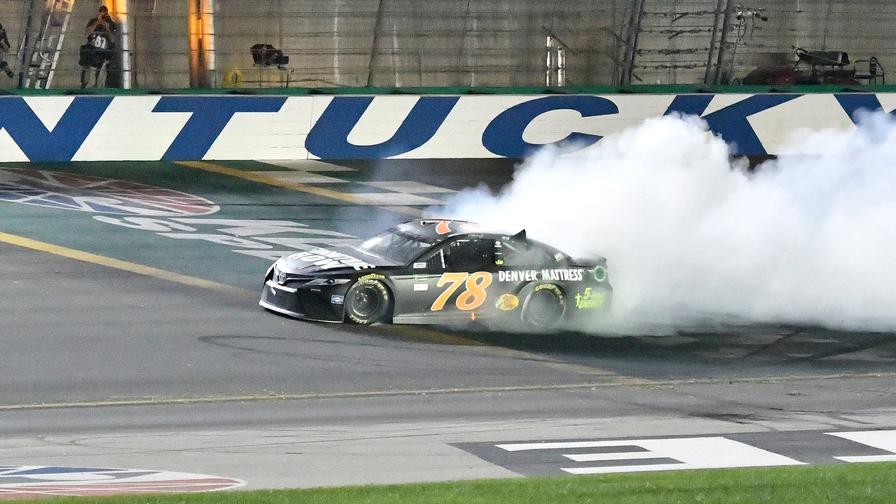 A finish for the record books at Chicagoland Speedway two weeks ago and a demolition derby at Daytona last week have been incredibly captivating to watch. It will be tough to top those races, but the best stock car drivers in the world will try their best at Kentucky Speedway on Saturday Night.
Kentucky Speedway is a fast, narrow, 1.5-mile track that will race nothing like the same shape two weeks ago in Chicago. In the Camping World Truck Series race and Xfinity Series races the previous two nights, the phrases "aero-push" and "hard to pass" were the flavor of the night. Since its repave three years ago, this track has been incredibly difficult.
Here at numberFire, we've always got you covered for everything NASCAR DFS. Our track preview gives you more information about this track, our driver preview helps bring you up to speed on drivers' recent history here and elsewhere, and our Heat Check Podcast with Jim Sannes gives you insight how he is approaching this weekend's slate.
Now, after completion of the first and second practices, as well as the starting lineup being set for Saturday's race, let's breakdown the Quaker State 400 at Kentucky.
High-Priced Drivers
Martin Truex Jr. ($12,500 on FanDuel): The "big three" have dominated the 2018 headlines in NASCAR. No, Paul Pierce is not driving in circles these days, but the big three here are Martin Truex Jr. (three wins), Kevin Harvick (five wins), and Kyle Busch (five wins). Not to spoil the rest, but those three will dominate the high-priced discussion, and for good reason.
Truex gets the nod for first consideration for two valuable reasons. First, Truex won this race last year. He led 152 laps in a dominant performance.
But, perhaps more importantly, he is on the pole for Saturday's race, and that will be of utmost importance in a hard race to pass, and that valuable first pit stall could lead to more laps led after a pit sequence. Truex is behind the other two in stage points and wins, so the 78 team is incredibly motivated to get back to victory lane.
Kevin Harvick ($12,500): I could cut and paste Harvick's 1.5-mile resume into every preview, but it's still worth reminding. He's got four wins, a second, and the disappointing run at Chicago? A third-place finish. Harvick did not flash the speed to dominate at Chicago, but on form alone, Happy Harvick is going to be close to the front. He's starting third, which will place him right on Truex's bumper to begin the race.
Harvick was top 5 in both 10-lap averages in practices, so you know Harvick will be fast again on Saturday. By virtue of not being on pole -- nor ever winning at Kentucky -- maybe Harvick's reduced ownership is his upside in tournaments.
Kyle Busch ($12,500): I laughably threw shade at Kyle Busch before Chicago as "not flashing the speed" to win and lead. Well, for 150 laps of the 267, I was correct. Busch did not see the top five. But Adam Stevens, one of the best crew chiefs in the garage, dialed the 18 car up, and Busch dominated the late stages of that race and out-dueled Kyle Larson to get the win.
Busch has won twice at Kentucky -- both before the repave -- and predictably dominated the Xfinity Race on Friday night. He arguably has surpassed Harvick in recent form at these type of tracks.
However, Kyle will start fifth on Saturday. That's right; the big three will line up nose to tail to start the race.
If you are not sure who of these three studs to roster, perhaps neither is FanDuel. If you notice, all three drivers will cost exactly $12,500 to roster, so the pricing model has no inherent favorite. Truex will be the safest in cash due to starting spot. He will lead early and lead at various points due to his pit stall. Kyle Busch will also be popular for his recent 1.5-mile form. Harvick, metaphorically and physically on the starting grid, is somewhere between the two. In cash on FanDuel, it will be essential to roster Truex and one other two. On other daily sites, it will be tougher to fit more than one. In GPPs, providing even spread to all three might be a tremendous strategy and let your variation lie in your value plays.
Mid-Priced Drivers
Denny Hamlin ($10,400): Denny Hamlin makes his third straight appearance in this helper as he starts deep in the field yet again. Hamlin did not pass pre-qualifying inspection, and he will start 36th as a result. Overthinking Hamlin is a waste of time, as he has been one of the most consistent stalwarts in the top 10 all season long. Hamlin was also fastest in the 10-lap averages in final practice, so maybe the 11 will contend for laps led if he can navigate his way to the front.
Yes, Kentucky is hard to pass on. But Hamlin's car and ability will be good enough to easily find the top 20 and lead lap by the end of the first stage. There is minimal risk at this price and this spot, and he will probably be the highest-owned driver Saturday.
Jimmie Johnson ($9,300): The good news for fantasy is Johnson will start 27th, and there is tremendous pass-differential upside. The bad news is, unlike Hamlin, Johnson posted that lap on speed. Johnson will be popular on sites where two "Big Three" members are not mathematically possible, but on FanDuel, his price screams "balanced" on a weekend that screams "stars and scrubs." Johnson's car is lacking speed, but still, the seven-time champion is always a threat to crack the top 10 in any car he climbs into, even at a track where passing is brutally difficult.
Erik Jones ($9,700): Feeling lucky? Rolling the dice on Erik Jones two weeks in a row could reap tremendous rewards. Jones has been lightning quick, and he is riding high after his first career win last weekend. Starting outside pole, if Jones is fast early, it will not take him much time to reach the front. Expect Jones to spend a lot of Saturday night up front trying to add playoff points, and at this price, laps led are not a must. If Jones were somehow to lead over 150 laps on Saturday at this price and ownership, a gamble could print money. In a week with very few pass-differential opportunities, Jones is another strategy to get some points for a great finish.
Low-Priced Drivers
William Byron ($7,200): It seems almost impossible Byron is still this cheap on FanDuel and relatively this cheap on other sites. He is in a price tier with A.J. Allmendinger ($7,000) and Kasey Kahne ($7,100), both coming off good finishes at Daytona. Their problem? This isn't Daytona. They're less likely to crack the top 20 again on Saturday.
Byron? He is starting 21st and has several top-20 runs on 1.5-mile tracks this year. With a need for some value, Byron is absolutely worth a roster spot at this price.
Ty Dillon ($5,500): With this many studs, reaching into the bargain bin is a must. Sometimes safer is better. Ty Dillon hasn't shown even the semblance of speed this year, but starting 28th, Dillon at least has top 25-upside. Kentucky has actually had more accidents than one would expect given its nature, but with it being so narrow, getting outside the groove is a first-class ticket into the wall. Matt DiBenedetto ($5,000) is starting deep in the field as well, though he is more likely to be multiple laps down. Dillon? It's possible he could squeak out a lead-lap finish. In cash, Dillon will not end your day, and that is all we can ask for.
---

Austin Swaim is not a FanDuel employee. In addition to providing DFS gameplay advice, Austin Swaim also participates in DFS contests on FanDuel using his personal account, username ASwaim3. While the strategies and player selections recommended in his articles are his personal views, he may deploy different strategies and player selections when entering contests with his personal account. The views expressed in his articles are the author's alone and do not necessarily reflect the views of FanDuel.